Best Python Project With Source Code 2020
This article about python projects for beginners will give you a list of Best Python Project With Source code for this 2020. These python project came from different areas of expertise from beginners to intermediate level.
Before we proceed, let's take a moment first to look the image below. You can see there the Redmonk Q120 Programming Language Rankings. PYTHON IS ONE of the world's most popular programming languages.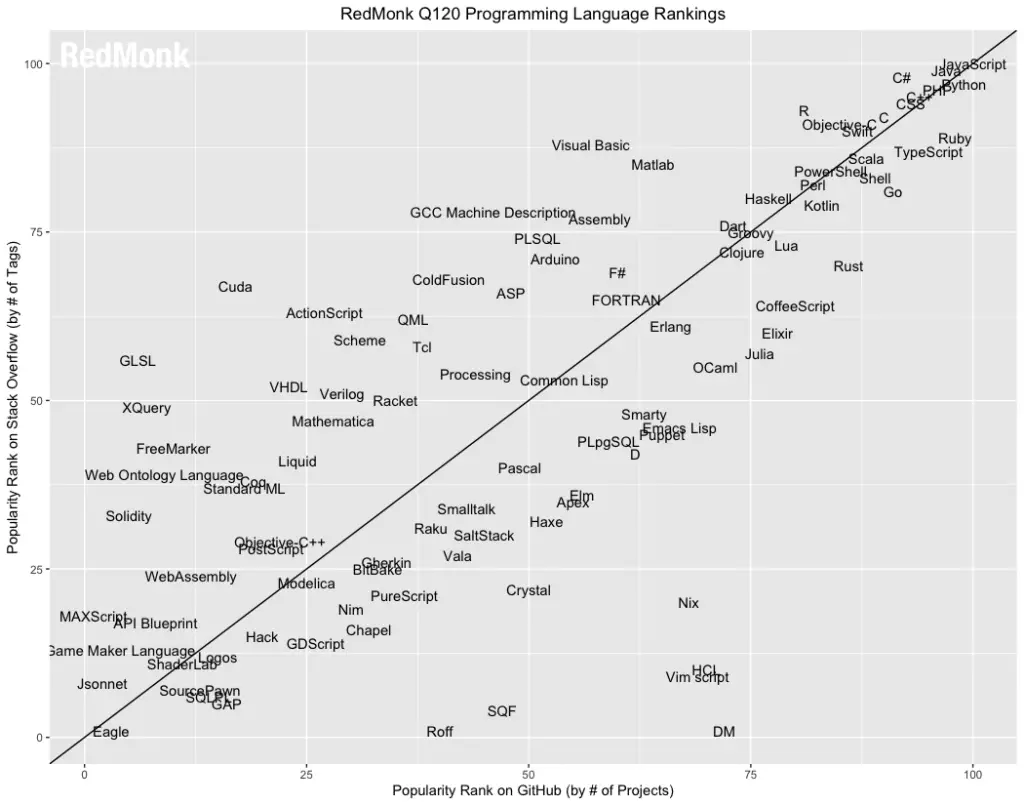 I believe that the reason why python is getting more popular every quarter or year because of these three(3).
Simplicity – the coding used in python is very simple and easy to understand as long as you have good logical skills.
Free and Open source code – Python is a free open source software and doesn't require activation key or subscription to install in your computer.
Portability – You can run the code using any operating system.
All of the python projects here are good source of python project ideas that can be used in developing python applications such as in the following:
Machine Learning and Artificial Intelligence
Data Science and Data Visualization
Desktop GUI
Web Scraping Applications
Business Applications
CAD Applications
Embedded Applications
Audio and Video Applications
Main Objectives
My objective is to provide easy access to a complete python projects with source code. These Python Projects for students, or those who want to learn how to develop their Python projects application like mention above.
Most of the python projects are all for beginners to intermediate level.
I know that it is really hard to look for python project ideas or python project topics especially when you are still a novice programmer.
I also made it possible that most of the python projects topics with source code are easy to download and modify so that it could suits your personal requirements.
Students can free download PYTHON complete Project. They can use it as a basis before they start to develop their HTML Projects on Python and Django with MySQL.
All of the python projects for beginners with code are really designed to help those students doing their final year projects. And I made sure that most of the Python Projects ideas are with Source code and Python projects with Database.
If you are looking for the best python project free download, well I am glad you could find it here. Most of the free Python projects ideas uploaded here are complete project in Python with MySQL/SQLite.
Anyway if you want level up your knowledge in programming especially python, try this new article I've made for you Best Python Projects for Beginners.
I also included here more than twenty(20) articles that will give you Code for Game in Python which I believe can help you a lot in your game development career in the future.
Watch here the list of best python project with source code for beginners to advance level.
With this free python projects source code, they will be able to make their own mini project in python. I believe that this python projects source is good for student python projects to practice.
Below are the List of Best Python Projects With Source Code
Time needed: 5 minutes.
Python Projects with source code Free Download 2020
Some of the python projects on github are also available in this python projects ideas and list.
List of On going Python Projects Ideas and Topics below
Automatic Salt Segmentation with UNET in Python using Deep Learning
Binary Search Algorithm
Bulk File Rename/ Image Resize Application
Calculator in Python
Color Detection Using OpenCV Python Project
Content Aggregator
Countdown Clock and Timer
Data Duplication Removal using File Checksum with Python
Decision Tree Based Tourism Recommendation System
Ecommerce Food Products Sales Forecasting System
Lane-Line Detection System in Python using OpenCV
Online College Admission Management System Project
Logistics Management System Project in Python
Graphical Password Authentication System by Using Pass Point Scheme
Ecommerce Website Live Visitor Tracking System Project
GUI Based Stock Management & Control System Project
Efficient Courier Tracking System Project
Dice Rolling Simulator in Python
Desktop Notifier App
Online Grocery Recommender System Using Collaborative Filtering
Online Employee Recruitment System Project in Python Project With Source Code
Online Transaction Fraud Detection using Python & Backlogging on E-Commerce
Online Healthcare Information Management System Project With Source Code
Online Organic Health Food Store Project
Online Sports Turf Playground Booking System
Email Slicer
Flight Ticket Price Predictor using Python Project
Image Steganography Project using Python Project With Source Code
Instagram Bot in Python Project With Source Code
Instagram Photo Downloader
Music Player in Python Project With Source Code
Number Guessing
Online Crime Reporting System in Python Project With Source code
Online Employee Payroll Management System Project in Python
Online Inventory Management System Project in Python Project With Source Code
Online Property Management System Project
Online Shoes Shopping Website Project with source code
Random Wikipedia Article
Price Comparison Website for Online Shopping Project
Predicting House Prices Using Linear Regression
Web Based Pharmaceutical Store Sales Forecasting System
Web Based Blood Donation Management System Project with source code
Transformer Conversational Chatbot in Python using TensorFlow 2.0
Plagiarism Checker in Python
Price Comparison Extension
Secure File Storage on Cloud Using Hybrid Cryptography in Python Project
Wish list Products Price Comparison Website Project with source code
Web Based Place Finder Using Django and GeoDjango
Python Command-Line Application
Python Website Blocker
Python Story Generator
Steganography in Python
Python File Explorer
Youtube Videos Downloader
Web Crawler in Python
Reddit Bot
Face Mask Detector
***More Free python projects for beginners to be uploaded soon**
Frequently Asked questions about Python Projects with Source Code
What is python projects for beginners?
Are python projects that are designed for newbie programmer who uses python programming language.
Python projects with source code
Are projects with source code created using python programming languages that made freely available to download designed for beginners.
Master the Python with MySQL Step by Step Guide
Suggested Article For Preparing the Job Interview
Recommended Best Final Year Projects for CS/IT Students
Inquiries
If you have any questions or suggestions about this python source code, please let me know. Just leave your comment below.
Looking for more source code? Type your keyword here here!