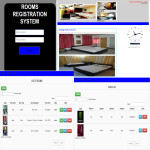 Room Registration System functions are to add a room, edit details of the room and delete room. It can add user information. The system features are the following:
Admin Side:
Login Form
Home
List of Room
List of User
Log in using this account:
Username: admin
Password: admin
In order to run the system, you must create the database named "roomdb" then import the SQL file located in the extracted room folder.
To Download system click the source code here. room.zip
Looking for more source code? Type your keyword here here!