Calendar Event In PHP With Source Code
The Calendar Event In PHP is a simple system develop PHP MySQL database, Using HTML, CSS, Bootstrap, JavaScript, Ajax, J Query, and Modal. In this Event Calendar In PHP Demo or tutorial teach you on How To Make Calendar In PHP With Event.
A Event Calendar In PHP MySQL JQuery will be bound with the Full Calendar library function to show the Calendar. It contains the response layer to show user acknowledgment after event CRUD actions. This Event Calendar Using PHP Managing events in a calendar will be intuitive for the users. In the form based event management, the user has to enter more data like event title
In This Simple Event Calendar In PHP MySQL also includes a Event Calendar PHP MySQL Free Download, just find the downloadable source code below and click to start downloading.
Screenshots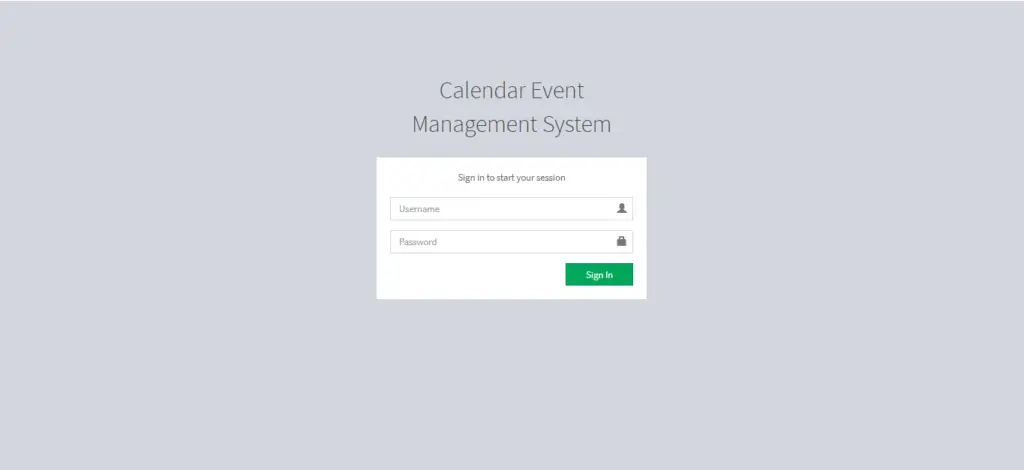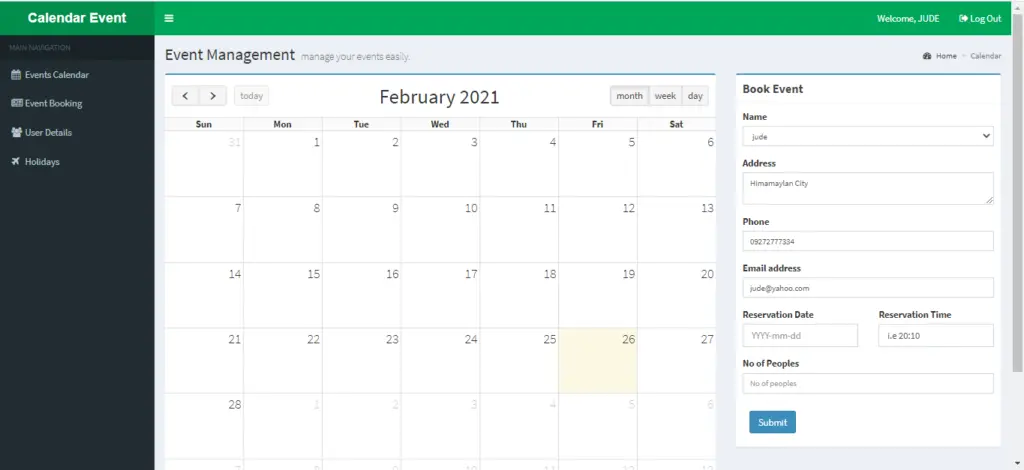 To start executing Calendar Event In PHP, makes sure that you have sublime or any platform of PHP and MySQL installed in your computer
Calendar Event In PHP With Source Code steps on how to run the project
These are the steps on how to run Calendar Event In PHP With Source Code
Step 1: Download source code.

First, download the source code given below.


Step 2: Extract file.

Second, after you finished download the source code, extract the zip file.


Step 3: Copy project folder.

Third, copy the project folder and paste it into the xampp/htdocs folder.


Step 4: Open xampp.

Fourth, open xampp and start the apache and MySQL.


Step 5: Open browser.

Fifth, Open a browser and go to URL "http://localhost/phpmyadmin/"


Step 6: Create database.

Sixth, click on databases tab and Create database naming "db_event_management".


Step 7: Import "db_event_management.sql".

Seventh, Click on browse file and select "db_event_management.sql" file which is inside "database" folder and after import click "go".


Step 8: Open browser and type folder name.

Eight, Open a browser and go to URL "http://localhost/event_management/".


Step 9: Explore manipulating.

Final step , Login from the User's login side. Just provide the Admin's login detail, it will redirect you to Admin panel.
Download Source Code below
Anyway, if you want to level up your programming knowledge, especially PHP, try this new article I've made for you Best PHP Projects With Source Code Free Download 2021.
Summary
The Project In PHP With Source Code was developed using PHP MySQL database, Using HTML, CSS, Bootstrap, JavaScript, Ajax, J Query, and Modal.
This System Managing events in a calendar will be intuitive for the users. In the form based event management, the user has to enter more data like event title, from-date to-date and more. But in calendar view management user can give only the title by selecting the date. It will facilitate the user to quickly manage his day to day events.
Related Articles
Inquiries
If you have any questions or suggestions about Calendar Event In PHP With Source Code , please feel free to leave a comment below.