Online Mobile Ordering System In PHP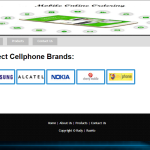 The Online Mobile Ordering System in php will help the customer to be satisfied in ordering product. The system use language PHP, MySQL and Local host for database. It can view through browser. The order process can be approved or cancelled by the admin and provides acknowledge receipt.
Features:
 User:
-Login/logout
-Order
-View product
-Pay
-Sign-Up
Admin:
-Add, Update, Delete product
-Manage User
-Login/Logout
-Approved
 How to install the Database?
1. Unzip the file and paste it into your htdocs folder located in your xampp folder.
2. Create new database file name in localhost and name it as: "it"
3. Import "it.sql" from ordering folder.
4. Click "Go!"
Related Article