This Visual Basic Tutorial is all about SaveFileDialog.
The SaveFileDialog component prompt the users to browse the file system and select a specific file to be saved. The dialog box returns the path and name of the file that the user has selected. On the other hand, you need to write the code in order to write the files to the disk.
Example :
The New Project dialog will appear.

Select "windows" in the project types, hit the "windows form application" in the templates and hit "ok".
Add a richbox, a button and the savefiledialogin the form. Do the form just like this.

Double click a button and do this following code.
1

2

3

4

5

6

7

8

9

10

11

12

13

14

15

16

17

18

19

20

21

22

23

24

25

26

27

'IF THE USER NEGLECTS THE FILE ETENSION THEN, ADD THE DEFUALT EXTENSION.

'CHECK IF THE OUTPUT PATH ACTUALLY EXISTS

'BEFORE CREATING A NEW FILE AND BEFORE OVERWRITING.

'THE FOLLOWING VALUES ARE IN ITS DEFUALT FORM.

'GET AND SET THE DEFAULT EXTENSION

'FILLTERING THE FILES THAT YOU HAVE SAVED.

.

Filter

=

"Text files (*.txt)|*.txt|"

&

"All files|*.*"

If

.

ShowDialog

(

)

=

Windows

.

Forms

.

DialogResult

.

OK

Then

My

.

Computer

.

FileSystem

.

WriteAllText

(

.

FileName

,

RichTextBox1

.

Text

,

False

)

MsgBox

(

ex

.

Message

,

MsgBoxStyle

.

Exclamation

,

Me

.

Text

)
Output: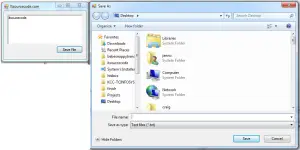 A reader might read also: