This lesson will go over how to apply with borders and shades in Word. In Microsoft Word, you can add a border to any or all of the four sides of selected text, paragraphs, and pages. 
Furthermore, you can also change the color of the space taken up by the selected text, paragraphs, and pages. This chapter will show you how to add borders—left, right, top, or bottom, around text, paragraphs, or pages, as well as how to add different shades to them.
What is Border and Shading in MS word
The borders and shading are options that can be used when we want some text or a paragraph to stand out in a Word document. This is also called the "First Impression." 
Moreover, in MS Word, we use borders and shading to make written text, paragraphs, etc. look good and attractive, as if they were jumping off the page.
Difference Between Border and Shading in MS Word
The difference between border and shading as the name suggests, the border gives the selected text or paragraph an outer or inner edge. Also it is a good alternative to font styles like bold, italic, and underline.
In addition, it draws a lot of attention quickly and doesn't require any hard-core techniques. Moreover, borders are lines that you can put on any or all of a paragraph's four sides.
There are different kinds of borders in MS Word, which are:
Bottom Border– At the bottom of the paragraph, there is a border.
Top Border–The top of the paragraph has a border.
Left Border–Left paragraph border.
Right Border– Right side of the paragraph has a border.
No Border– Gets rid of all the edges.
All Borders– Paragraphs all have borders..
Outside Borders– Outside the paragraph's border.
Inside Borders– Border within the paragraph
Inside Horizontal Border– Paragraph has two horizontal borders.
Inside Vertical Border– Paragraph has two vertical boundaries.
On the other hand, shading is the background color or design you use for a paragraph. When you shade words or paragraphs, the background color changes when you change the theme of the document. It's not like highlighting text, which only lets you choose from a few colors and doesn't change when you switch themes.
Finally, borders and shading are ways to improve the appearance of text, paragraphs, table cells, and frames.
How To Apply Border And Shading In MS Word
Here are the steps on how to apply border and shading in MS word document.
Applying Border in Text/Paragraph
Step 1. Select the text or paragraph to which you want to add a border.

Step 2: Now, in the Paragraph menu on the Home bar, navigate to the Borders tab.

Step 3: Choose your preferred border.

Applying Shades in MS Word Document
Step 1: Select the text to apply the Shading.

Step 2: Now, go to the Shading tab in the Paragraph menu under the Home bar.

Step 3: Select the Shading Color of your choice.

However, we can apply both at the same time (Border and Shading), thus making our paragraph more appealing.

How to Add Borders in Pages
By following the steps outlined below, you can add borders of your choice to documents pages.
Step 1 − Click the Border Button to see a list of border options. As shown in the image below, select the Border and Shading option at the bottom of the list of options.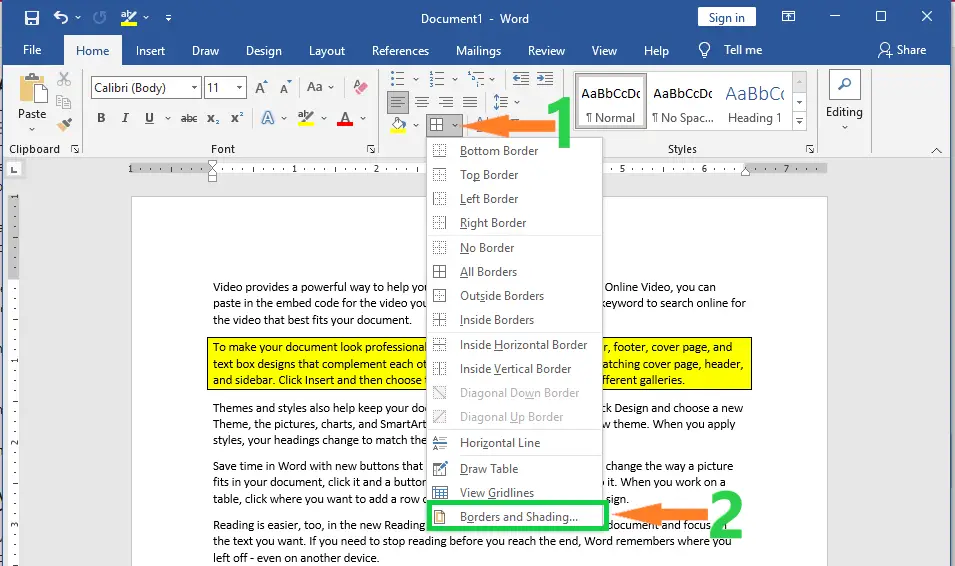 This will open the Border and Shading dialog box. This dialog box allows you to add borders and shading to selected text or page borders.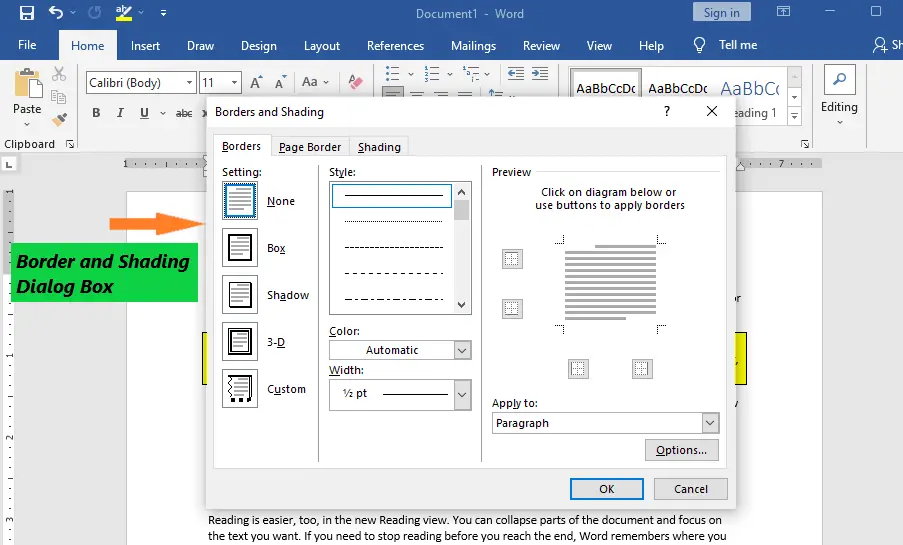 Step 2 − When you click the Page Border tab, a list of border settings, styles, and options will appear. You can choose whether this border should be applied to the whole document, just one page, or the first page.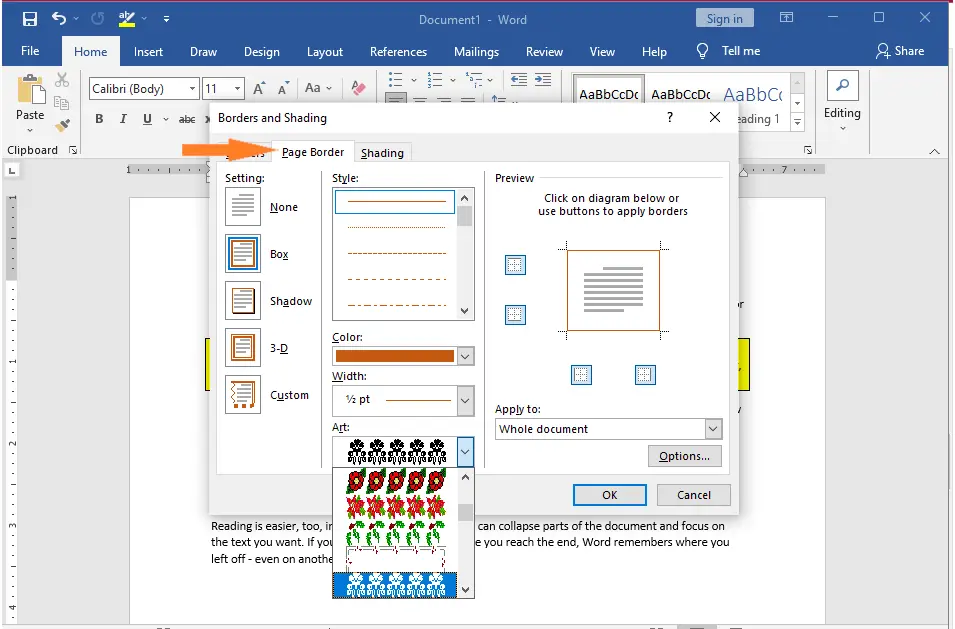 Step 3 − You can use the Preview section to disable or enable left, right, top or bottom borders of the page. Follow the instruction given in the preview section itself.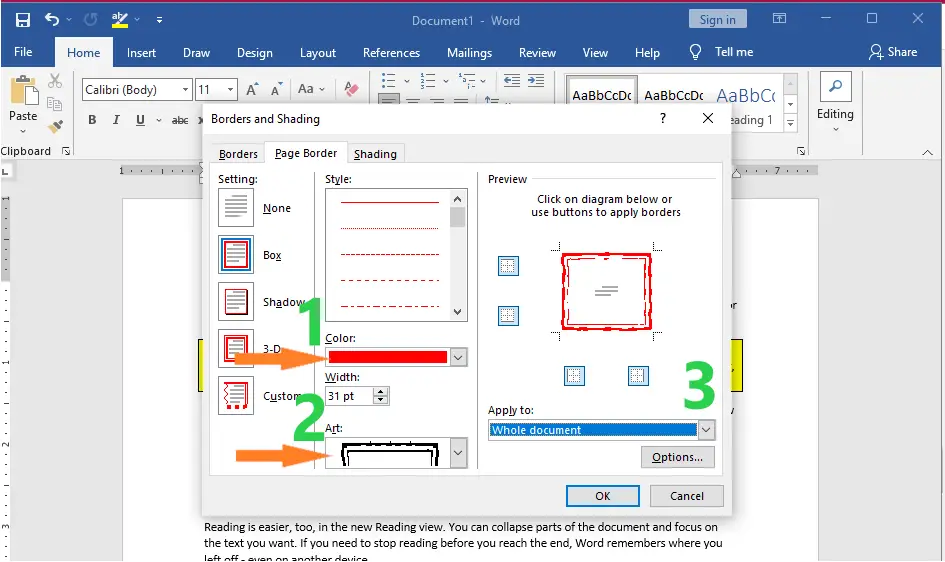 Step 4 − You can customize your border by setting its color, width by using different art available under the style section. You can have similar or even better borders as given below.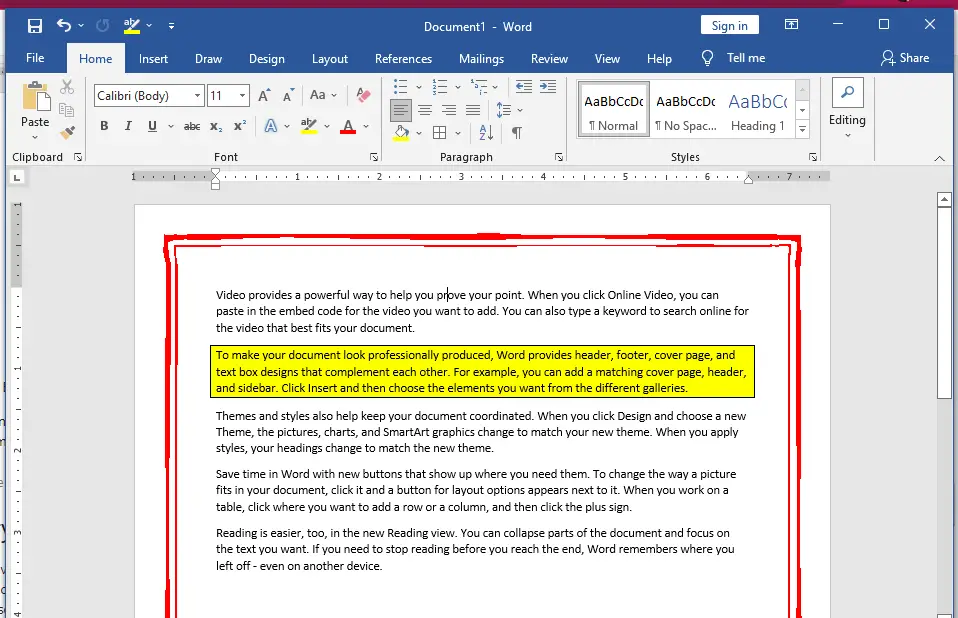 Summary
In summary, we've talked about how to apply border and shading in MS Word, as well as the different styles of border and shades in a document and what those terms mean. In addition, we know the available border and shades in Microsoft Word that makes our document presentable and creative.
We hope this tutorial helps you as you format your documents in MS Word.
---