The Sequence Diagram for Car Rental System is a presentation of the series of events that occurs when renting an online car.
In addition, this diagram explains the system behavior that will guide programmers and developers on how should they build the system. The UML sequence diagram serves as a blueprint for Car Rental System development.
What is Car Rental System?
A Car Rental System is an online booking system tailored to the demands of car rental firms, travel agencies, and companies. It provides a full-featured booking system that allows consumers to check vehicle availability and make online reservations directly from the website.
What is Sequence Diagram for Car Rental System?
As it was mentioned earlier, the Sequence Diagram for Car Rental System would be a great help to all programmers and developers. It does not only show the series of events in the car rental system, but it also shows the behavior of the system in terms of exchanging messages.
These needed to be determined and plotted in an activity diagram to know the function of the system and the deliverance of messages that pass through the system.
Here's what you need to know about the diagram of the system. You'll need to collect data first about the car rental activities to be able to build a system for it. The collected data will be valued and will be applied to its essential diagram which is the sequence diagram.
Car Rental System Functions and Information
The important information about the car rental system before you design a sequence diagram. First, we should have a deep analysis of its core functions before jumping into its blueprints. This technique will help you avoid unnecessary repetitions.
How to Design a Car Rental System?
Now to create the Sequence Diagram for Car Rental System, you must be familiar first with its symbols.
This is to know how would you emphasize the whole content of your Car Rental System. With the symbol familiarization, you'll then easily understand the ways how would you develop the system.
Simple Sequence Diagram (UML) Car Rental System
Here, I will be showing you the illustration of the Car Rental System Sequence System. This design will enlighten you on how should the system or the actor approach each other. This will also teach you how would you develop the system to achieve its desired behavior.
This designed sequence diagram is able to show programmers and readers the sequence of messages between the actor and the objects.
Furthermore, the conditions and interactions are emphasized. These interactions are essential for the Car Rental System development.
The series of messages are shown and labeled to guide you in building a Car Rental System. You can modify the design if you have more ideas. You can also add more features to this design and use it as your project blueprint.
Here is the simple sequence diagram.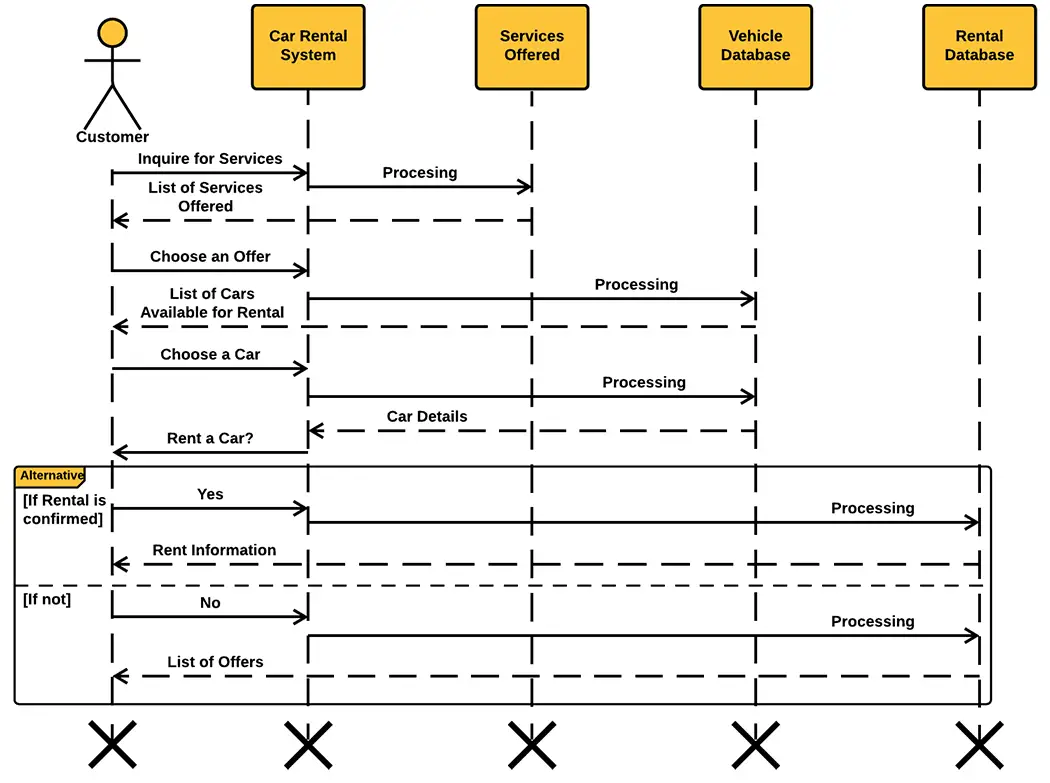 Conclusion
The Car Rental System is a sort of interaction sequence diagram that shows how a group of items interacts and in what order. Software engineers and business experts use these diagrams to understand the requirements for a new system or to describe an existing process.
And that completes our discussion fellas! And I hope that this article about Car Rental System will help you a lot.
Related Articles
Inquiries
If you have inquiries or suggestions about the Sequence Diagram, just leave us your comments below. We would be glad to hear to concerns and suggestions and be part of your learning.