How To Add Mysql.data.dll in VB.net
This tutorial is a complete guide How to Add Mysql.data.dll to your Visual Basic Application.
Let us define first "What is MySQL.Data.dll?". Basically, the MySQL.Data.dll file is considered as one critical component in order for the software to work properly without any errors.
In order for you to manage your MySQL database using Visual Basic.Net or Visual Studio, you need to add a reference to "MySql.Data.dll" so that the IDE will link the database connection library with your application when it complies.
What is Visual Basic's purpose?
The third-generation programming language was created to aid developers in the creation of Windows applications. It has a programming environment that allows programmers to write code in.exe or executable files. They can also utilize it to create in-house front-end solutions for interacting with huge databases. Because the language allows for continuing changes, you can keep coding and revising your work as needed.
However, there are some limits to the Microsoft Visual Basic download. If you want to make applications that take a long time to process, this software isn't for you. That implies you won't be able to use VB to create games or large apps because the system's graphic interface requires a lot of memory and space. Furthermore, the language is limited to Microsoft and does not support other operating systems.
What are the most important characteristics of Visual Basic?
Microsoft Visual Basic for Applications Download, unlike other programming languages, allows for speedier app creation. It has string processing capabilities and is compatible with C++, MFC, and F#. Multi-targeting and the Windows Presentation Framework are also supported by the system, allowing developers to create a variety of Windows apps, desktop tools, metro-style programs, and hardware drivers.
Here the Step by Step Procedure in How To Add Mysql.data.dll in VB.net:
Download the MySQL Connector here MySQL Connector.
Install the connector.
then Create a Visual Basic Project
Next, in the solution explorer Right click your project name and Click Properties or
in Menu, Click project and select Properties. see the Image below.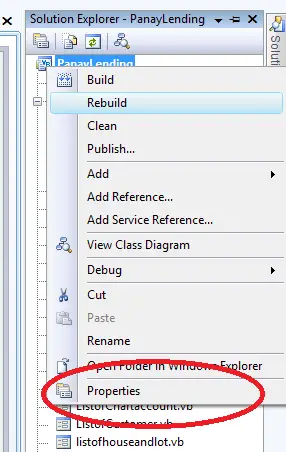 6. Then, click References ( see the Image below)

7. and Click the add.. button
8. then switch to the "Browse" tab and browse to the folder where did you install the connector
9. and select the "MySql.Data.dll" file. Click OK.
10. At the top of your code, add using MySql.Data.MySqlClient. If you've added the reference correctly, IntelliSense should offer to complete this for you.
Readers might read also: