Mysql.data.dll To Visual Basic Application
This tutorial is a complete guide How to Add Mysql.data.dll to your Visual Basic Application.
Let us define first "What is MySQL.Data.dll?". Basically, the MySQL.Data.dll file is considered as one critical component in order for the software to work properly without any errors.
In order for you to manage your MySQL database using Visual Basic.Net or Visual Studio, you need to add a reference to "MySql.Data.dll" so that the IDE will link the database connection library with your application when it complies.
Here the Step by Step Procedure:
Download the MySQL Connector here MySQL Connector.
Install the connector.
then Create a Visual Basic Project
Next, in the solution explorer Right click your project name and Click Properties or
in Menu, Click project and select Properties. see the Image below.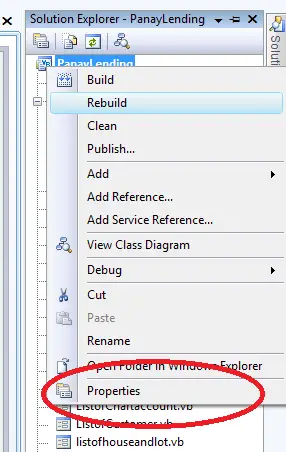 6. Then, click References ( see the Image below)

7. and Click the add.. button
8. then switch to the "Browse" tab and browse to the folder where did you install the connector
9. and select the "MySql.Data.dll" file. Click OK.
10. At the top of your code, add using MySql.Data.MySqlClient. If you've added the reference correctly, IntelliSense should offer to complete this for you.
Readers might read also:
Looking for more source code? Type your keyword here here!