Hotel Reservation System full Source code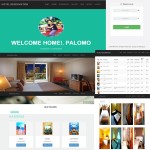 The system features the login form, booking process, registration form and gallery of room. The system used PHP, MySql, HTML and CSS Code. Hotel Reservation displays the details of the hotel for the fastest selection of the customer want.
Watch here to get an idea of what are the features of a real Hotel reservation system used in the hotel industry.
Admin Side:
-Login
-Home Page Profile of User
-Reservation Transaction
-Add User
-Add Rooms
Username: palomo
Password: x
Client Side:
-Home
-Booking
-Rooms Details
-Registration and Sign -Up Form
Login using this account:
Username: cj
Password: qwerty
In order to run the system, you must create the database named "pjcdb" then import the sql file located in the extracted pjc folder.
To Download system click the source code here pjc .
Looking for more source code? Type your keyword here here!