The Sequence Diagram for Hotel Management System is a UML sequence diagram which shows the sequence of events that should be present in the Hotel Management.
This diagram gives enlightenment and a guide to the programmers and developers on how they should build the system. The idea presented in a sequence illustration will give efficiency to Hotel Management system development.
The ability of the team to promptly turn over rooms and ensure that they meet the hotel's standards is critical to the success of the business. A smart hotel management system can combine all of that complexity into one centralized location by keeping detailed track of all the work that has to be done.
Simple Sequence Diagram (UML) Hotel Management System
Now, I will be showing you the sequence illustration of the Hotel Management System.
This design will enlighten you on how the system and the actor approach each other. This will also inform you on how you would develop the system to achieve its desired behavior.
Sequence Diagram for Hotel Management System Design
The design that I will be showing you is a detailed illustration of the sequence of events happen in Hotel Management System.
This designed sequence diagram is able to show programmers and readers about the sequence of messages between the actor and the objects.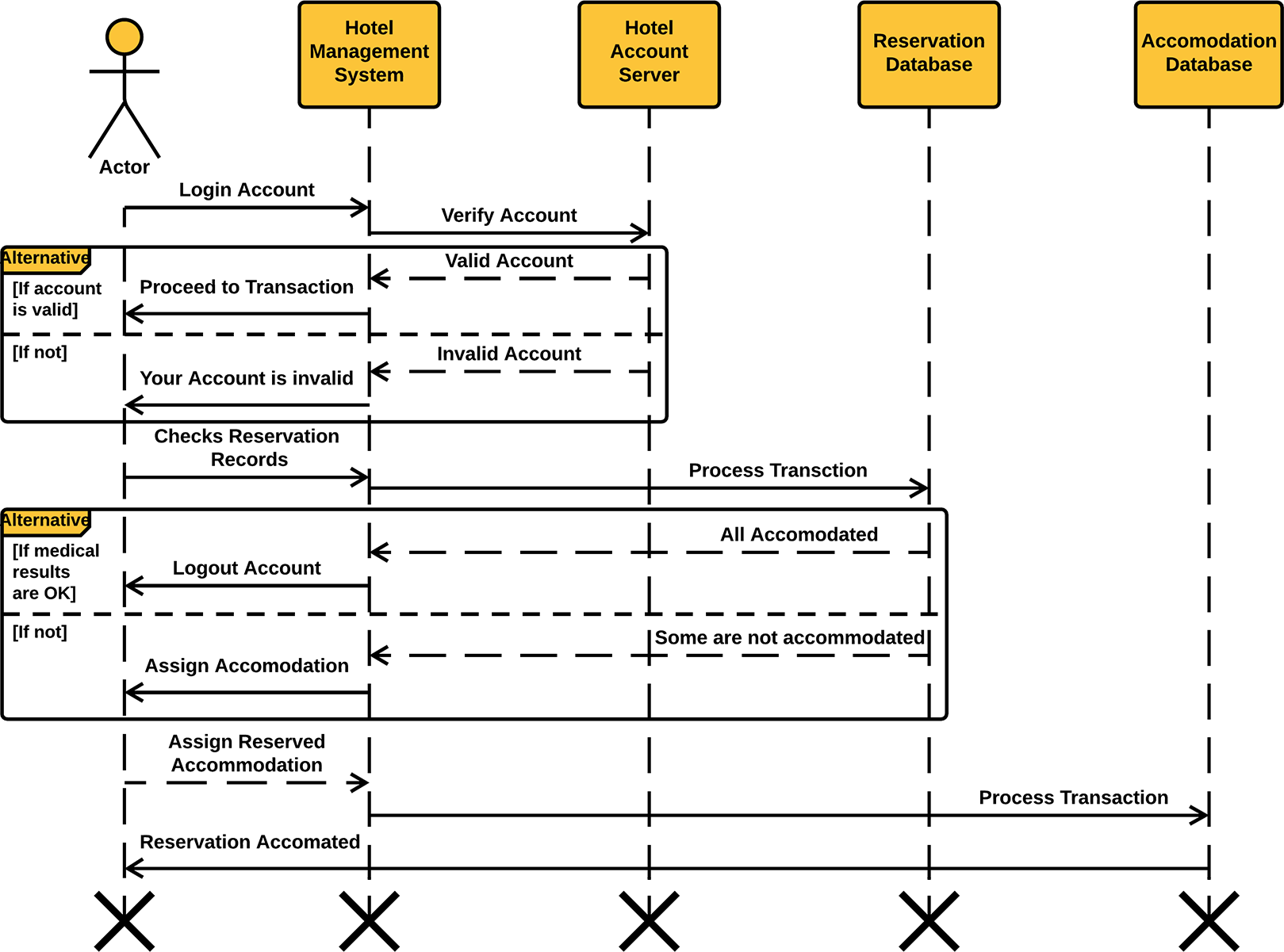 As you can see through the illustration, the conditions and interactions are emphasized. These interactions are essential for the Hotel Management System development.
The series of messages are shown and labeled to guide you in building the Hotel Management System. You can modify the design if you have more ideas.
You can also add more features to this design and use it as your project blueprint. You'll be able to understand and educate yourself on how the Hotel Management System works By creating a sequence diagram.
Conclusion
Hotel management is a branch of the hospitality business that entails controlling a hotel's operations. Housekeeping, guest services, engineering, food and beverage, accounts, and sales and marketing may all be divisions in a smaller hotel.
The primary goal of hotel management is to maintain a steady influx of visitors and guests throughout the year, as well as to promote the hotel's extensive range of services and USPs and how they benefit visiting customers through marketing campaigns.
And that completes our discussion fellas! And I hope that this article about Sequence Diagram for Hotel Management System will help you a lot.
Related Articles
Inquiries
If you have inquiries or suggestions about Sequence Diagram for Hotel Management System, just leave us your comments below. We would be glad to hear to concerns and suggestions and be part of your learning.