This course is about: What Is MS Word and Its features. It is made for people who want to learn and familiarize themselves with Microsoft Word for the first time.
As you go over, you will learn their versions, advantages, and disadvantages of their latest updates. This is an overview of MS word tutorial for beginners that will teach you enough about MS Word so that you can move on to more advanced tasks.
What is MS Word 2019?
Microsoft Word or MS Word is a popular word-processing tool mostly used to create documents such as brochures, letters, learning exercises, quizzes, tests, and students' homework. It was first introduced in 1983 and is a component of the Microsoft Office suite.
If you have been using older versions of MS Word like MS Word 2016 or MS Word 2013, you won't notice much difference when you first look at MS Word 2019. But Microsoft Word 2019 has a number of updates and changes that you need to know about. The newer version works well with Microsoft Office 365 and is a complete piece of software for handling documents.
What are the uses of MS Word 2019?
The use of MS Word 2019 is to help users make many different kinds of documents. Users can, for example, make a resume, a business contract, a set of instructions, or a letter to someone else.
Here are the 10 uses of Microsoft word:
Time-Saving Tool
An Aide for Teachers
An Aide for Students
E-Content Generation
Tool for Preparing Question Papers for Exams
Lesson Plan
Creation of a Good Resume
Environmental-Friendly Tool
Working as a Notebook
Documents Can Be Saved for Future Use
What's new and advantage in MS Word 2019?
The new and advantage in MS Word 2019 it gives you new ways to work with documents, such as with a better digital pen, page navigation like in a book, learning tools, and translation.
One big change is that MS Word 2019 and other programs in the MS Office suite 2019 will only work on computers with Windows 10 and the three most recent versions of macOS if you have a Mac.
Additionally, Microsoft Word is a word processing program that lets you make letters, resumes, and many other types of documents. In this lesson, you'll learn how to move around the Word interface and get to know some of its most important parts, like the Ribbon, Quick Access Toolbar, and Backstage view.
What are features of MS Word?
Here are the list of Top New Features and Changes of MS Word 2019.
1. Learning Tool 
This new Learning Tool of MS Word can improve readability without modifying the original document in any way. For instance,
you can adjust the line spacing to meet your needs,
pick a new page color to spice up your document,
or even just hear the words read out loud.
After you have finished using the Learning Tool tab, you can shut it and return to your original work.
2. Visual Updates
The Visual Updates of the new version of Microsoft Word has two significant graphical improvements. To begin, it gives you the ability to incorporate screenshots of interactive 3D models into your projects. Further, this is fairly unusual upgrade that gives you the ability to select several poses of an image, which ultimately gives your document a more professional look and feel.

3. Read Aloud
If you prefer to listen to your paper rather than read it, the 'Read Aloud' tool is available under the 'Review' menu. Place the cursor at the beginning of the paragraph you wish to hear in your document. Then, by clicking the Read Aloud tab, you may hear the text from the cursor point forward. Under the Rule in the upper right-hand corner is a Read Aloud control panel that allows you to 'Pause' and 'Play' as well as modify the reading speed. You may even choose amongst the available voices
4. Line spacing, margins, and text alignment
Line Spacing
Microsoft Word 2019 defaults to double line spacing (2.0). The line spacing of a paragraph or document influences its entirety. Change line spacing with the Line Spacing button on the Home ribbon.
To put space between lines, make sure:
The whole document is selected
Click on the tab for "Home."
Click the Line Spacing button in the Paragraph group and then choose 1.5.
Margins 
The default margins for Microsoft Word 2019 are 1 inch for the top and bottom, and 1 inch for the left and right. To modify your margins, click the Margin button on the Layout tab on the ribbon.

To modify the margins, follow the instructions below:
Select the full document's text by holding down the Ctrl key, then move the cursor to the left margin and click the right mouse button once.
Navigate to the Layout tab.
Click on the Margins button in the Page Setup group.
Modify the margin by clicking on the top margin button (top and bottom 0.5″ – left and right 0.5″).
The margins panel will be displayed.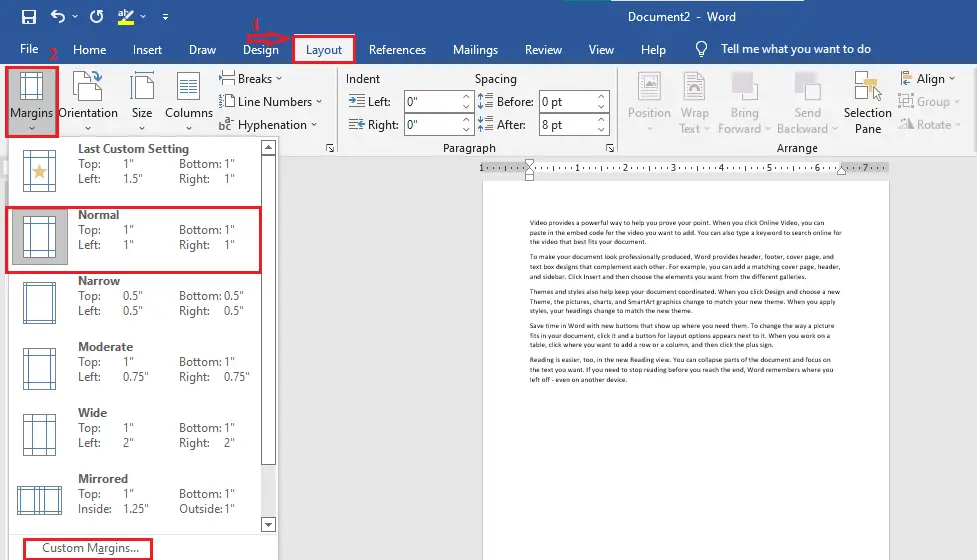 Text Alignment
Microsoft Word 2019 lets you align paragraphs in four different ways in relation to the left and right margins: left, center, right, and justified. Furthermore, paragraphs in word 2019 are aligned to the left by default. Also, you can change the alignment of a paragraph by clicking on the Alignment button in the Paragraph group on the Home ribbon
Alignment Option:
First Button – Align Text to the Left
Second Button – Center Text
Third Button – Align Text to the Right
 Fourth Switch – Justify Text
5. Language Translation
Microsoft's previous editions included a language translation tool, but Word 2019 supports more languages and its functionality is more accurate than before, allowing you to translate multiple phrases or even the complete parts of a text into the language of your choice. The tool is located under the Review tab. Here you will discover two translations.

Options: Translate Selection translates the selected text, while Translate Document translates the full document.
MS Word Basic Features
These are the basic features of MS Word.
Basics of MS Word Creates text documents.
Editing and Formatting the existing documents.
Making a text document interactive with different features and tools.
Graphical documents, comprising images.
Used by Authors and Researchers.
Detect grammatical errors in a text document.
What are the advantages of MS Word
The advantages of MS Word are wide and varied. Here are the main advantages.
Integration: One of the best things about Word is that you can combine any document with other types of media that come with the Office suite. Graphs, presentation materials, worksheets, and any other media made in the suite are easy to use. Since the link is dynamic, you can instantly update any document you make when other media changes.
Mail Merge: By merging names and addresses from a database list into your document, Word makes it easy to make personalized documents. This is a great way to send out a lot of letters or brochures. The mail merge feature is easy to use and has a lot of features. It lets you make many different kinds of documents, such as mailing labels.
Collaboration: One of the best things about Word is that you can markup a document to make changes. This lets a number of editors change and update the document, and it lets all users see the changes that have been made.
Templates: The good thing about Word is that it has thousands of templates, so it's easy to make a brochure based on one that someone else made. Most templates are easy to use and easy to change, so you can make some really great things with them.
Smaller Files: In the past, Word files were known for being pretty big. This was a problem if your device didn't have a lot of space to store things. With the new DOCX format, which came with Word 2007, Word files got a lot smaller. This is now the standard way for documents to be set up.
Mobile App: On Windows phones and tablets, you can use Word on the go. Even though it's not as powerful as the desktop version, you can still make and change documents with it. This app is a great
Disadvantages of MS Word 2019
These are the Disadvantages of MS Word 2019.
1. Cost: It's true that what MS Word is the most effective word processor, but it doesn't mean it's cheap. The demands of the vast majority of users can be met by using one of the several free word processors available.
2. Complexity: Most people who use MS Word will probably never use half of its features. Some users may be put off by how complicated it is because they will be overwhelmed by all the features. Some of the most-used elements are on the ribbon, but the ribbon isn't always easy to understand, which can add to the confusion.
3. Not Always Intuitive: Some features of MS Word aren't always easy to understand, and it can take a while to get the results you want. I've had trouble trying to add pictures and make sure the text is in the right place around them. The choices seem to give me what I want, but I don't always get what I want.
4. Removed Feature: In the past, some familiar parts of Word have been taken away. This includes the well-known toolbar that the ribbon has replaced. Word also used to have tools like speech recognition, which is now built into Windows.
Types of Microsoft Word
Microsoft Word has had several types or version throughout its history. The different releases with release dates are listed below.
Windows versions
Word 2016 and 97
Word 2019, released in 2018
Office 365 and Word 2016, released in 2016
Word 2013, released in 2013
Word 2010, released in 2010
Word 2007, released in 2006
Word 2003, released in 2003
Word 2002, released in 2001
Word 2000, released in 1999
Word 98, released in 1998
Word 97, released in 1997
Word 95, released in 1995
Word 6.0, released in 1993
Word 2.0, released in 1991
Word 1.1, released in 1990
Word 1.0, originally invented for MS-DOS and Xenix in 1983 by Charles Simonyi and Richard Brodie, working for Bill Gates and Paul Allen. Word was released in the Windows OS in 1989
Mac versions
Word 2019, released in 2018
Word 2016, released in 2015
Word 2011, released in 2010
Word 2008, released in 2008
Word 2004, released in 2004
Word v. X, released in 2001
Word 2001, released in 2000
Word 98, released in 1998
Word 6, released in 1993
Word 5.1, released in 1992
Word 5, released in 1991
Word 4, released in 1989
Word 3, released in 1987
Word 1, released in 1985
Summary
In this tutorial, we already discussed the introduction of MS Word 2019 and the advantages and disadvantages of MS Word and its top new features, changes, and different versions. 
MS Word 2019 includes a number of updates that provide you with new methods to work with documents, including an improved digital pen, page navigation similar to that of a book, learning tools, and translation capabilities. Lastly, we suggest to use this version and explore their new features in creating your documents.
---