What is MS Word Tutorial for Beginners?
This MS Word Tutorial for Beginners is made for people who want to learn Microsoft Word and how to use it in easy steps but don't know much about computers or Microsoft applications.
This tutorial will teach you enough about MS Word so that you can move on to more advanced levels of skill.
What is MS Word?
MS Word or Microsoft Office Word 2019 gives you the ability to produce and modify a wide variety of documents, including e-mails, books, reports, and invoices, as well as letters and reports.
In saving the document of MS Word 2019 by default it appends the .docx file extension.
In addition, Microsoft Word was first released in 1983, and since then, it has been changed many times.
Both Windows and Apple computers can use this application. People often just call Microsoft Word "Word" or "MS Word."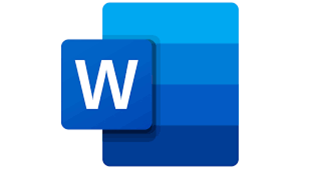 Note: For more information about the different versions of Microsoft Word, see MS Word Introduction about MS Word Version.
What is the Purpose of a Tutorial in MS Word?
The purpose of this Tutorial on MS Word includes the following:
In order to produce professional-looking documents MS Word uses graphical elements like photos, graphs, and diagrams.
You will learn in the Microsoft Word tutorial that covers pages, sidebars, and other pre-formatted parts can be saved and reused multiple times.
To write letters for personal or professional use and to design matching letterheads.
A variety of document layouts, including resumes, invitation cards, etc.
The purpose of MS is to draft everything from internal company communication to simple office memos to legal copies and reference documents.
Benefits of Learning MS Word Tutorial for Beginners
Learning MS Word Tutorial is beneficial to both teachers and students by helping them come up with new ways to learn and teach.
MS Word is an important piece of software for school. In this digital age, it helps to make notes instead of keeping notebooks.
We can make notes with things like diagrams, graphs, tables, smart art, and so on.
Here are a few benefits you can gain in learning this word tutorial.
1. Extreme Availability
MS Word is extremely available in practically every home, workplace, and school computer.
As one of the most frequently used word-processing programs, you can assume it to be available to anyone you share documents with, even if they live across the globe.
Additionally, this tutorial on MS Word explains that it allows you to save, open, and edit your document in formats that are compatible with other word processing products, such as PDF, ensuring that your document can be viewed and edited by anyone.
2. Integrate with other Microsoft Office applications
An MS Word document could be easily integrated with other Microsoft Office applications, which makes sharing information easy.
If you have a spreadsheet made in MS Excel, you can easily import it into an existing MS Word document.
Documents made in MS Word can also be easily imported into MS PowerPoint, Excel, or any other MS Office program.
3. Immediate language assistance
MS Word has the ability to detect spelling, grammar, and syntax errors instantly and provide you with a series of solutions to suit the sentence and document, thanks to a comprehensive dictionary, thesaurus, and grammar help in over 40 languages.
Furthermore, MS Word can detect the language you're using and prompt corrections accordingly, allowing you to combine multiple languages in a single document
4. Easy to read and easy to write
This tutorial of MS Word lets you simply switch between reading and editing modes.
For easy reading in read mode, texts are grouped in columns. In edit mode, you may combine texts with photographs, charts, diagrams, and videos to create a professional-looking document.
MS Word's live layout lets you play with your document's layout in real time, picking the best arrangement for your images and words as you go.
Why is it important to learn Microsoft Word?
The importance of learning Microsoft Word is that it allows you to change between the reading and editing modes of a document easily and smoothly.
While the reading mode provides essential tools for reading with texts arranged in columns, the editing mode allows you to create a document with a professional look by combining texts with images, charts, diagrams, and videos.
Additionally, Microsoft Word can benefit teachers and students by creating new innovative methods of learning and teaching.
It is an important application for education purposes. In this digital world, it helps to make notes instead of notebooks. We can prepare notes with diagrams, graphs, tables and smart art etc.
Clearly, this MS Word tutorial will teach you to create, save, and share documents. Apply pre-designed styles and format text with fonts and colors. Work with bullets, indents, and line spacing. Insert pictures and screenshots.
Audience
The audience of the tutorial of MS Word are the people who are new to computers and Microsoft Office.
This course will provide you with a solid foundation in Microsoft Word from which to build your knowledge and skills.
Prerequisite
Before you begin with this course, it is assumed that you have a fundamental knowledge of computer peripherals such as the mouse, keyboard, monitor, and screen, as well as the fundamental operations of these components
---