Do you want to have a presentation which is more engaging and can ease the tense when presenting? Well, knowing how to embed a video in a PPT is a great way.
In this tutorial, we will cover various ways to embed video in PowerPoint presentations such as from pc and from Youtube or through a Video file link.
Why Inserting Video in PowerPoint is Important
Inserting video in Powerpoint makes a presentation more engaging and interesting. Besides that, it enhances understanding. It is a perfect tool to break down complex concepts into simple, easy-to-understand visuals.
This will help your audience to better comprehend the information you are presenting.
Additionally, Videos have made it easy to represent abstract ideas with sheer excellence that once seemed difficult. You don't need to insert a complicated video to make your presentation looks elegant. Even a simple video with a short animation and no sound can do wonders and convey your message in a more subtle way.
Now we will provide a step-by-step guide on how to add video…
How to add video From a PC
In this guide, we will provide you with a step-by-step approach to help you embed a video in a PPT effortlessly.
Head over to Insert Tab.




Find the Video in Media Group.

Select the Video button and click This Device in the drop-down menu.



Locate the video you want to Insert.

When the File Explorer opens locate the video you want to embed.



The video should be added to the slide.

In your slide the will be successfully added.


How to insert and play a video file link from your computer
Another way to embed video in PowerPoint is through the link of the video stored on your computer. This process is like adding video from Pc.
The advantage of this linking a file from your pc from embedding video directly is it keeps the file size of the presentation smaller. However, the downside of this is the link of the video might be broken and could be deleted on the PC.
Follow these steps to insert and play a video file link from your computer:
Click on the PowerPoint slide, then go to Insert Tab.
Find the video you want to link to and click "Link to File".
How to embed a youtube video in ppt
Embedding a YouTube video in a PowerPoint presentation can add value and increase engagement with your audience. To embed a YouTube video in a PPT, follow these simple steps:
Step 1: Find the video on YouTube First, find the video you want to embed on YouTube. Once you find the video, copy the video's URL.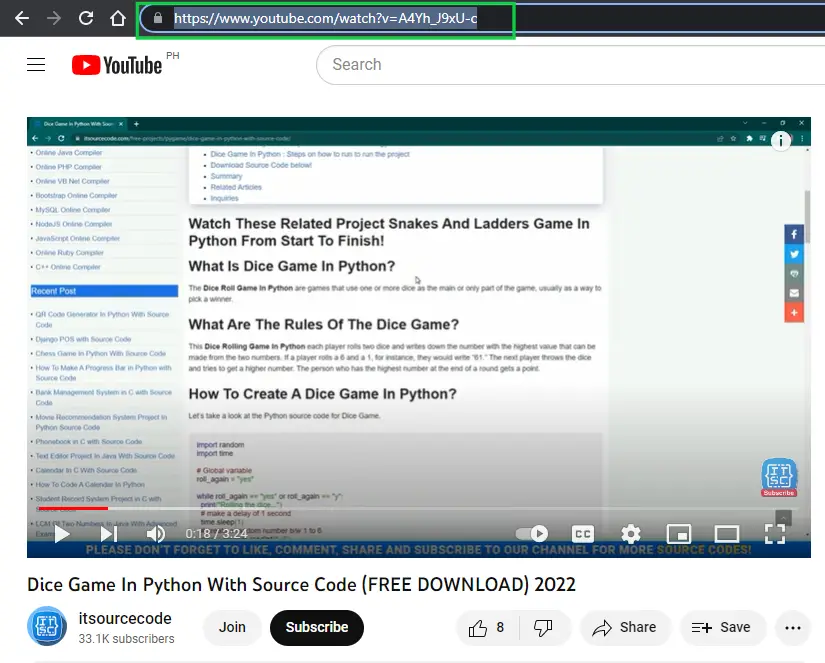 Step 2: Insert a video on a slide. Next, open your PowerPoint presentation and go to the slide where you want to insert the video.
Step 3: Click on the Insert tab on the PowerPoint ribbon, and click on the Video button. From the drop-down menu, select Online Video. A dialog box will appear where you can paste the video URL you copied earlier.
Step 4: Insert the YouTube video After pasting the URL, click on the Insert button. This will insert the YouTube video on the slide.
Step 5: Adjust the size and position of the video. Once the video is inserted on the slide, you can adjust its size and position by clicking on it and dragging the handles around the video. You can also move the video to a different position on the slide by clicking and dragging it to the desired location.
Step 6: Customize the playback options You can customize the playback options for the YouTube video.
To do this, click on the video, and then click on the Playback tab on the PowerPoint ribbon. You can then choose the options that you want to use for the video.

Step 7: Preview the YouTube video Before you present your PowerPoint presentation, you should preview the YouTube video to ensure that it plays correctly.
To do this, go to the slide where you inserted the video, and click on the Play button.
Why can I not embed a Video in PowerPoint?
When you cannot embed video in Powerpoint probably you are using an unsupported format of video. Technically, the video format you should have is WMV, ASF, or MP4. Apparently, Microsoft Powerpoint recommends embedding video files in MP4 format encoded with H.264 (MPEG-4 AVC).
Tips in embedding Video in PPT
There are a few practices we should keep in mind when inserting a video into a presentation.
Be clear with your script: Since the video replaces the bullets or list of ideas. Use concise language and make the message of the video simple and easier for the audience to go along with.
Choose an engaging color or animation. A good creative and good-looking video will keep the audience's attention. Choose a colorful but not flashy animation.
Keep it short but precise. Create 30-60 seconds of video in a presentation. When the video is more than the ideal time, break it up across multiple slides so it can be outlined in bite-sized chunks.
Conclusion
In conclusion, Embedding a video in a PPT presentation can enhance the visual appeal and effectiveness and can be a great way to engage your audience and make your presentation more interesting.
By following these simple steps, you can easily embed a video in your PowerPoint presentation.
If you like these types of tutorials, we also have How To Add Music To A PowerPoint Step-By-Step Guide.
Anyway, for more educational articles like this feel free to visit our website. Thank you for reading 🙂