In this tutorial, we'll talk through how to add speaker notes to a PowerPoint for an effective presentation. Start to learn how to add notes in PowerPoint with our comprehensive and step-by-step guide with images to add notes to your slides and deliver a perfect presentation.
Adding speaker notes to your PowerPoint is one of the great things you should do when you're going to present. A note you add to your PowerPoint cannot be seen by your viewers; it is only visible on your screen.
You don't have to worry about being out of your topic because your notes will be there to accompany and guide you to stick to it.
What is speaker note?
A speaker's notes in PowerPoint are text-based and a speaker uses to help and to accompany during the presentation. It helps the speaker to remember important details, and typically, it is a guide for what to say while presenting.
Additionally, it contains additional information and supporting data that cannot be seen in your presentation slides or anybody else seeing the slideshow. It is best to use it when you have so much information to say so that it won't cram into your slides.
Speaker notes in PowerPoint have a variety of formats that include bullet points and even a script. It includes some reminders, key points, and important details to highlight.
Why we should add speaker notes to PowerPoint presentations?
First, speaker notes allow us to give a smooth and ensure that the presentations are well-prepared while also making sure that you won't miss out on important points.
Secondly, it ensures that the speakers stay on track and present their message in a concise and clear manner. Lastly, the PowerPoint presentation notes are meant to help the speaker to remember everything that a speaker should say in finer detail.
How to add speaker notes in PowerPoint Presentation?
Adding notes to your PowerPoint presentation is very easy; just follow this tutorial on how to add notes in PowerPoint.
Time needed: 1 minute.
This is the easiest and quickest way to add notes to your PowerPoint slides. Follow these steps to add notes to your presentation:
After you create a PowerPoint presentation then you wanted to put a note. You just have to select the slide where you want to add notes. Simply click on "Notes" at the bottom of your PowerPoint screen.
It will open the notes section of the current slide.


Click the section that contains "Click to add notes," and you may now add whatever note you want.



3. If your notes have exceeded their limited length, you can enlarge them by moving the arrow at the upper part of the pane and then dragging it upward depending on the length of your notes. 
4. If you want to add notes to your other slides, simply click on the next slide in the PowerPoint slide sorter and do the same process. 
5. You're done! You have successfully added notes to your PowerPoint presentation. 
Another way to add notes to a PowerPoint
Now, let's take a look at another way to add speaker notes in PowerPoint. Let's Go!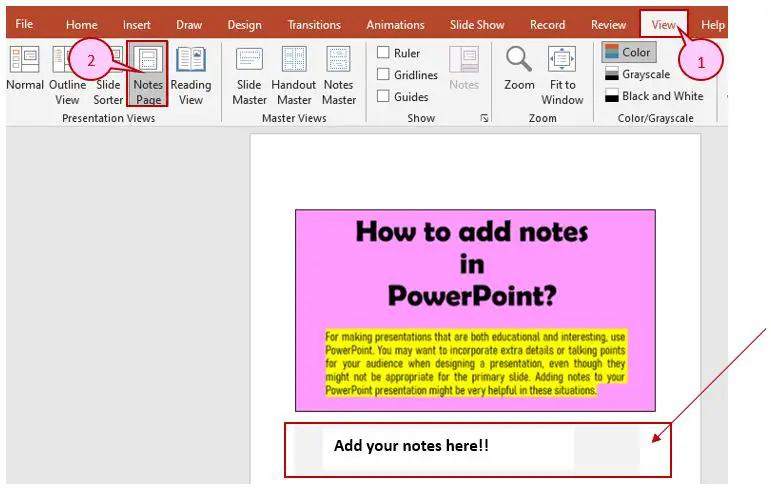 Go to the "View" tab to access the "Note Page." 
In the "Presentation Views" section above it, click "Note Page." 
You can format your notes by using the formatting tools in the notes section.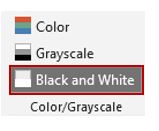 You can change the font, size, color, and style of your notes to make them more readable and attractive.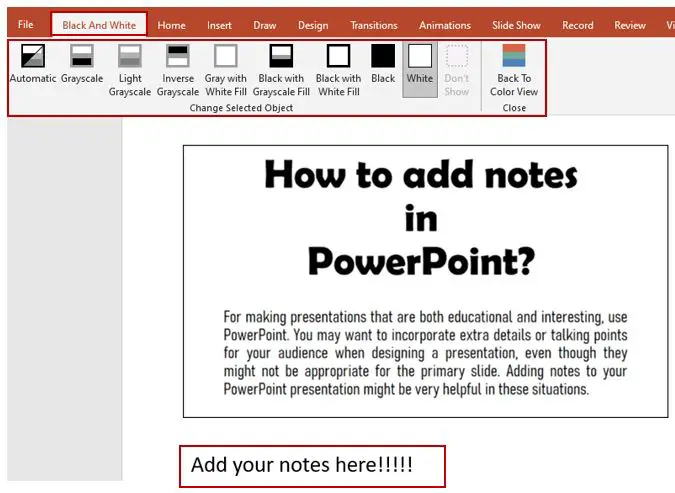 This is what a "Notes Master" looks like: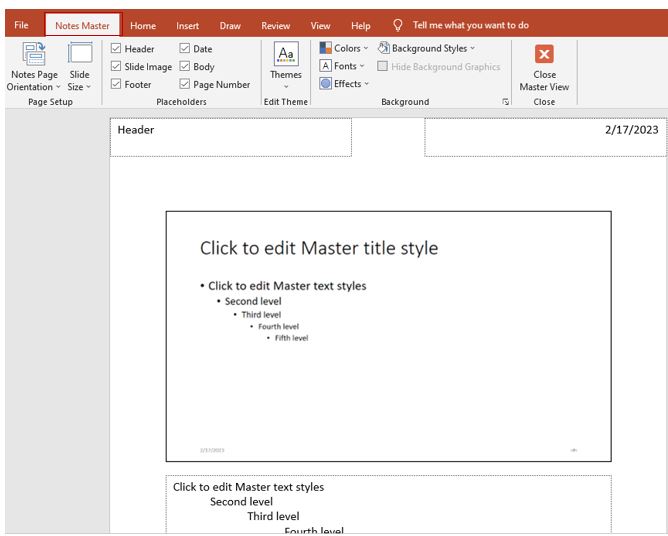 How to present using speaker notes in the presenter view?
This time we'll know how to view speaker notes on another screen or an external monitor.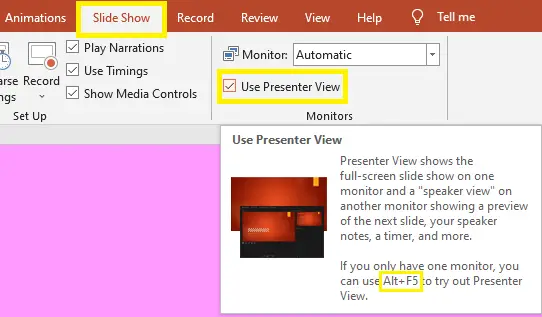 In the "Slide Show" tab, "Use Presenter View" has been turned on automatically by default.
On the other hand, you can use the keyboard shortcut "Alt" + "F5" to switch to the presenter view.
In case you only have one monitor, press "ALT" + "F5" on your keyboard. The speaker notes will be shown in the lower right-hand corner of your monitor.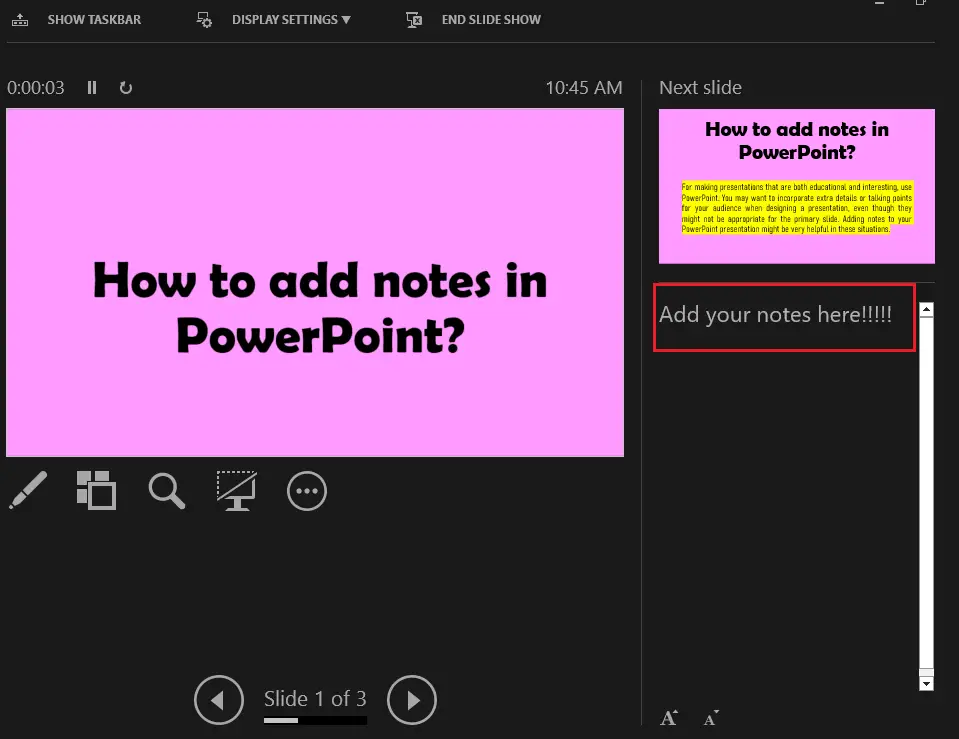 You can also see the speaker note in the lower part of your slide show. Just simply move your arrow down, select the three dots, and click "Show Presenter View."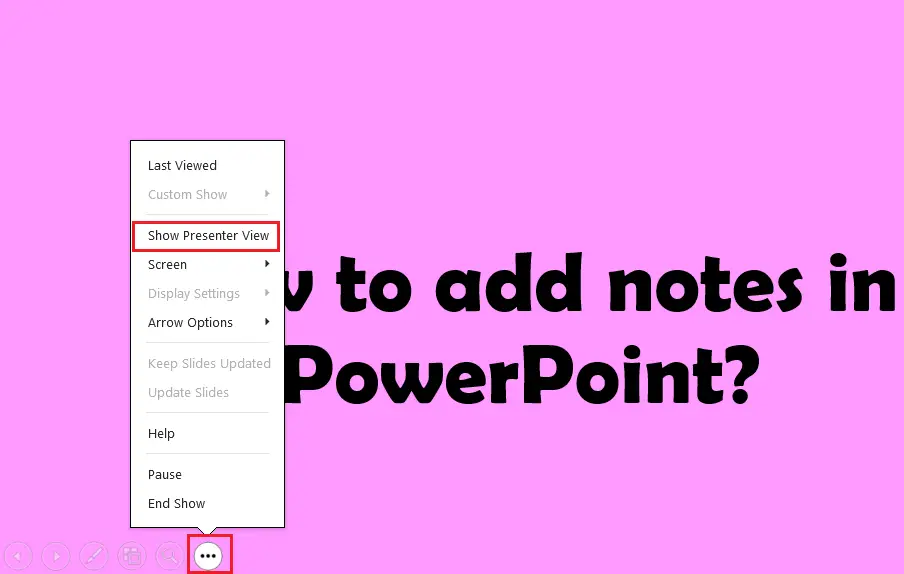 The result will look like this: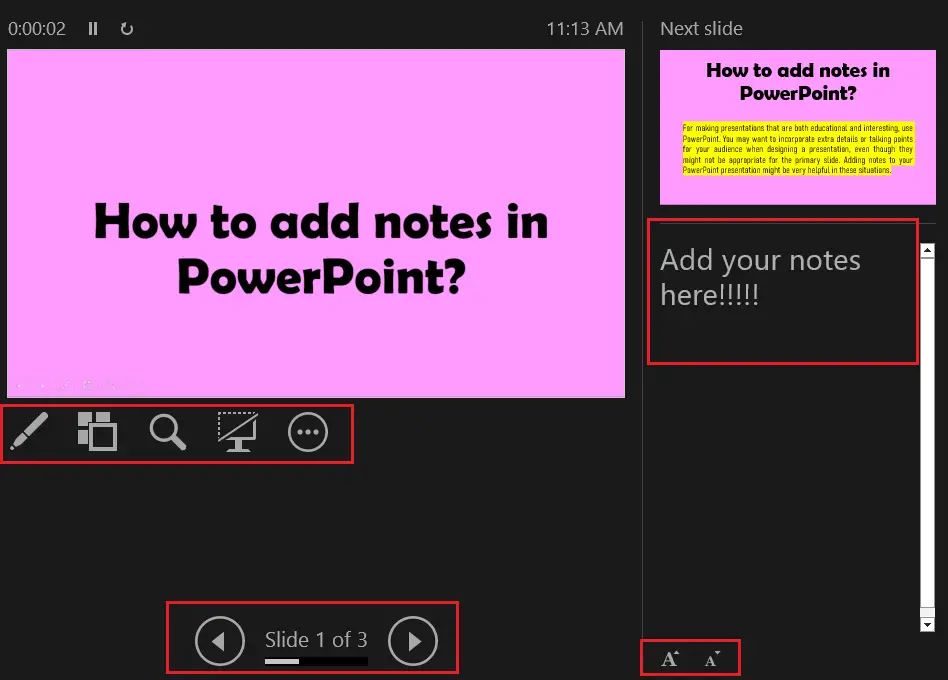 If you've already added notes, you'll see them in the lower right corner, and you can also adjust the size of your notes. Simply click the big and small letter "A." Aside from that, you can also adjust the settings of your monitor; you can see the five icons in the image above, which you can explore and use during your presentation.
Tips of on how to add notes in PowerPoint
Proofread and practice your presentation with your notes to ensure that you are comfortable with it, and check the flow of your presentation.
You can use bullet points or numbered lists to make sure that your notes are easier to read and understand.
Keep your notes clear and concise.
Use some keywords and phrases that will help you remember them during the presentation.
Don't make notes that are too long, because you may distract your audience from your main slide.
Conclusion
We have discussed in this article how to add speaker notes to a PowerPoint presentation in a quick and easy way like a pro. That will help you with regard to adding notes to your PowerPoint presentation with a step-by-step guide.
We make this tutorial in a simple but effective way to make your presentation more powerful and engaging to its viewers. With a speaker note, you can add additional data, reminders, and key points. With this, you can deliver a flawless presentation.
Thank you very much for continuing to read until the end of this article. In case you have more questions or inquiries, feel free to comment. You can also visit our website for additional information.