Boarding House Finder Thesis Documentation Chapter 2
This Boarding House Finder Thesis Documentation Chapter 2 presents studies, facts, and prior studies conducted by the researcher, which include concepts, ideas, existing applications, observations, beliefs, and methodologies relevant to the current research.
Here's the Outline of Boarding House Finder Thesis Documentation Chapter 2 – Related Literature
1.Related Studies
2.Local Related Literature
3.Foreign Related Literature
4.Local Related System
5.Foreign Related System
6.Prior Arts
7.Comparison Table of Related Foreign and Local System
Boarding House Finder Thesis Documentation Chapter 2 : Related Studies
The proponents searched for a detailed analysis of local and foreign studies that related to mobile app locator. These related studies served as a tools that guide the proponents in the developing a mobile app locator named as Boarding House Finder.
Boarding House Finder Thesis Documentation Chapter 2 : Local Related literature
The local related literature includes studies conducted in the Philippines.
Home-bro: Android-Based Students' Housing Locator and   Monitoring System (2019)
According to Mary Anne M. Sahagun, Jun P. Flores, with these growing number of students coming from different distant places, there is a need for the university to have a scheme that is suitable in managing the university's students housing and residential services. This study was made to aid the university's lacking field in terms of support to students pertaining to housing services. It's alsoprovide a services apartment locating, that suitable for the needs of the students, and it's being connected into a database to help universities to monitor current tenancy of the students. There are also a shortage of off-campus and student-friendly housing in most college towns which cause students to rent in an apartment close to the vicinity of a school (Maughan, 2016). This study is related to the propose system since Boarding House Finder has feature to easily monitor the records of each boarding houses that has permit. It similar to some of the proposed system's that the same features that provides an organized database to keep accurate records and make retrieval of data easier.
HAYBOL: An Android-Based Apartment Locator Application (2017)
According to Mark Lloyd Lester S. Consignado, Mark Lesther A. Velasco, Aladdin Paolo A. Sanvictores, Archieval M. Jain, Francis F. Balahadia This study was to develop a system for finding apartments and boarding houses named as HAYBOL. This android-based apartment locator application is a mobile one that can be used by the community especially students, easily find apartments and boarding houses. It can also help owners promote their businesses. To attain this, the proponents gathered user requirements such as standards of tenants in selecting an apartment and issues and concerns encountered by both the owners and tenants for the development of a mobile application. Finding an apartment is difficult when one is unfamiliar with a place and environment.  In addition, the location of an apartment plays a big role in choosing the neighborhood because one needs to consider security and personal convenience (Hoppler Editorial Board, 2017). This system is related to the proposed system since it involves a locator. This study will provide the proponents with ideas on how a mobile app locator works.
MRTtracker app (2012)
This study was aimed to develop and design an MRTtracker, is a mobile application tracker that allows users to track the mass transit system in Manila with real time information provided by the developer and commuter's themselves. By This application helps to break out the common problems encountered of commuters in Manila. The app helps locate the nearest train station within your area, figure out the best itinerary for your trip and notifies you when you have arrived at your destination with a voice alert so you won't miss your stop if you can't hear the announcer. MRTtracker also allows users to consult the estimated congestion of passengers at any particular station, so you can avoid those which are more crowded.
Mobile  devices  have  become  more  popular  and  beneficial  in  today's  life  because  of  the emergence  of new Mobile  devices  have  become  more  popular  and  beneficial  in today's  life  because  of  the emergence  of new functionalities(Sokthay Chanphearith 2016).
Boarding House Finder Thesis Documentation Chapter 2 : Foreign Related Literature
The foreign related studies will helped the proponents to expand their concepts, and guide in developing their propose system.
Mobile application for finding ATMs (2015)
According to Mario Lončar, Jasmin Abou Aldan, Marina Ivašić-Many people waste their time looking for places where they can withdraw the money. In this study the proponents was developed a mobile-based application order to help users finding an ATM quickly and easily, this mobile application that offers ATM locations of all banks in Rijeka, useful advices on where the money can be withdrawn free of charge and shortest path to each ATM. This study related to the proposed system since it uses of maps, determining the geo-location of the user and computing the shortest path to the selected ATM.
Zillow Mobile Apps (2015)
This system was developed to simplify the booking process with search features that helps users find condos, townhouses, apartments and single-family homes for lease. Just like the real estate app, the Zillow rental tool will push immediate notifications when new listings are released, and you can contact landlords and property managers by phone or email via the app. You can search homes by address, or based on a current location using your smartphone's GPS. You can even draw a custom search area on a map. And all the usual search filters are there: by the number of bedrooms, baths, home price and more.
Trivago (2005)
Trivago App often reffered to as trivago, is a German multinational technology company specializing in internet-related services and products in the hotel, lodging and metasearch fields. Trivago was the first hotel search engine in Germany, and is one of the fastest growing companies in Germany, with profitability doubling since 2008. Recently, Trivago is servicing travelers in more than a hundred countries.
When you visit the app, you will see a simplified vertical menu that makes navigation easier. Hotels can upload photos that create a background images for the app, as well as map to the property.
Boarding House Finder Thesis Documentation Chapter 2 : Prior Arts
The prior arts presented in this section are the different systems which made use of concepts and technology similar to the propose system. These related prior arts helped the proponents in the conceptualization, design, and development of Boarding House Finder.
Board me app: A mobile application for finding boarding houses in university belt (2017)
According to Meldrick P. Abella ; Lander M. Pecdasen ; Gideon Gerald R. Fajardo ; Layka G. Pascual ; Marilou N. Jamis the Board Me App is a mobile application was developing in order to helps the users to find the nearest boarding houses available in Sampaloc, Manila. The only app that caters boarding house locator for the users to search all the closest dormitories using the Global Positioning System or GPS, display their geographical information, show the available facilities and services such as bathrooms, gender-specific rooms, with a security guard and provision for pets. It also includes directory lists of boarding houses where they can search the contact information. The mobility of this application makes it more user-friendly and not time-consuming. Hence, it helps the users to be more productive and cautious at the same time in finding the right place for them.
GrabHostel App (2017)
This system was developed to simplify the booking process with search features and safe and practical of finding a boarding houses in Baguio City just got a lot easier. GrabHostel launched its operations in a simple get-together with media and bloggers to introduce the application that will be useful for parents looking for accommodations for their college-bound children in the city. This application also allow parents/guardians to conveniently search for available boarding houses according to their desires. The startup seeks to allow easy searches not only for boarding houses but transient houses in Baguio as well." It is now the trend for tourists to look for alternative accommodations when they visit a locality," (Pem Solis 2017).
Android-Based Boarding House Management Information System (2018)
According to Anisa Nur, Lukman Adel, Deby Ecintia, Yudo Devianto With the densely of the population in Indonesia, boarding housegreatly helps minimize the growth of urban planning space, especially in big cities to be the choice for most people because of the higher cost of buying or renting a house. Because of the large interesting boarding house, it creates a business opportunity for people to do business that provides huge profits that always flow every year. For this reason, it is necessary to manage a good boarding house business management by changing the manual method into a system. The system is built so that it can help implement boarding house management become more effective and can be a solution to existing problems.
Boarding House Finder Thesis Documentation Chapter 2 : Comparison Table of Related Foreign and Local System
Table 1: Comparison of Related Systems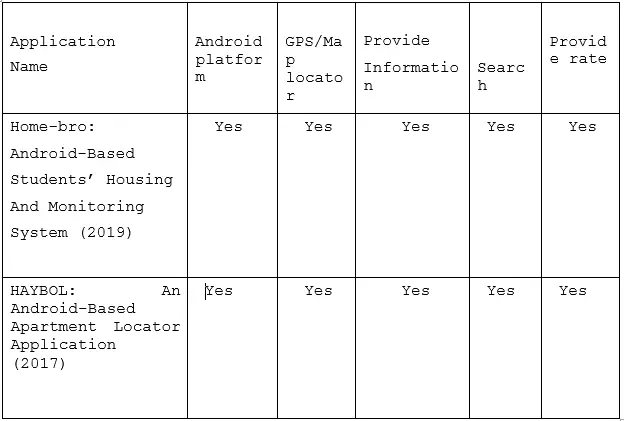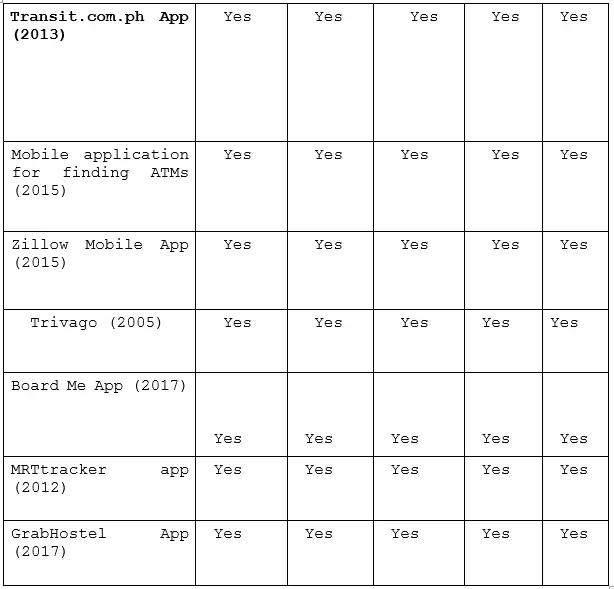 Table 1 shows the feature comparison of the related systems and the propose system Boarding House Finder, in terms of Android platform, GPS/Map locator, Provide Information, Search and Provides comment and rate.
Related Article
Inquiries
If you have any questions or suggestions about Boarding House Finder Thesis Documentation Chapter 2, please let's inform me by your comment below.