The KCC Car Pass System is created in VisualBasic.Net associated with MS Access. The system if made for Kabankalan Catholic College. It manages the owner's information and also their car(s) information. It prints the receipt for the transaction. The system also prints stickers which are modified base on the owner status whether they are from the Faculty and Staff, Students, and also for Visitors. The system has a passcode which is given to a certain user. There are two types of users and they can be classified as system admin and the employee in charge. An administrator can manage all the transaction, unlike the employee that can only access selected areas.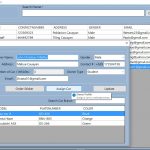 Car Pass System Features:
· User Key
· Printing System
· Computing System
· Data Automation
· Retrieving Data
· CRUD Data Management
Car Pass System Flow
· Log in
Username: John Christian Villaflor
Password: admin
· Click the button ADD OWNER and fill up the required date to add an owner.
· Click the button ADD CAR and fill up the required data to add a car.
· Double-click the table in the main form to show the owner information and there you can assign the car that you had just added.
Click the Order sticker to enter in the payment and to print a sticker.
If you have any questions or suggestion regarding Car Pass System, please feel free to contact me:
Name: John Christian Villaflor
FB: johnchristianvillaflor
contact: 09123750388
Download the full source code here.
Looking for more source code? Type your keyword here here!