Leave Management System in PHP Source Code
Leave Management System in PHP is a PHP Project allows you to manage multiple Companies with different departments such as administration, Human Resource, Information Technology and many more. Using this system the HR will able to manage employee information can process the applied leave of each employee.
Every employee has access to the system and the employee can apply for leave online. Manage. 
Features of this Leave management system in PHP
Leave Management System In PHP Project Free Download
Company information management system

For the company information management system, this project adds multiple companies at the same time. Using this feature the admin can assign an employee to each and every company.

Department information management system

With this feature of the Online Employee Leave Management System in PHP, the main administrator or the Human Resource Department can add Multiple departments per company such as IT Department, Sales Department, Marketing department, and the likes.

Leave type management system

As the main feature of this PHP project, it has the capacity to manage all leaves, view leave of all employee, and the Admin / HR can approve or Reject applied for leave

Employee Information management system

Using this PHP project, the employee can View his personal profile, Reset password, Apply for leave online, View Leave status, and View Leave History.

Secure Login/System

It is built with secure login and logout system.

User Account management

It allows you to create a user with different account type and control.
Employee Leave Management System is written using PHP and MySQL Database.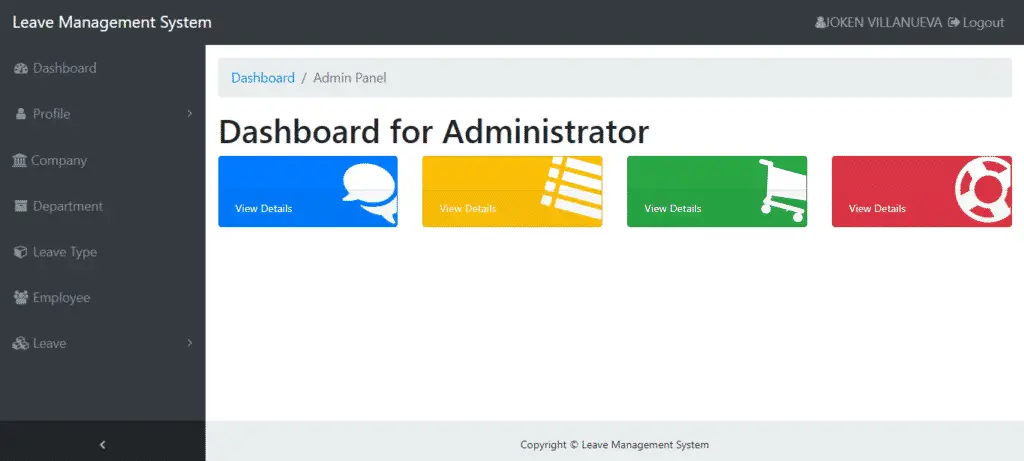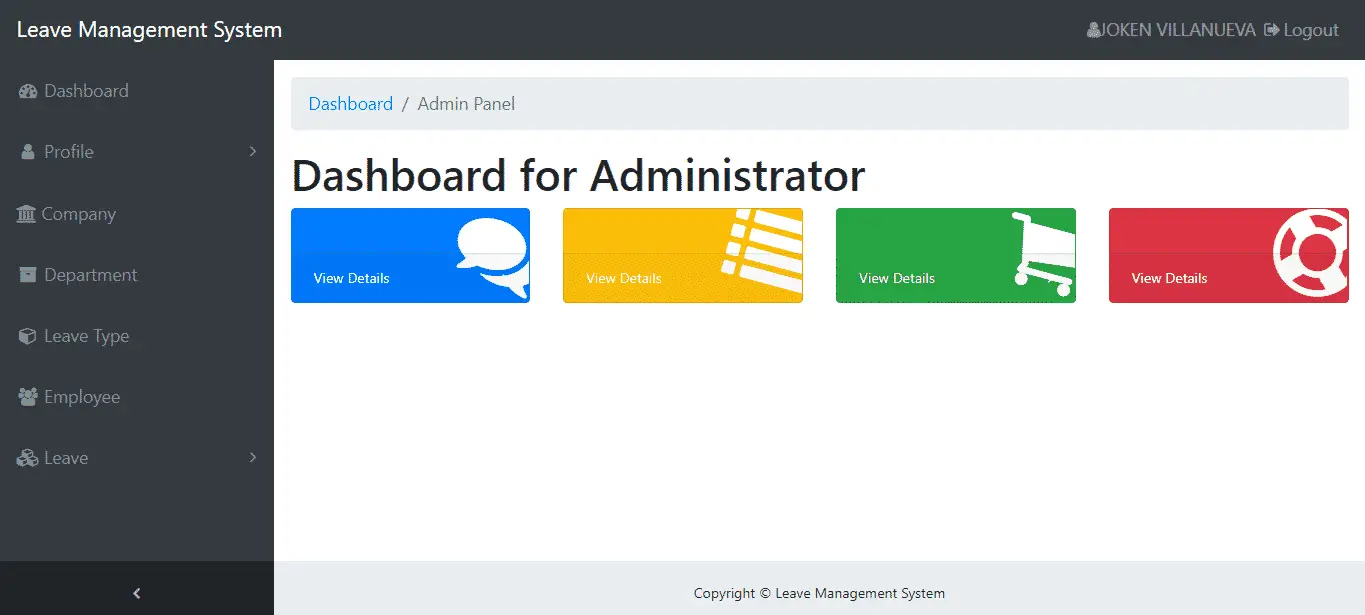 By the way I have a Leave management System here in python Version maybe you like.
Conclusion
This complete project is created using PHP and MySQLi for the backend database. The framework used in this project is Twitter Bootstrap. You can download and modify this for your personal use and to fit your client requirements.
Here's the employee leave management system project free download source code below.
Download the database
By the way in order for you to run the system effectively, make sure to watch the video above so that you will be able to catch the full idea of this project.
To log in in this system use the following account.
Administrator account
Username: [email protected]
Password: j
Employee account
Username: [email protected]
Password: j
Suggested Articles
Inquiries
If you have any questions or suggestions about this project, please feel free to contact me on our contact page or simply leave a comment below.
Note: Please don't forget to share this article with your friend.