Good day, Today I will be sharing you how to integrate an Article rewriter Tool to your customized website. This article rewriter tool allows you to rewrite your existing document or articles published on your site. If you are a blogger, article writer or a webmaster, it is necessary for you to have this article rewriter tool in order for your blogs to top on google search engine and also you may be able to detect a plagiarize content and your grammar construction.
I think we are now ready to implement this to our site. Just Simply follow the given step below.
Step 1: Create an HTML file save it as index.html
Step 2: Copy and paste this code into your index.html file
<!DOCTYPE html>
<html>
<body>

<h1>Article Rewriter!</h1>
<p>Welcome to itsourcecode.com free Article Rewriter</p>
<!-- PrepostSEO Article Rewriter Widget --><script type="text/javascript" src="//www.prepostseo.com/widget-article-rewriter.js?"></script><div style="text-align: center; font-size:12px; color:#333;"><p><a href="https://www.prepostseo.com/free-online-article-rewriter" target="_blank" style="color:#000;">Article rewriter</a> provided by <a href="https://www.prepostseo.com/" target="_blank"  style="color:#000;">prepostseo.com</a></p></div></body>
</html>

Step 3: Run your code into your favorite browser. This should look like as shown in the image below.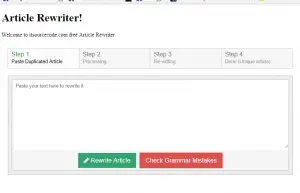 If you have any question regarding Article Rewriter Tool please feel free to contact me at our contact page.
Thank you for visiting our site.
Please show your support by hitting the like on our page so that you will be able to receive a free update of our fresh and new articles and source code.
The related article you may like: