ONLINE BLOOD BANK MANAGEMENT SYSTEM CLASS DIAGRAM – is a designed structure that shows the system classes and their relationships. This diagram is made to guide programmers along with the Online Blood Bank Management system development.
It contains the systems' class attributes, methods as well as relationships between classes. Then makes sure that your Online Blood Bank Management system development is in line with what should be its functions.
Here's what you need to know about the Diagram for Online Blood Bank Management System:
It must contain all the needed information and must be complete in detail.
From the Classes, its attributes and methods up to its visibility and relationships must be arranged and declared thoroughly.
Now the needed information before doing the class diagram of the system.
Important Considerations before Designing your UML Class Diagram for Online Blood Bank Management System.
You must be informed that an Online Blood Bank Management system is a web-based solution that can help with blood bag information as it's being handled in the blood bank. The user of this system can enter the results of blood tests that have been performed on each blood bag that has been received by the blood bank.
At the time of the blood donation camp, he is given a unique identification number that will aid him in future correspondence. Donors who apply online are given a unique user id and password by MIS. They have the ability to make changes to their information at any moment. Registered hospitals can check the availability of requested blood, send a request for blood to the nearest blood bank or donor who matches the blood requirement, and obtain blood online as needed.
The goal of the blood bank management system is to make the process of looking for blood in an emergency easier and more automated, as well as to keep track of blood donors, recipients, blood donation programs, and blood stocks in the bank.
Therefore you must be aware of all the information needed in constructing its class diagram. The factors mentioned should be present and represented by classes provided with their attributes. You also have to plot their relationships because it will be the guide in the system development.
How to Construct Online Blood Bank Management System UML Class Diagram?
Now to create the Diagram for Online Blood Bank Management System, you will determine first its classes. So the classes that are included in a Blood Bank Management System would be the blood type, donors, recipients, donor cards, requests, and blood bank.
The mentioned classes were just general. If you want a more complex or wider scope of your Online Blood Bank Management system, then you can add your desired classes. You must also include the database on your Class Diagram for your system.
After knowing all the necessary classes, you will then assign their attributes and methods in accordance with their functions. The attributes and methods' visibility also matters a lot. You just have to be guided accordingly in creating your UML Class Diagram.
This is to keep you from unwanted repetitions and mistakes. And if you have successfully made this diagram, you will then easily build your Online Blood Bank Management System.
Simple Class Diagram (UML) for Online Blood Bank Management System
Here, I will be showing you the sample constructed Online Blood Bank Management System Class Diagram.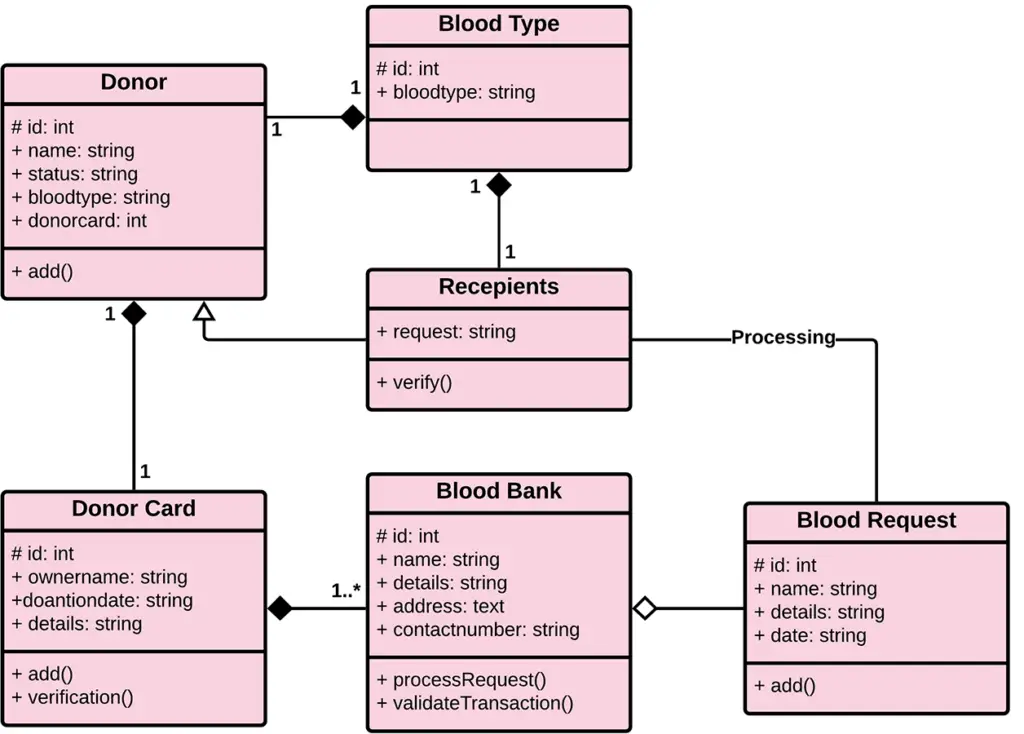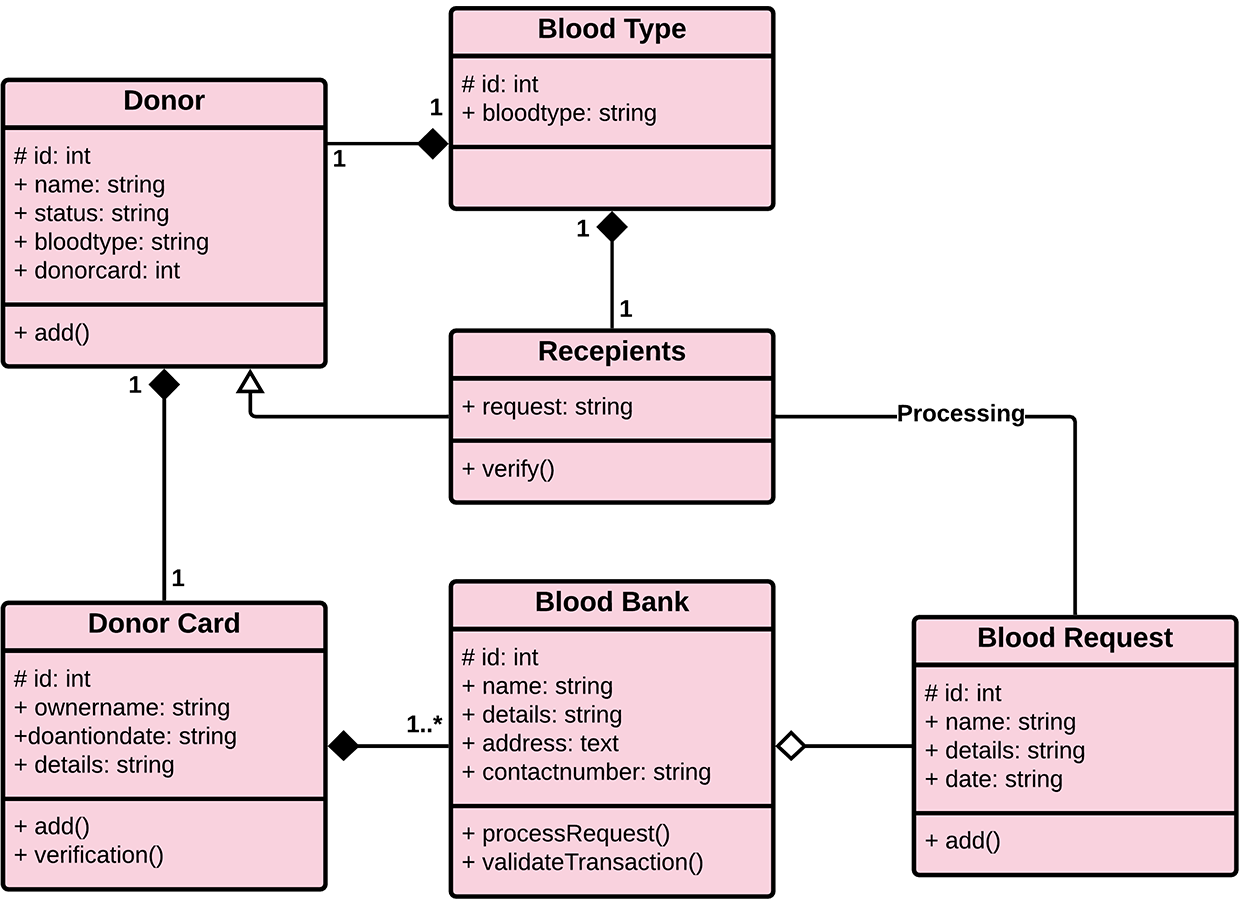 It was provided with its attributes with matching methods. This is constructed with the simple idea derived from the common function of a Blood Bank.
Bonus Tips on Designing the UML Class Diagram of Online Blood Bank Management System
To design your Class diagram, you may use platforms and editing tools online. These tools are helpful since they already have the needed symbols to illustrate your class diagram.
You just have to plot the included classes, attributes, and methods. Then you will put the appropriate relationships that the system requires.
The platforms or online tools that you may use are:
Lucidchart
Creately
SmartDraw
Edrawmax
Canva
Conclusion
The Blood Bank Management System Class Diagram is a modeled diagram that explains its classes and relationships. The diagram depicts the names and attributes of the classes, as well as their links and, their methods.
It is the most essential type of UML diagram which is critical in software development. It is an approach to show the system's structure in detail, including its properties and operations.
And that completes our discussion fellas! I hope that this article about help you a lot.
Inquiries:
Now let me ask you something. What have you learned through the discussion?
May this article help you with your projects in the future!
If you have inquiries or suggestions about Online Blood Bank Management System Class Diagram | UML just leave us your comments below.
Keep us updated and Good day!
Related Article: