EMPLOYEE MANAGEMENT SYSTEM SEQUENCE DIAGRAM serves as a guide for programmers and developers in building the system. It contains the sequence of activities that happens when managing employees. The UML Sequence Diagram also explains the structure and the behavior of the Employee Management System.
Here's what you need to know about designing a UML Sequence diagram for Employee Management System. You'll need to collect data first about the employee management system activities to be able to build a system for it. The collected data will be valued and will be applied to its essential diagram which is the sequence diagram.
Employee Management System Functions and Information
Here is the important information about the employee management system before you design a sequence diagram for it. You should have a deep analysis of its core functions before jumping into its blueprints. This technique will help you avoid unnecessary repetitions.
An employee management system is a platform that securely stores and manages all of an employee's work-related and personal information. You can manage administrative tasks more easily and quickly with this solution. With an automated recruitment management system, you can now keep track of your hiring costs.
Managers can also gain insight into their employees via an employee management system, which allows them to better plan and manage work hours, lowering labor expenses and increasing productivity.
It is a program that allows users to generate and save employee records. The application also has a payroll system that allows users to create pay slips. Because of its user-friendly design, this project makes maintaining records easier.
How to Design an Employee Management System UML Sequence Diagram?
Now to create the Sequence Diagram for Employee Management System, you must be familiar first with its symbols. This is to know how would you emphasize the whole content of your Employee Management System. With the symbol familiarization, you'll then easily understand the ways of the system development.
Simple Sequence Diagram (UML) Employee Management System
Now in this article, I will be showing you the Sequence illustration of the Employee Management System. This design will enlighten you on how should the system or the actor approach each other. This will also teach you how would you develop the system to achieve its desired behavior.
Sequence Diagram for Employee Management System Design
The design that I will be showing you is a detailed illustration of the sequence of events happening in the Employee Management System.
This designed sequence diagram is able to show programmers and readers the sequence of messages between the actor and the objects.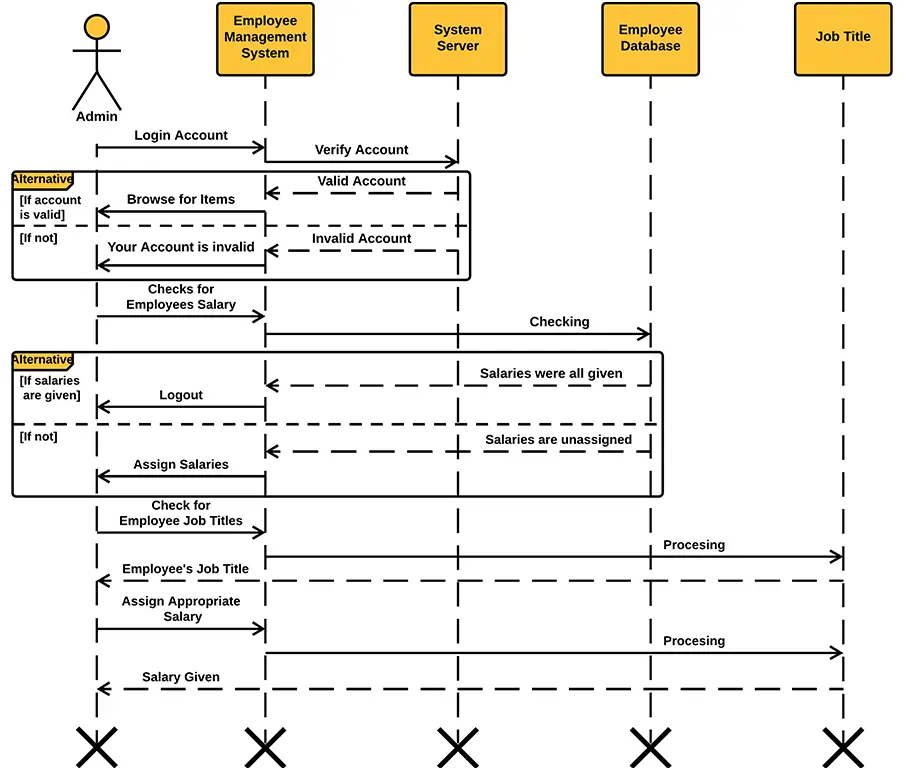 As you can see through the illustration, the conditions and interactions are emphasized. These interactions are essential for the Employee Management System development.
The series of messages are shown and labeled to guide you in building an Employee Management System. You can modify the design if you have more ideas. You can also add more features to this design and use it as your project blueprint.
You'll be able to understand and educate yourself on how the Employee Management System works by creating a sequence diagram. Because it determines the needed objects, actors, and messages and their interactions.
Conclusion
The Employee Management System is a sort of interaction sequence diagram that shows how a group of items interacts and in what order. Software engineers and business experts use these diagrams to understand the requirements for a new system or to describe an existing process.
The system must have a designed diagram to define event sequences resulting in a desired outcome. The series in which communications appear is more important than the message itself. The majority of sequence diagrams, on the other hand, will show what messages are transmitted and in what order they usually occur.
And that completes our discussion fellas! I hope that this article about Sequence Diagram for School Management System will help you a lot.
Related Articles
Inquiries
If you have inquiries or suggestions about the Sequence Diagram, just leave us your comments below. We would be glad to hear to concerns and suggestions and be part of your learning.