Computerized sales and inventory system thesis Chapter 4
The Computerized sales and inventory system thesis chapter 4 will focus on the existing system, term and reference, Scope of the study, Scope of the existing system, the concept of operation, and the activity diagram.
The Existing System
The TH garments center is still using the current manual system for their business work staff still writes all the transactions for their business process.
Term and Reference
Objective
                        This section pertains to the identified objectives, which you can see the major end-results desired by this undertaking.  This should be broken down into the statement of the:
General Objective
                        To develop a system that will enhance the monitoring of the sales and inventory of TH Garment.
Specific Objective
To develop a module that can generate monthly sales and inventory report.
To develop security in terms of keeping the records of the inventory
To develop a system that can monitor the stocks inventory in a fast and efficient manner.
To accurately record, compute and produce a report of sales.
Scope of the Study
A statement indicating the functional or application areas that will be covered by the study.
Scope of the existing System
The study only revolves in the scope of proposal sales and inventory control. The study of sales and inventory is only within TH GARMENTS. The proponents will also incorporate data reporting by producing hard copies. The system has four distinct types of level access. First, is the authority or Admin account, second is the Inventory account, third is the Cashier account and the fourth is Sale clerk account.
Concept of Operation
The administrators gain access to and perform high-level arrangement of the features of the system. The administrators were allowed to create new user accounts, reset user password, activate or disband user accounts, and monitor all system processes. The administrators can view and edit sales, inventory and dealers reports as well as their stock levels. The cashiers (front liners) input the actual sales transactions of the customer. They provide product descriptions and unit prices that are stored in the Sales and Inventory System databases. This function allows maximal complaisance, security, and centralization at different levels. The cashier is responsible for the preparing of daily, weekly, monthly and annual sales reports of the TH garment Staff Clerk.  The Staff/
The clerk will handle the day-to-day parts of inventory control and expenditure that serves the TH Garments.
The Activity Diagram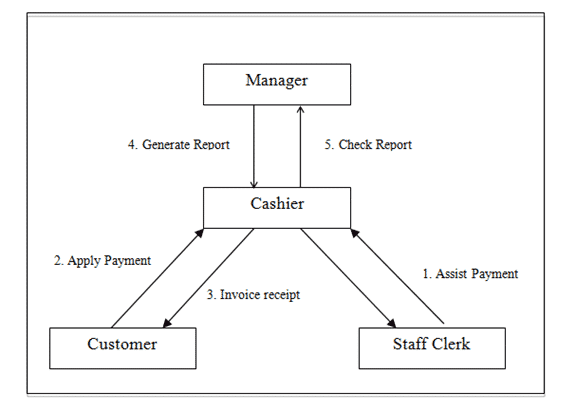 Figure 3: Existing activity diagram of TH garments show the process of their business work the first process the customer will be assisted by the customer for the item they want to purchase the second process the customer will pay the item in the cashier the third process the customer will write all the item.
Related article you may Like