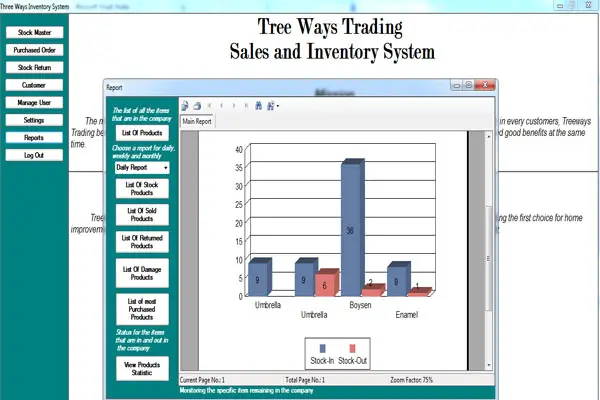 Tree Ways Trading Sales Inventory System is an automated sale and inventory process that help business owners track the stock-in and stock-out of their supplies. This inventory system is based on hardware supplies only and it was build in Visual Basic 2008 and MySQL database. In this system, you will find out what are the most sold supplies because it has a statistics that is made of Crytal Reports.
These are following features :
Purchased Order (Receipt, List)

Stock Return

Customer (Add, List)

Manage User (Add, Update, List)

Settings (Category, Unit)

Reports (List of Products,List of Stock Products,

List of Sold Products, List of Return Products, List of Damage Products, List of Purchased Products,Statistics)
You can access this system using the following accounts:
Username: admin
Password : admin
For all students who need a programmer for your thesis system or anyone who needs a source code in any programming languages. You can contact me @ :
Email – [email protected]
Mobile No. – 09305235027 – tnt
Looking for more source code? Type your keyword here here!