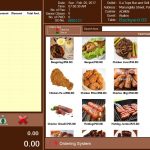 Restaurant Management System
Restaurant management system is believed to be a crucial technology component that can serve it's customer and aid in the part of employees with food and beverages transactions and controls.
Here are some of the major features of this system:
Point of Sale
Raw materials cost analysis module
Mobile Ordering system module
System Inventory Modules
and Many others that would suit to your business needs
HARDWARE AND SOFTWARE SYSTEM REQUIREMENTS:
1. Standalone Licensed Server with pre-installed licensed O.S.
·         Windows 2012 R2 Datacenter Edition of O.S.
·         MS SQL 2012/2014 R2 (main database management system)
·         5TB Storage Area Network for database backup system processes
2. Workstations running WINDOWS 7/8 Pro or Ultimate Edition – O.S.
3. Anti-virus & firewall applications 
If You are interested in our attendance monitoring system documentation just contact or PM us:
Cilvele Jon Larawan
(https://www.facebook.com/cilvelejohn)