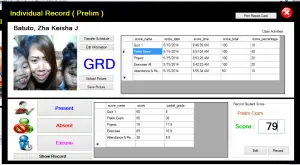 This system is Automated Class Record System.
This is a simple system designed for teachers/Instructors who find difficult Creating a Class records, Monitoring student performance, this project also can answer the problem in terms of delay during the submission of grades as teacher's compliance and for CHED's Monitoring.
Software Used:
Visual Basic 2008
Microsoft Access
Features of the said system:
Organization of Class Schedule
Instructor's Record
Adding of students in a class
Organization of Class Activity with a corresponding percentage
Generated college grade sheet
Generated report card and performance ratings, including attendance report
Attendance system
Admin can manage student, Teacher information
Data entry for the student and Teacher has an integration of hardware during the image capture using Web Camera.
*note: Updated system system will be published soon.
Download the Source Code here.ejb class record
For more inquiries or any suggestions about the system, please don't hesitate to contact the programmer.
email : [email protected]
facebook : [email protected]
contact no: 4712-504 / 09179348731
address : Nakar Compound Sola St. Kabankalan City Negros Occ. or
Kabankalan Catholic College, Kabankalan City Neg Occ
Readers might read also:
Looking for more source code? Type your keyword here here!