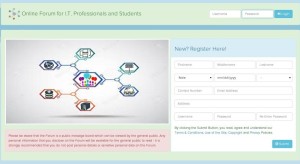 This system caters an online forum for the students and teachers to interact with each other in real time basis.
This system has a admin, professional and students access.
you can browse the users and members tables for the access accounts or you can register a new account.
Here are some of the following features:
Chat system
Profile Management
Topic posting for IT related topics and many more!
for more info and clarifications you can reach me through my
email: emiloimagtolis@gmail.com
mobile number: +639303546547
happy coding! 🙂
Download the source code here.bcc_forum
Looking for more source code? Type your keyword here here!