3 Steps on How to Create a User Registration Form in PHP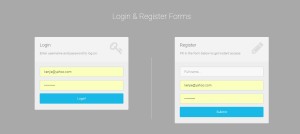 This time, I will show you the 3 steps on how to create a User Registration form in PHP and MySQL Database. With this, you can log in to the user that you have registered in the Registration Form. We are going to use a bootstrap template for the design of the Login and User Registration Form.
3 Steps to on How to Create a User Registration Form in PHP
Step 1:
Create a database in the MySQL Database and name it "dbuser". After that, set this query for creating a table into it.
CREATE TABLE IF NOT EXISTS `tblusers` (
`user_id` int(11) NOT NULL AUTO_INCREMENT,
`user_name` varchar(40) NOT NULL,
`user_username` varchar(40) NOT NULL,
`user_pass` varchar(90) NOT NULL,
PRIMARY KEY (`user_id`)
) ENGINE=InnoDB;
Step 2:
Do the following codes for the design of your page.
<!-- CSS extention-->
<!-- ################################################################# -->

<!-- Top content -->
<div class="top-content">
<div class="inner-bg">
<div class="container">
<div class="row">
<div class="col-sm-8 col-sm-offset-2 text">
<h1>Login &amp; Register Forms</h1>
</div>
</div>
<div class="row"><!-- Login Form -->
<div class="col-sm-5">
<div class="form-box">
<div class="form-top">
<div class="form-top-left">
<h3>Login</h3>
Enter username and password to log
on:

</div>
<div class="form-top-right"></div>
</div>
<div class="form-bottom"><form class="login-form" role="form" action="process.php" method="post">
<div class="form-group"><label class="sr-only" for="form-username">Username</label>
<input id="form-username" class="form-username form-control" name="form-username" type="text" placeholder="Username..." /></div>
<div class="form-group"><label class="sr-only" for="form-password">Password</label>
<input id="form-password" class="form-password form-control" name="form-password" type="password" placeholder="Password..." /></div>
<button class="btn" name="login" type="submit">Login!</button>

</form></div>
</div>
</div>
<!-- End Login Form-->
<!-- Seperator -->
<div class="col-sm-1 middle-border"></div>
<div class="col-sm-1"></div>
<!-- End Separator -->
<!-- Register Form -->
<div class="col-sm-5">
<div class="form-box">
<div class="form-top">
<div class="form-top-left">
<h3>Register</h3>
Fill in the form below to get instant
access:

</div>
<div class="form-top-right"></div>
</div>
<div class="form-bottom"><form class="registration-form" role="form" action="process.php" method="post">
<div class="form-group"><label class="sr-only" for="fname">Name</label> <input id="fname" class="full-name form-control" name="fname" type="text" placeholder="Full name..." /></div>
<div class="form-group"><label class="sr-only" for="user-name">Username</label>
<input id="user-name" class="user-name form-control" name="user-name" type="text" placeholder="Username..." /></div>
<div class="form-group"><label class="sr-only" for="user-pass">Password</label>
<input id="user-pass" class="user-pass form-control" name="user-pass" type="password" placeholder="Password..." /></div>
<button class="btn" name="register" type="submit">Submit</button>

</form></div>
</div>
</div>
<!-- End Registration Form -->

</div>
</div>
</div>
</div>
<!-- Footer -->

<footer>
<div class="container">
<div class="row">
<div class="col-sm-8 col-sm-offset-2">
<div class="footer-border"></div>
itsoucecode.com

</div>
</div>
</div>
</footer><!-- End Footer -->
<!-- Javascript extension -->
<script src="assets/js/jquery-1.11.1.min.js">
    </script>
<script src="assets/bootstrap/js/bootstrap.min.js">
    </script>
<script src="assets/js/scripts.js">
    </script> <!-- ############################################$ -->

Step 3:
Create a page for the connection between the PHP script and MySQL database. Name the page "config.php".
<!--?php $server = 'localhost'; $dbuser = 'root'; $dbpass = ''; $dbname = 'dbuser'; $con = mysql_connect($server, $dbuser, $dbpass); if (isset($con)) { # code... $dbSelect = mysql_select_db($dbname); if (!$dbSelect) { echo "Problem in selecting database! Please contact administraator"; die(mysql_error()); } } else { echo "Problem in database connection! Please contact administraator"; die(mysql_error()); } ?-->
[/php]
<h2>Step 4:</h2>
Create a page for login and adding user. Name the page "process.php"

[php]
<!--?php // include your conection in the first load of the page. include 'config.php'; if (isset($_POST['register'])) { # code... // set the query for saving the data $sqlQuery = "INSERT INTO tblusers ( `user_name`, `user_username`, `user_pass`) VALUES ('" . $_POST['fname'] . "','" . $_POST['user-name'] . "','" . $_POST['user-pass'] . "')"; // execute the query $result = mysql_query($sqlQuery); // checking if the syntax of the query that you performed is correct or not. if ($result) { # code... // retuurn true value ?-->

<script type="text/javascript">
                //     <!-- Pop-up Message -->
                alert('User has been registered. You can login now.')
                // <!-- End pop-up message -->
                // redirect to main page.
                window.location='index.php'
                // end redirect
            </script>

<!--?php } else { // return false echo 'Error to save.'; die(mysql_error()); } } if (isset($_POST['login'])) { # code... // start the session session_start(); // set the query for retrieving the data $sqlQuery = "SELECT * FROM tblusers WHERE user_username ='" . $_POST['form-username'] . "' AND user_pass = '" . $_POST['form-password'] . "'"; // execute the query $result = mysql_query($sqlQuery); // checking if the syntax of the query that you performed is correct or not. if ($result) { # code... // getting the maxrow of the table; $maxrows = mysql_num_rows($result); // checking if the table a row or nothing. if ($maxrows &gt; 0) {&lt;br ?--> # code...
while ($row = mysql_fetch_array($result)) {
# code...
// set the session variable and place the retrieved data in the table.
$_SESSION['fname'] = $row['user_name'];
$_SESSION['username'] = $row['user_username'];
$_SESSION['password'] = $row['user_pass'];
}
?&gt;

<script type="text/javascript">
                    // <!-- Pop-up Message -->
                    alert('Welcome  <?php echo $_SESSION['fname']; ?>')
                    // <!-- End pop-up message -->    

                    // redirect to main page.
                        window.location='index.php'
                        // end redirect
                </script>

&nbsp;

<script type="text/javascript">
                    // <!-- Pop-up Message -->
                    alert('Account does not exist. Please contact administrator')
                    // <!-- End pop-up message -->    

                    // redirect to main page.
                        window.location='index.php'
                        // end redirect
                </script>

&nbsp;
Summary
In this lesson, we learn how to create a login system with user registration using PHP and MySQL. We also included in the code the use of PHP Session to have a secure login page in PHP.
For further study about PHP and MySQL, you may start your lesson below.
The complete Source Code is included. ClickLogin User and User Registration page