Hello, Great day! This source code is all about
Car Rental System in MySQL using PHP
The Purpose of this
Car Rental System in MySQL using PHP
 is to be used by Car Rental Companies specializing in renting cars to customers. To provide Car Rental vehicle that can be used temporarily for a fee during a specified period of time. Features:
Users –
Can create an account and register for renting of cars. Users can:
Car Booking
View Car booking history
Update His/Her profile
Update his/her password
Post Testimonials
View Testimonials
Logout
Admin
Admin is the superuser of the website who can manage everything on the website. Admin can log in through the login page Admin can:
Admin can create vehicle brands
Manage Vehicle Brands
Post Vehicle
Manage vehicle
Manage Booking
Manage Testimonials
Manage to Contact us Query
Admin Can the details of registered users
admin can also update the page content
Admin can update the contact us details
Manage Subscribers
Admin Dashboard
Change Password
logout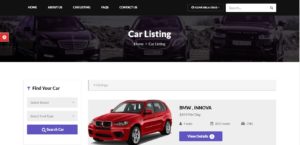 Run the program: User credentials: Username:
[email protected]
Password: clive12345
If you have any comments or suggestions about the Car Rental System in MySQL using PHP Please Message us directly:
Run Quick Virus Scan for secure Download
Run Quick Scan for secure Download
Download Sourcecode
Here:
Other Articles you might read also:
Looking for more source code? Type your keyword here here!