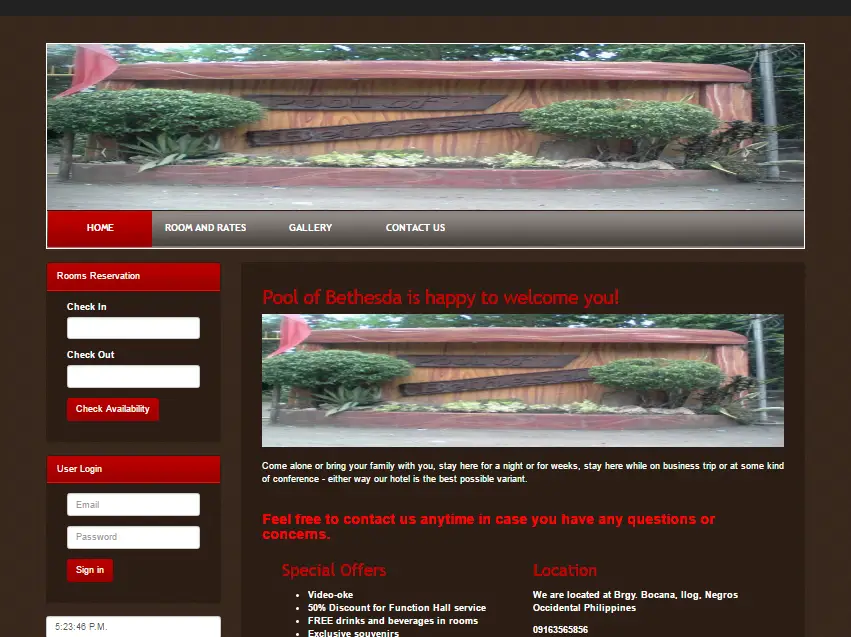 The pool of Bethesda Online reservation System Using PHP is a very convenient and easy to use the system. It's a fancy way that you can now do bookings online. This system has a smooth process of booking of rooms that only takes a minute. It also has a responsive design that puts business owners' one step ahead of their competitors. Like this system, customers can do bookings anytime and anywhere, location and time are not an issue. They can browse the content of the site where they can find the amazing type of rooms and great amenities that Bethesda's offers.
These are the following features of Online Reservation System Using PHP:
Admin
Manage Rooms

Type of  Rooms

Manage Reservation

Manage User

Reports

Login and Logout
You can access the admin side using this account.
Password: admin
Public
Home

Room and Rates

Contact

Guest Reserve Rooms

Login and Logout
For all students who need a programmer for your thesis system or anyone who needs a source code in any programming languages. You can contact me @ :3
Email – [email protected]
Mobile No. – 09305235027 – TNT
Online Reservation System Source code below: