HOW TO BECOME A DATABASE ANALYST? – Master the path to becoming a data analyst and uncover all the essential information about kickstarting your career.
Encompassing the required skills and the process of acquiring them.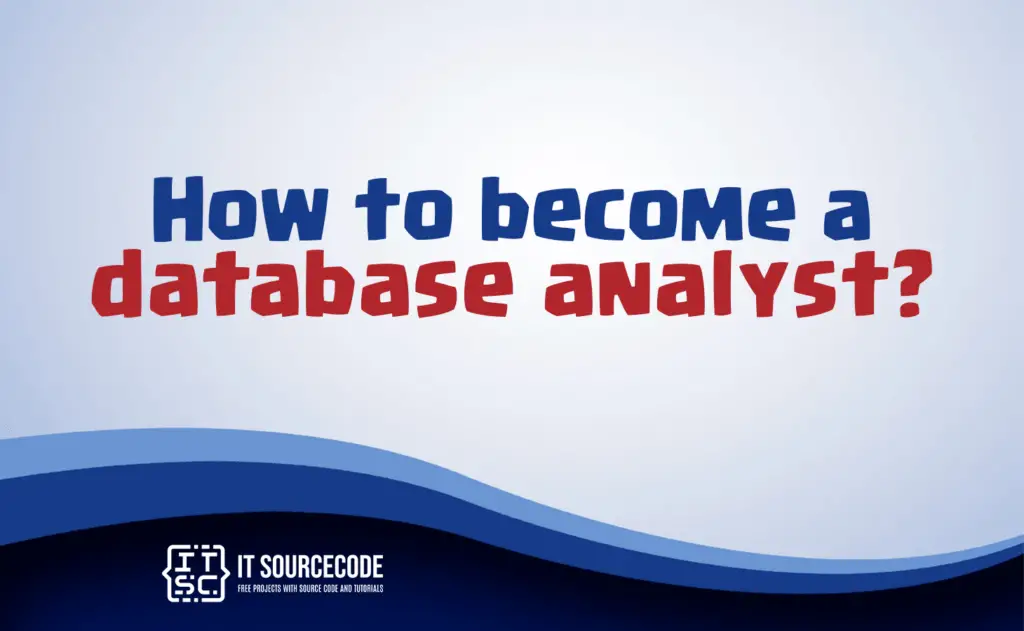 Five methods to Becoming a Data Analyst
To pursue a career as a data analyst, follow these five key steps:
Acquire essential data analysis skills.
Obtain a relevant qualification to showcase your expertise.
Hone your data analysis abilities through diverse projects.
Build a portfolio showcasing your work.
Apply for entry-level data analyst positions.
Why Start a Career as a Data Analyst?
In recent years, the popularity of the data analyst role has risen due to the growing data volume.
This career offers high demand, competitive salaries (averaging around $63,632 in the US), and strong job satisfaction (average rating of 3.9 out of 5 stars).
How to Become A Data Analyst
To become a data analyst, whether starting from scratch or with some prior knowledge, the timeline for mastery varies from a few months to several years.
Essential ingredients for success in this field include a curiosity for data, proficiency in programming languages, a project portfolio, a well-crafted resume, strong online profiles, and networking with fellow data specialists.
Method 1: Learn The Essential Data Analysis Skills
Begin by acquiring fundamental data analysis skills, even without a strong background in math, statistics, or programming.
Develop qualities like curiosity, analytical thinking, creativity, and dedication.
Master basic data analysis skills, including statistical fundamentals and data manipulation in tools like spreadsheets and Power BI.
Choose a programming language like SQL, R, or Python to learn for data analysis.
Method 2: Get Qualified in Data Analysis
Consider pursuing formal qualifications in data analysis, such as bachelor's or master's degrees from universities, though this may require significant time and cost.
Explore online learning options for more affordable and flexible education.
Look for comprehensive online programs covering essential data analysis topics.
Method 3: Practice Your Data Analyst Skills
Hone your skills through various means, including guided exercises and data analysis projects.
Progress from guided projects to individual projects to demonstrate independent research and problem-solving abilities.
Use freely available datasets from sources like Kaggle, UCI Machine Learning Repository, and others for your projects.
Method 4: Create A Data Analyst Portfolio of Projects
Build a portfolio showcasing your data analysis projects.
Tailor your portfolio to highlight your interests and passions.
Emphasize both technical and soft skills to stand out.
Consider creating a personal website or using platforms like GitHub, Kaggle, or DataCamp Workspace to host your portfolio.
Method 5: Start Applying For Entry-Level Data Analyst Jobs
Review and refine your data analyst skills to match job requirements.
Craft a professional and tailored resume that aligns with each job description.
Maintain an updated online professional profile, such as on LinkedIn or GitHub.
Network with other data professionals to expand your connections.
Actively search for job openings on platforms like LinkedIn, Indeed, and specialized data job boards.
Prepare for data analyst job interviews.
Consider reaching out directly to potential employers with customized applications.
Keep records of job applications, seek feedback, and continuously improve your approach.
Conclusion
In summary, becoming a data analyst involves acquiring essential skills, obtaining qualifications, practicing through projects, building a portfolio, and actively applying for jobs.