As one of the most used programming language, Python also offers a lot of benefits to the developers. Including to its benefits was the Python certification exam that serves as developers proof of completion of the taken Python course. This article will introduce to you the Free Python Certification exam with ideas on which and how to get best Certification for Python.
If you are looking for some ideas about Python Certification to get more skills about Python programming, then this article will introduce to you the best python certification.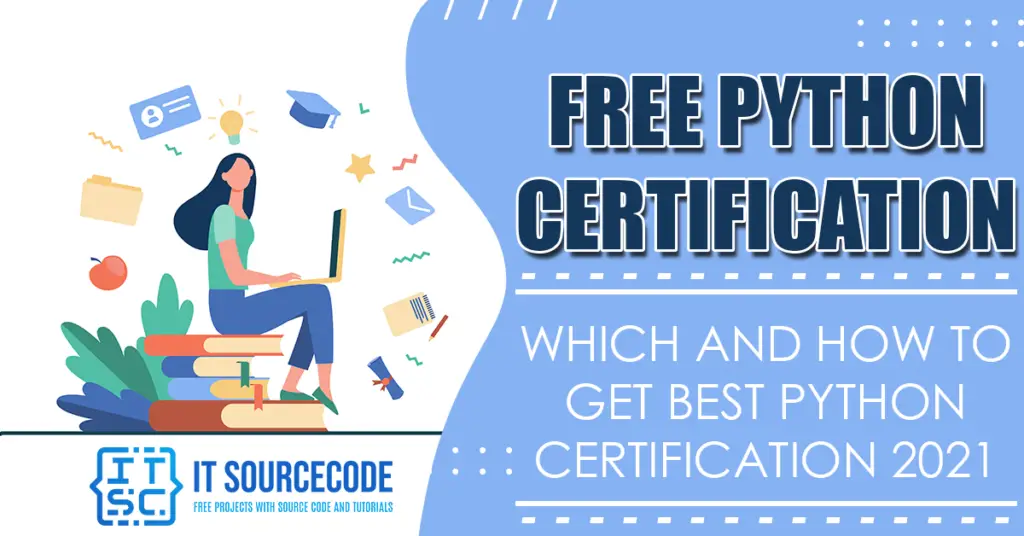 How to get Python Certification?
It is important to know how to get Python certification that is based on your needs and to train your skills. Here are the Three competence levels of Python certificates.
Best Python Certification Programs
Here is a list of free Python certification Program that will give you ideas on which is the best Python certification.

Entry (PCEP)
Associate (PCAP)
Professional (PCPP)
Microsoft
Here are Best Practice Test for Python Certification
There you have the best and free Python Certification presented above, all you have to do is prepare and review your skills. To prepare yourself to have credential in Python programming you have to go practice, read the syllabus and more of Python programming language.
These Python Practice test are available at Udemy and each of them are prepared by the experts and professionals in Python programming. Though some of them requires payment but they are accessible for lifetime and are mobile-friendly.
Microsoft Python Certification Exam (98-381) is created by Durgasoft Durga and one of the best Python certification practice tests offered by Udemy. This Practice has already 850 students enrolled and is rated 4-star with the average of 142 reviews and comes with a total question of 40 in each 5 sets:
Test-1 Perform Operations using Data Types and Operators – 40 questions
Test-2 Data Types and Operators, Console Input and Output – 40 questions
Test-3 Flow-Control, Functions & Documentation – 40 questions
Test-4 Exception Handling, File I/O, Modules and Tools & Documentation – 40 questions
Grand Test (All topics from the previous test sets) – 40 questions
You can get the practice test here.
Are you seeking for a Python certification for entry level? You should check the PCEP Certified Entry-Level Python Programmer Certification practice test created by Tim Howard and offered in Udemy.
In order to get prepared for this practice test you must be knowledgeable in basics of computer programming, syntax, libraries, semantics and proper implementation of Python programming.
This practice test for Python certification contains 220 relevant questions to pertain Python concepts for 4 sets which follows:
Practice Exam #1 – 54 questions
Practice Exam #2 – 56 questions
Practice Exam #3 – 55 questions
Practice Exam #4 – 55 questions
You can get the practice test here.
This exam test is best to complete process to attain Python certification without going through extensive practice sets. To take this practice set, you must be familiar with building custom Python functions to automate coding task.
To give yourself confidence before taking this exam, be sure that you can create impressive and functional python programs and has better understanding on object-oriented programming. You should also be able to code Python language the right way to achieve this certification.
In order to get this Python certification, you should take the Python MTA 98-381 preparation course. This course was already catered over 1300 students and gathered an average of 4.1 rating out of 5. This course was created by Dr. Chris Mall, a Ph.D. in Computer Science and also the author of the educational MMORPG, CMX.
You can sign up for the course here.
Another best Python certification practice test is PCAP Certified Associate in Python Programming Exams. It is also created by Tim Howard which contains 241 questions designed the same way as PCAP-31-02 exam.
This free Python certification could be attained by going through the test with the total of 4 sets peresented below:
Practice Exam #1 – 61 questions
Practice Exam #2 – 60 questions
Practice Exam #3 – 60 questions
Practice Exam #4 – 60 questions
The sets included has the issues related to this certification test contains relevant questions to be a certified PCAP certificate holder.
You can get the practice test here.
Conclusion
That completes our list of Best Python Certification! Hoping that you already the knowledge on how and which of the presented certification fits for your needs. All of the presented types of certification has their uniqueness but has one goal that would recognize the skill of a developer. If you have more ideas about the Python certification please share your ideas through the comments!
Would you like more about Python programming? Check out the List of Best Python Course Online | Python Course Free 2021 to enhance your knowledge on Python.
Related Article Below
Recommended Articles From the Author
Looking for more source code? Type your keyword here here!