Python Course: 9 Best Python Courses with Certificate 2021
This article introduces to you the interesting outline contents and list of Best Python Courses Online for beginners. This also discusses the Free Python Courses outlines with certificate that is useful for improving your skills as a beginner in Python programming.
Python is considered as one of the most used programming language for it is easy to learn. That is the reason why it gains more popularity lately. And to give you an easy way to learn, I have created the List of best Python course outline with Certificate 2021 that is applicable for beginners online .
The good news is, this list of python courses are also offering certificate after finishing the course! And this Python Certificates are can be used in finding a job. There are also Python IDE that could help you develop your projects using Python Language.
This List of best Python course for beginners is created to feature Courses that will help answer the needs of the Python programmers. These Python course content not only address the terms of data science and automation, but also for creating range of applications that is useful for wide variety platforms and Machine Learning.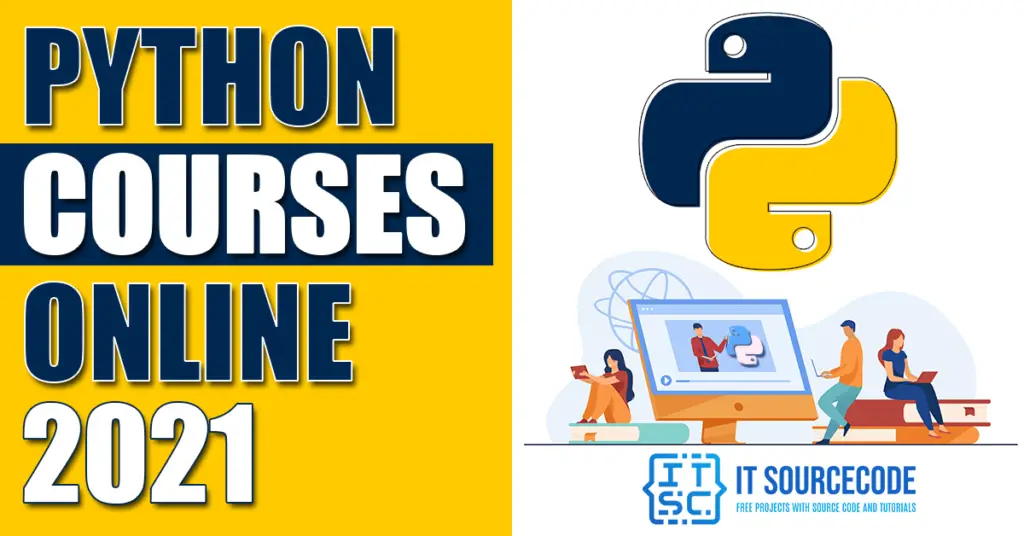 But before we present the List of Python Courses with Certificate let's find out first What is Python Course.
What is Python Course?
Python is a programming language with a basic syntax and has a large library. It's a programming language with a powerful debugger and profiler, as well as a robust programming model.
Python modules communicate with a wide range of databases, making it a perfect tool for big data research. In certain instances, the Python programming language is the best option for beginners to learn data science and machine learning.
We'll go over data types, control flow, object-oriented programming, and applications with graphical user interfaces.
You will learn how to merge web creation and data analytics in this list of best Python course outline.
Here are the List of Best Python Courses Outline with Certificate for Beginners:
Time needed: 10 minutes.
Best Python Courses Online for beginners and will help Python programmers to learn advanced ideas in line with Python language and collect Certificates.
Bonus list of Python Courses With Certificate
Here are the bonus list of python course that is also best choice for beginners in training their skills and gain their Python Course Certificate.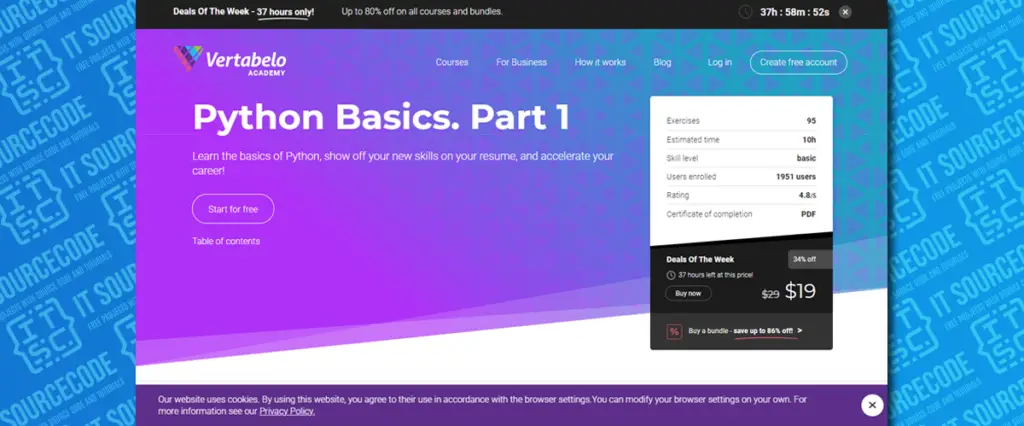 Course Type: Series of Coding Exercises
This Python Course Online is offered by Vertabelo Academy.
Considered as Best Python Course outline for beginners because it has its comprehensive set of coding exercises which emphasizes specific topics about the Python fundamentals.
The list of best Python course outline covers the basics of Python programming language, conditional statements and decision-making, function, looping, mathematics and writing reusable code.
In addition to the outline mention above, it has also offered benefits in enrolling this Python course like lifetime access. Asking questions and sharing insights with the fellow members of the Vertabelo Academy including the 30-day money back guarantee.
The discussion of this python course outline has a time length of 10 hours which is a best choice if you are having tight time for learning. This python course also offers you certificate provided upon the completion that serves as verification for your effort.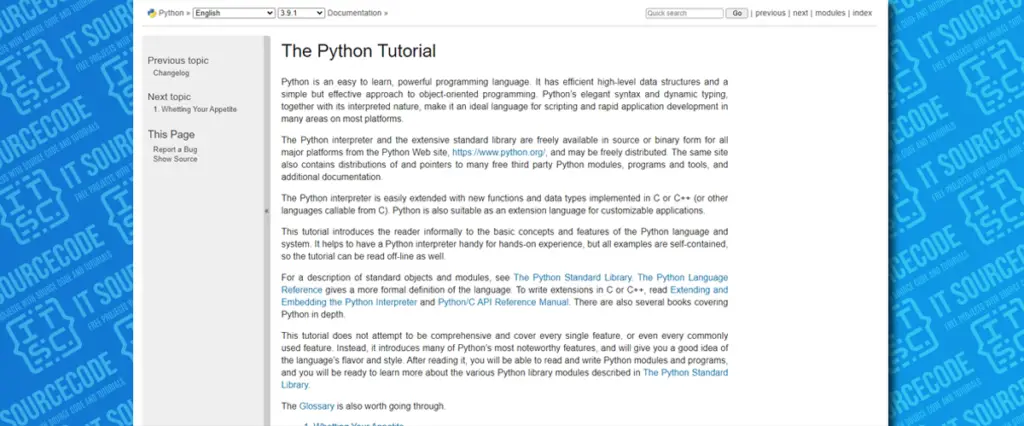 Course Type: Tutorial
From the title mention, it is a best option for the learners as the tutorial offered were Free Python Course and official Python docs. This python course outline introduces to the readers the basic concepts and features of Python.
Though the course outline of python doesn't really covers popular Python features but it gives best ideas about Python's approach to programming. As the learners through explaining some of the Python's most powerful features.
The list of outlines discussed in this Python course includes basics of Python, brief tour on the standard Python library. This also includes control flows, data structures, errors and exceptions, inputs and outputs, modules and managing packages with PIP.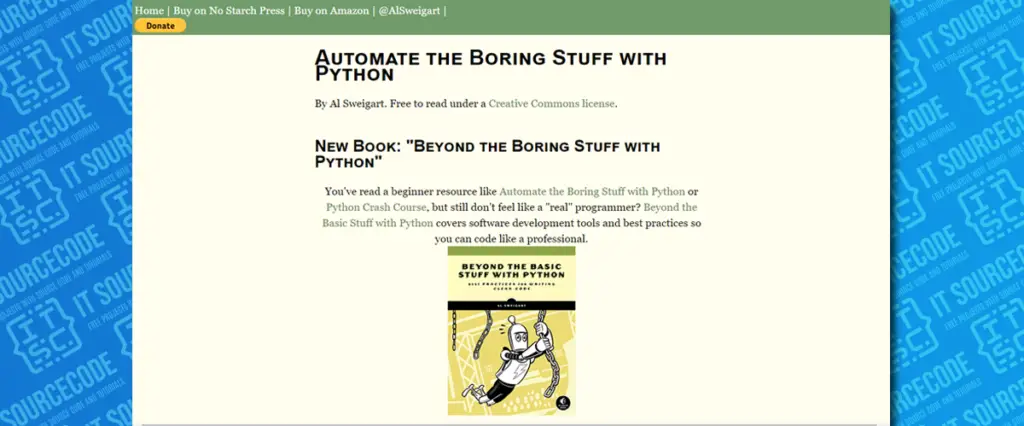 Course Type: Book
This Book is best for the beginners who looks for Best Python Course 2021. It is written by AI Sweigart which has already made some of the most popular advanced Python books such as Cracking Codes with Python and Invent your Own Computer Games with Python.
This beginner book for Python course is available in paid paperback and digital formats and is entirely free Python Course outline under Creative Commons License.
The list of course outline details on writing programs in Python will automate wide variety on repetitive task such as filling online forms. Searching the web and downloading content, sending reminder emails and text notifications and updating and formatting data in Excel.
The list of best course outline mention above comes with the series of instructions. These could help you understand the Python language better, improve programming skills, and make modifications.
This python course 2021 has the same name with the course offered in Udemy is best for those who prefers course with video format of this book. It also comes with articles, downloadable resources, and is lifetime access.
Topics and outlines covered in this course includes basics of Python language, GUI automation, debugging, flow controls and functions, lists, dictionaries, structuring data, manipulating images, pattern matching with regular expressions, scheduling tasks, web scraping and working files like reading, writing and organizing.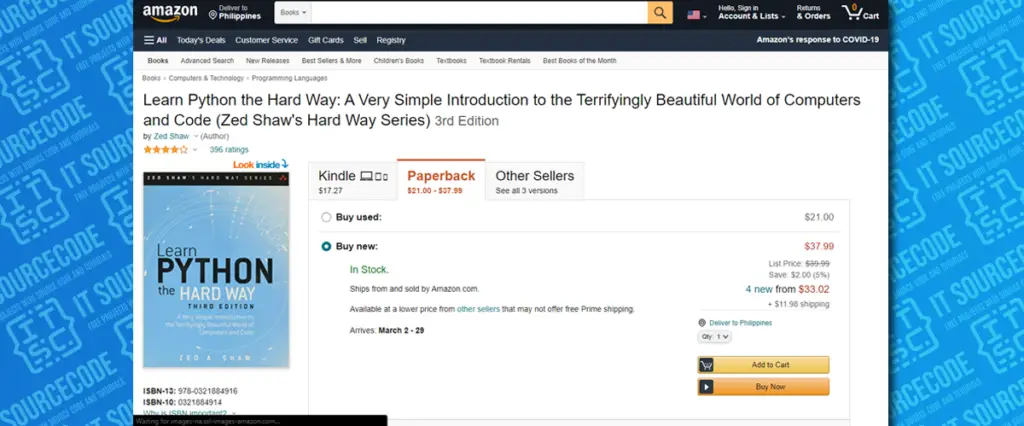 Course Type: Book
Learn Python the Hard way is a book written by Zed Shaw aims to educate beginners at Python programming language. Through this Python course outline book, the learners will learn 52 ideal exercises for beginners such as writing codes, running it and fixing its errors.
This book discusses the basics of Python programming and gives detailed explanation on how does the software works, contents of good programs, reading and writing of codes and fixing mistakes using the tricks that the professional programmers use.
This Python course book comes with a DVD that contains 5 hours video where the author discussed the various aspects of the Learn Python the Hard way course. This book was already considered as one of the Best Python Books for beginners and advanced programmers.
Covered outline lists of this python course includes automated testing, basic game development, mathematics, web development, debugging, effective program design, inheritance and composition, installation of Python, looping and logics, object-oriented programming, code writing and organization, packaging and files.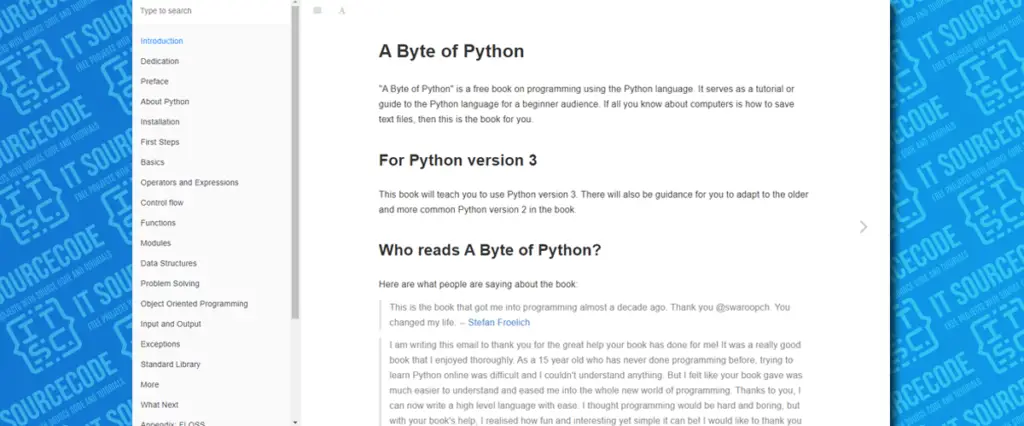 Course Type: Book
This book entitled A Byte of Python is a detailed discussion on various fundamentals of Python language. This is a Free Python Course Online for learners who are looking for guides on how to learn mastering the codes.
This python course book for beginners by Swarrp C H contains well-written concepts with prominent samples that makes it ideal for the beginners.
The outlines covered in this python course book 2021 includes control flow, data structures, exceptions in Python, explaining the standard Python library, input and output operations, object-oriented programming, operators and expressions, problem-solving and Python fundamentals.
Conclusion
That completes our lists of Best Python Course Online 2021 Itsourcecoders.
I hope that this article about List Python Courses Outline with Certificate help you a lot.
With the list of best python course outline presented above, you can get the ideas that suits your needs for python project building.
If you are interested in Python programming, you can go sign up and explore those courses to Master the Python programming language.
Inquiries
If you have any questions about the List of Python Courses with Certificate you can ask us through the contacts page or leave your comment below.
And if you have concerns or suggestions about What is Python Course 2021, you can also share it to us.
Here are another lists of Best Python Books for those who are looking for more details about the Python programming language.
Keep us updated!
Related Article Below
Recommended Articles From the Author