This Sequence Diagram For Point Of Sale System is a designed Unified Modeling Language (UML) diagram that shows the sequence of messages or events between objects in the system interactions.
It helps illustrating the sequence of messages that passed between the actors and objects. Sequence diagrams are also able to explain in details on how Point of Sale (POS) System control the structures between objects.
Now, to create the Sequence Diagram for Point of Sale (POS) System, you must first become familiar with its symbols. This is to know how you would emphasize the whole content of your Point of Sale (POS) System. With the symbol's familiarization, you'll then easily understand the ways of the system's development.
Simple Sequence Diagram For Point of Sale (POS) System
Now, I will be showing you the Sequence Diagram of the Point of Sale (POS) System Design. The design that I will be showing you is a detailed illustration of the sequence of events that happen in a point-of-sale (POS) system.
This designed sequence diagram is able to show programmers and readers about the sequence of messages between the actor and the objects.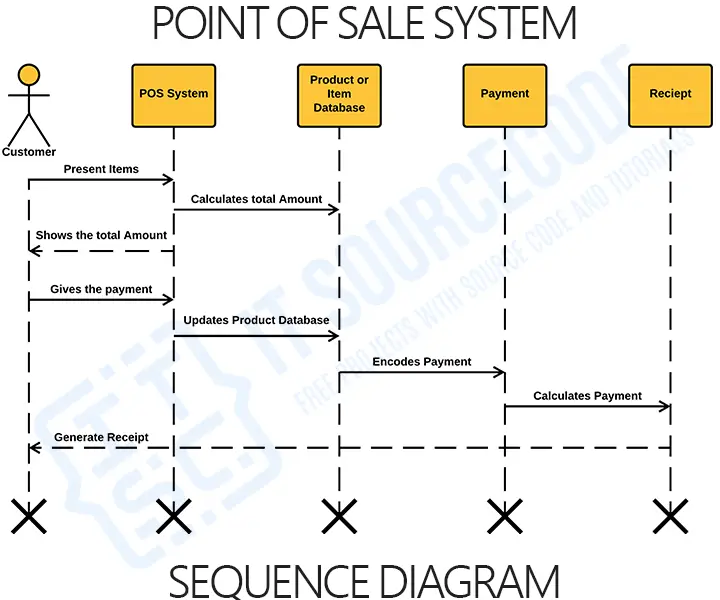 As you can see through the illustration, the conditions and interactions are emphasized. These interactions ae essential for the Point of Sale (POS) System development.
In addition to that, you can use the idea presented n this diagram as your reference or blueprint design for your system development.
Additional knowledge on Point of Sale (POS) Sequence Diagram
The Sequence Diagram For Point Of Sale System explains the interaction sequence diagram and shows how objects interacts and in what order. Software engineers and business experts use this to understand the requirements and describe existing processes of the system.
The Point of Sale (POS) System must have it to define the sequences that should result to the desired outcome. The series in which communications appear is more important than the message itself.
The majority of sequence diagrams, will show what messages are transmitted and in what order they usually occur.
Conclusion
The point of sale (POS) system is the location where your customer pays for the items or services that your company provides. Point-of-sale systems facilitate the completion of a business transaction between a client and a company.
It occurs when a financial transaction is completed via a POS system at a certain point in time. The staff will scan the items and issue a receipt if you decide to purchase them. Designing the Sequence Diagram for it will help programmers understand the system's processes and work.
Related Articles
Inquiries
If you have inquiries or suggestions about Sequence Diagram For Point Of Sale System, just leave us your comments below. We would be glad to hear to concerns and suggestions and be part of your learning.