In this article, we will discuss what PowerPoint shapes are, the different types of shapes available in PowerPoint, and how to use them effectively in your presentations.
Now let's get in-depth what these shapes we mentioned…
What are PowerPoint Shapes?
Shapes are one of the features available in PowerPoint. It is an excellent method for making a presentation more presentable and engaging. It provides several shapes from which we can choose and customize our needs.
For example, we can use our own palette, preferences, and so on. It can also add visual effects that tell you to use shapes in your presentation.
Types of PowerPoint Shapes
There are different types of shapes available in PowerPoint including the following:
Basic Shapes
These are the most common type of shapes used in PowerPoint. These shapes include rectangles, squares, circles, and triangles, as well as lines and arrows.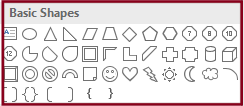 Flowcharts
Flowchart shapes are a set of shapes that are used to create flowcharts, process diagrams, and organizational charts.
These shapes include boxes, diamonds, and arrows to represent decision points, actions, and flows between steps.

Block Arrows
Block arrows are a set of shapes that are used to create diagrams that show relationships between objects or ideas.
These shapes include arrows, circles, and squares, which can be used to create a visual representation of the relationships between objects or ideas.

Callouts
Callouts are a set of shapes that are used to draw attention to specific parts of a presentation.
These shapes include speech bubbles, thought bubbles, and stars, and can be used to highlight important information, add commentary, or provide additional information.

Stars and banners
Stars and banners are a set of shapes that can be used to create visual interest and attract the attention of your audience.
These shapes include stars, banners, and ribbon shapes.

Equation Shapes
Equation shapes refer to the mathematical symbols and diagrams that can be inserted into a presentation.

What Is The Advantage Of Using Powerpoint Shapes?
The advantage of using PowerPoint shapes can enhance the visual appeal, organization, creativity, efficiency, and accessibility of your presentations, making it easier to communicate your message and engage your audience.
Select shape in PowerPoint
To select all shapes in PowerPoint, follow these steps:
1. Go to the "Home" tab.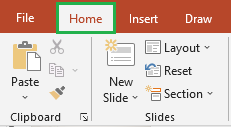 2. In the "Editing" group, click the "Select" drop-down.

3. Select "Select All".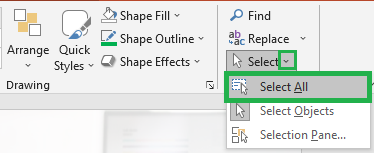 Alternatively, you can also use the keyboard shortcut "Ctrl + A" to select all shapes on a slide.
Check out this tutorial if you want to learn more about how to select shapes in Powerpoint.
Now let's see how to duplicate these shapes in our presentation.
how to duplicate a shape in PowerPoint
In duplicating shapes, you may use various ways to complete the task. It depends on what methods work best for you.
So here are the following you can use:
Copy And paste

Select the shape you want to duplicate, press "Ctrl + C" to copy it, and then press "Ctrl + V" to paste it onto the same slide or a different one.
Drag And Drop

Hold down the "Ctrl" key on your keyboard and drag the shape to the desired location. A copy of the shape will be created in the new location.
What are merge shapes in PowerPoint?
Merge Shapes in Powerpoint is a feature that allows you to combine two or more shapes into a single, custom shape. This can be useful for creating complex shapes that would be difficult or impossible to create using the basic shapes included in PowerPoint.
There are several types of merge operations available such as:
Union
Combine
Fragment
Intersect
Subtract
How to merge shapes in PowerPoint
Merging shapes is one of the features of PowerPoint, now we will head over to how to perform merging shapes. The following guide will complete the tasks:
Head over to Insert Tab to the illustration group and select Shapes.
Choose your preferred shapes in the dropdown menu.
Draw a shape, you can do this by clicking and dragging the cursor.
Repeat the steps above to create another shape.
To merge the shape make sure to overlapped the shapes.
Then select both shapes while holding Crtl key.
Head over to the Shape Format tab and find the Insert Shapes group.
Click the Merge Shapes button and from the drop-down select the desired merge type.
How to make a shape transparent in PowerPoint
To make a shape transparent in Microsoft PowerPoint, you can adjust its transparency level using the following steps:
Step 1. Choose the shape or shapes you want to be transparent.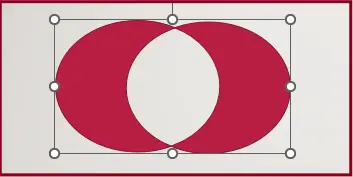 Step 2. Right-click and choose Format Shape from the context menu.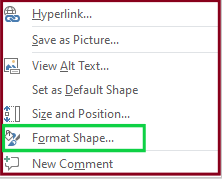 Step 3. Set the Transparency slider in the Format Shape pane to the desired percentage of transparency.
Note: You can also make individual shape attributes transparent by choosing on the provided styles in the Shape Style group.
Conclusions
In conclusion, PowerPoint shapes are a powerful tool for creating engaging and professional presentations. With a variety of shapes to choose from, you can use shapes to highlight important information, create diagrams, or add visual interest to your presentations.
By customizing your shapes and adding text, you can make your presentations unique and memorable.
I think we already covered all we need to know in this tutorial. I hope you have learned something new today. For more educational tutorials like this feel free to visit our website.
Thank you for reading 🙂