NOCL Location Based Mobile Application Chapter 2
This article of NOCL Location Based Mobile Application Chapter 2 present an overview of previous research on knowledge sharing and intranets. It introduces the framework for the case study that comprises the main focus of the research described in this thesis.
Here's the Outline of NOCL Location Based Mobile Application Chapter 2 – Related Literature
1.Review of Related Literature and Prior Arts
2.Local Related Literature
3.Foreign Related Literature
4.Local Related System
5.Foreign Related System
Review of Related Literature and Prior Arts
This chapter discusses the local and foreign studies related to the study of Negros Occidental Carwash Locator Mobile Application System. this will serve as the bases on how the proponents develop their system, it gives the overview of the previous study that help the proponents insight the related studies between their plan to the existing application, to gather some ideas and applying it to the project.
NOCL Location Based Mobile Application Chapter 2 – Related Literature : Local Related Literature
The local related literature includes studies conducted in the Philippines.
     This section discusses the local prior arts published here in the Philippines that is used by the proponents related to the system Negros Occidental Carwash Locator Mobile Application that will help the research determine the needs in developing the system.
Sakay.ph.Implementation Inc.
(NARBONETA, C., & TEKNOMO, K.M (Philippines), 2015).
Communicating is the hard, but it doesn't have to be Sakay.ph provides the most accurate and efficient commute directions around metro manila, featuring Extensive commute routes, including jeepney, bus and train routes sourced from the DOTC (Department of transformation and communication) step-step transit directions which are helpful while on-the-go Easy comparison of routes on duration, number of jeepney/UV/Ferry/Train rides and stops, cost. Save money and time by taking more efficient routes from Sakay.ph. Train check predicts MRT congestion and tells you when the trains will be crowded (or not). NEW: Uber rides are now available as a direct transport option. New Feature: Mode Preferences. Now you can select which modes you'd like the route search to prioritize when planning your trips. Sakay.ph is a free app developed as a public service for the commuters of metro manila, straight from the labs at by implication. This system has a feature of accurate and efficient navigation in helping the users to find them the routes and tells them the direction, which are helpful while on the go. In the proposed system, the features are the users-friendly and accurately in giving information to the user.
Classroom Locator and Navigation Map System
(Shaunessy, E., & Page, C. 2006).
Classroom Locator and Navigation Map System undeniable bring a big help in the college that aims to have technology base environment. It could be fastest and convenient way in knowing all needed information. However, not all computerized system could perfectly do its job without encountering conflicts due to some factors that could affect the system. CHMSC-Binalbagan Campus doesn't have a current system that will help the user to easily navigate around the campus and provide then information and variety of schedule of every classroom. The purpose of the system is to give direction to the user in an easy way.
The Features of this system is similar to the proposed system because it will help the user to navigate or search around the area to find the nearest location of Negros Occidental Carwash Locator Mobile Application this could lessen the time and effort in navigating the Carwash Locator as well as easy to access the information about the Negros Occidental Carwash Locator Mobile Application.
Linog, Diliman Interactive Learning Center
(MarkAngelo. Yadao and Peter A. Sy, May 29, 2014)
Linog collects information on seismic events that takes place in your area (100km radius) in the last 24 hours coverage is limited to the Philippine territory. For this app to work you need the internet communication and your phone location services activate. This app aims to be platform for learning about risk associated with earthquake. Linog (Visayan for "earthquake" is produce by (diliman Interactive Learning, University of the Philippines in cooperation with PHILVOCS (Philippine's of Volcanology and Seismology) and ASTI(Advance Science and Technology Institutions).
This study shows that GPS is very helpful to guide user to trace the location of the nearest Negros Occidental Carwash Locator Mobile Application around the area, thus, the proponents used the GPS also to locate the nearest carwash stations in Negros and as one of the features of the system.
Philippine's Manila Office Map, Offline Guide Net
(Peter,Tiangco and Jeffrey Quodala)
The Philippines offline road maps (route map) primarily display roads and transport links rather than natural geographical information offline Philippines map also shows the-automotive tourist roads and detailed area around the cities: Manila, Caloocan, Las Pina's Malabon this app provides this complete offline map with GPS geolocation, currency converter: EURO British Pound, US Dollar, Chinese YUAN, Japanese Yen, Korean Won, Pupee, and Russian Buble. Philippine's offline road map also provides carwash dictionary that has multilingual interface.
The proponents found out that the Philippine's Manila Office Map Offline Guide uses road maps or route maps that display road in a particular area in detailed. The proponents wanted to have feature also in the proposed system because through this feature, the users can figure out where they are and how they where they wanted to go and for the user's convenience.
NOCL Location Based Mobile Application Chapter 2 – Related Literature : Foreign Related Literature
MOBILE AUTOMATED-HAND CAR WASH
(Brad Pollack, E. Brunswick, NJ (US), Apr.28, 2008)
The mobile automated-hand car wash represents the first automated car wash that can be transported and easily assembled/disassembled. The mobile design enables the car wash operator to place the facility on a property without the landowner being locked into a long-term land lease contract, and avoid the landowner from building a permanent car wash structure which requires a substantial upfront investment.
The mobile automated-hand wash facility uses four modular buildings able to be delivered to the site and assembled/ disassembled as required. The four modular buildings serve a specific purpose in the car wash process.
1. 10'W*25'L*8'6″H structure to pre-rinse the vehicle and apply Soap.
 2. 10'W*25″L*8'6″H structure to rinse the vehicle and dry the vehicle.
 3.8W*20'L*8'6″H structure to serve as an office and waiting area.
 4. 8W*40'L*8'6″H structure to serve as a machine room and Supply storage.
The mobile automated-hand car wash requires an open air platform 10'W*20L to be placed between the two 10W structures (designates above in line 1 and 2), to allow cleaning professional the ability to wash the vehicle with hand mitts using the soap which was previously applied. The entire tunnel wash system must be constructed above a drain age ditch in order to capture the water and Soap run off. The mobile automated-hand car wash could vary in design and become a mobile automated carwash by using one 40′ long tunnel building for the car wash processes. Instead of using car wash professionals, the tunnel wash may utilize automated mitters and washers to clean the vehicle. Though this option would not provide the quality of the automated hand wash system, the system will still be mobile and therefore provide the benefits previously described.
For the mobile automated-hand car wash to operate a machine room is required. This room will be 8'W*40'L*8'6″H and will be insulated, ventilated, and cli mate controlled. The size of this room can vary based on the capacity capabilities, but the components of the room will be standard to operate a tunnel car wash system with or without a conveyor or automated washing machines. The pipes from the drainage system will run into the machine room where it will be pumped into the holding tank. The holding tank is filtered and recycled into the clean water holding Tanks. The public utilities will be connected to the machine room and redirected using power lines and water pipes to the machine room components, tunnel wash and office structures.
It is recommended but not a requirement that a mobile automated-hand car wash have an office and waiting room. The Structure will be 8'W20′ L*8'6″H and will be insulated, ventilated, and climate controlled. This room will have phone and cable access and powered through the machine room. The mobile automated-hand car wash has a green effect that promotes the use of this design. All mobile auto mated-hand car washes do not have to have a green design, but it is recommended. In order to create an environmentally friendly facility, this structure will utilize water filtering and recycling equipment located in the machine room in order to reuse the fresh water and save thousands of gallons of water each year depending on usage. This system will also capture all chemicals and residue during the car wash processes to avoid those chemicals and residues from entering the public sewage system. Another environmentally friendly aspect to the mobile automated-hand car wash is the use of Solar panels placed on the rooftop of the facility to supplement power usage from public utilities.
Automated Vehicle Location (AVL) Tracking Based on CSIS Environment
(Bob G. McCulloughand Michelle leung, November09,2012)
Automatic vehicle location (AVL) is a system that enables to company to trace to coordinate the movements of their fleet of vehicles. Much of the AVL software has been created for fleet management and vehicle location purposes. The AVL communicates software system was built based on the geographic information system (GIS) environment, but these types of systems use short messages services (SMS) technology. The main contribution of this proposed software is to apply the pre-published computer algorithms with GIS application and its concepts. This system is based on a known technique in computer algorithms called greedy technique (GT). This approach suggests constructing a solution through a sequence of steps, each expanding a partially constructed solution obtained until an optimal solution is reached. At each step of this technique the choice is made as follows: feasible, locally optimal, and irrevocable. The main task of the proposed system software is to compute the optimal path between two real GIS coordinates the automatic vehicle location system based on GIS environment system is related to the proponent's system because it has a feature of Map Locator. It uses a geographic information system to locate a certain establishment to help the user navigate direction to the nearest areas that is he/she wanted to go.
Automated IRAN Carwash Locator with GPS
(John Smith, October 102013)
According to Jing Li, Iran GPS is a local navigation application for iOS with user friendly interface and powerful function. Now it is available on IPhone and IPad you can use this app when you drive a car, ride a bike or walk to your destination. This app provides local search and offline navigation when you travel or live China, some advanced technology such as vector map, shortest path algorithms, offline address database adopted. Vector map features high quality map and much smaller size. The optimized navigation route can reduce your travel time on the way. Address database combining both online and offline data provides rich POIs (point of interest) built in electronic compass can assist you to judge the direction of route. Completely offline map and navigation. Switchable 2D/3D, switchable English/Local language map display. Vectors map compacts vast map data which makes this app much smaller in size. Leading map data contains a large quantity of Poi's which are comprehensive and accurate. Professional navigation engine with fast route, turn by turn features makes you to enjoy a good navigation experience. View the route on the table list or on the map. Powerful voice guidance and direction, distance, speed display provide most clear route guide for you. Friendly user-friendly interface and elegant operations. Perfectly compatible with iOS style.
The application uses a database to store data which is also present to the proposed system because it also stores information of the location of the different Negros Occidental Carwash Locator Mobile Application the area it helps the user to see where the location, he/she has gone.
NYC Subway Map Gotham Wave
(Reka Kamoli, February 2, 2015)
The App lets the user scroll around a detailed map of NYC subway system, including all five boroughs. The map is saved on the device, so the user does not need an Internet connection to view it. This application is not nearly fancy as some of the pried subway map app out there, but its free fast loading and very convent when user is stick underground with no reception on an familiar a line and can't or don't want their way over to the map scan to check which stop their connection list.
The proponents would like to have a map as one of the features of the system because the proponents found out that Map Locator is useful for the user and it is also the client-server-based system.
Mobile Banking adoption and benefits towards customer's service
(Sunil Kumar Mishra and Durga Prasad Sahoo, 2013)
According to Sunil Kumar Mishra ET all (2013), in the paper "Mobile Banking adoption and benefits towards customers' services" aims to find out the facilities provided by mobile banking and to study the advantages and disadvantages of mobile banking and to study the mobile banking services used worldwide. The study concludes "Evidently" mobile banking is considered as a new era in banking, in which banks are spending considerable amount of money to have it available to their customer and to out their cost of operations, unfortunately, evidence have shown that a large number of customer do not use mobile banking for various reasons, despites benefits" this is a descriptive research paper based on secondary data collected from different source like websites research papers, magazines and would have been more effective if supported by primary data.
This shows that the system Negros Occidental Carwash Locator Mobile Application will have some similar features to the study that is being discuss and tackles, on how it could be convenient users of the study. The researcher suggests that banks must popularize mobile banking services through publicity which may be done through different media to lessen the consume time in processing in Negros Occidental Carwash Locator Mobile Application.
NOCL Location Based Mobile Application Chapter 2 : Comparison Table of Related Foreign and Local System
Table 1: Comparison of Related Systems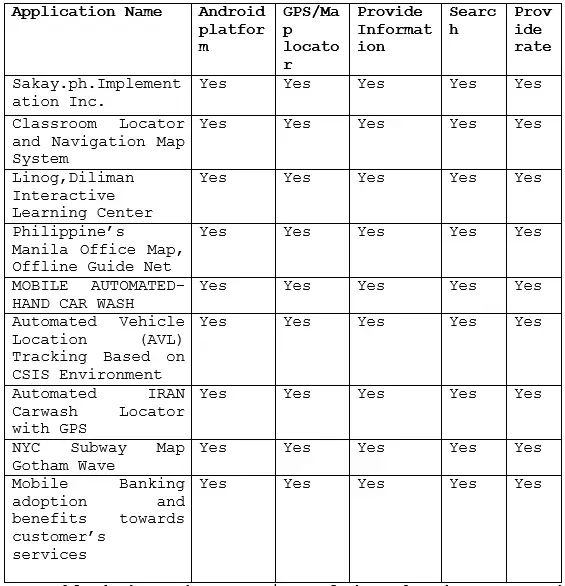 Table 1 shows the comparison of the related systems and the proposed system Carwash Locator, in terms of Android platform, GPS/Map locator, Provide Information, Search and Provides comment and rate. All application is working with maps, determining the geo-location of the user.
Related Article
Inquiries
if you have any questions or suggestions about NOCL Location Based Mobile Application Chapter 2, please let's me know by dropping your comment below.