Enrollment System Thesis Chapter 4 – Existing System
This article of Enrollment System Thesis Chapter 4 – Existing System or Chapter 4 Enrollment System Thesis Documentation shows the following such as general objectives, specific objectives, scope of the existing system, concept operation, activity diagram and data flow diagram of existing system.(Documentation for Computerized Enrollment System Chapter 4)
The Existing System
General Objectives
The objective of the manual process of enrollment of Ilog Catholic High School is to provide the students to enroll in the institution with good quality process using paper registration forms for the students to be able to complete the details needed for them. (Chapter 4 Enrollment System Thesis Documentation)
Enrollment System Thesis Chapter 4 – Existing System : Specific Objectives
To help the students manage their time in filling up the registration form and asked for the signature of the staff to complete the process of their registration.
To help the staff easily review the registration forms of the students if there are missing parts that the student missed to fill up.
To help the students in enrolling and for them to make it easy to manage the enrollment system
Enrollment System Thesis Chapter 4 – Existing System : Scope of the Existing System
The scope of the manual process of enrollment of Ilog Catholic High School is used for registration and enrolling of the students. This is also for accounting transactions included for the student to have a review of all the processes included in the enrollment.
Enrollment System Thesis Chapter 4 – Existing System : Concept of Operation
The manual process of enrollment of Ilog Catholic High School has two (2) users; the student and the staff. First, the student will go to the registrar's office and pay for the registration form then the student will fill up the registration form that the registrar's office will provide. After filling up the registration form, the student will proceed to the principal's office and registrar's office for the signing of the form. Then the registrar will verify the subjects intended for the student in the present year. After verifying the subjects, the registrar will give the student the copy of the form and will present the account details of the student on how much he/she will pay for the tuition and miscellaneous fees for the school year.
Activity Diagram
Figure 3: ICHS Existing System Activity Diagram shows the activities done to each object which is performed during the system process.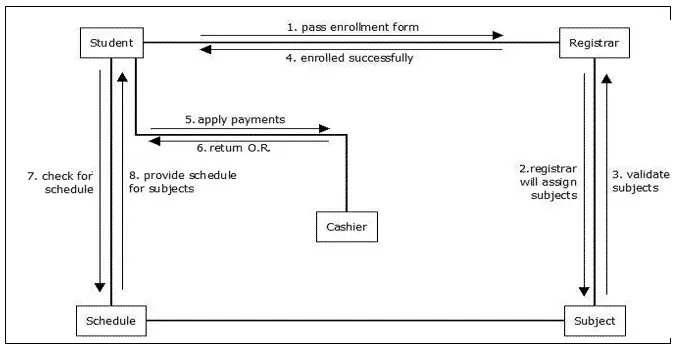 Data Flow Diagram of the Existing System
Figure 4: ICHS Existing System Data Flow Diagram shows the Data Flow Diagram of the manual process of enrollment system in Ilog Catholic High School. First the student must fill up the form from the registrar and will be processed and validated to be returned to the student. Then the student must proceed to the registrar to process the validation of form and the student's information to be returned to the student. After signing, the student must proceed to the cashier for processing of assessments and payments. Then, the cashier will give the O.R. (Official Receipt) and student's copy of assessments to the student.(Documentation for Computerized Enrollment System Chapter 4)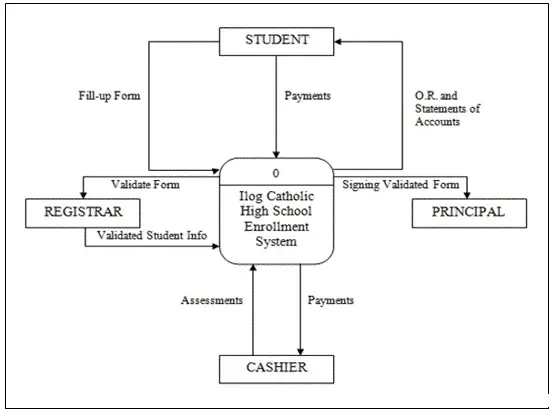 Related Article