About the Project
In the past, academic performance was tracked through paper-based methods. This process was often very time-consuming and inefficient. Tracking academic performance today is much easier with the use of an academic performance tracking system.
An academic performance tracking system is a computer-based system that allows educators to track the academic progress of their students. The system can be used in both primary and secondary schools. The system can also be used to track the academic progress of individual students or groups of students.
Benefits of using the project
When it comes to tracking academic performance, a lot of people might think that the process is automatic and handled by a computer. However, there is a lot of manual work that goes into tracking academic performance. Academic performance tracking is a process that begins when a student is accepted into a school and continues until the student graduates or leaves school. The first step in academic performance tracking is creating a student file. The student file contains the student's name, date of birth, address, and other important information. The student file also contains the student's transcripts from previous schools and any test scores that have been collected.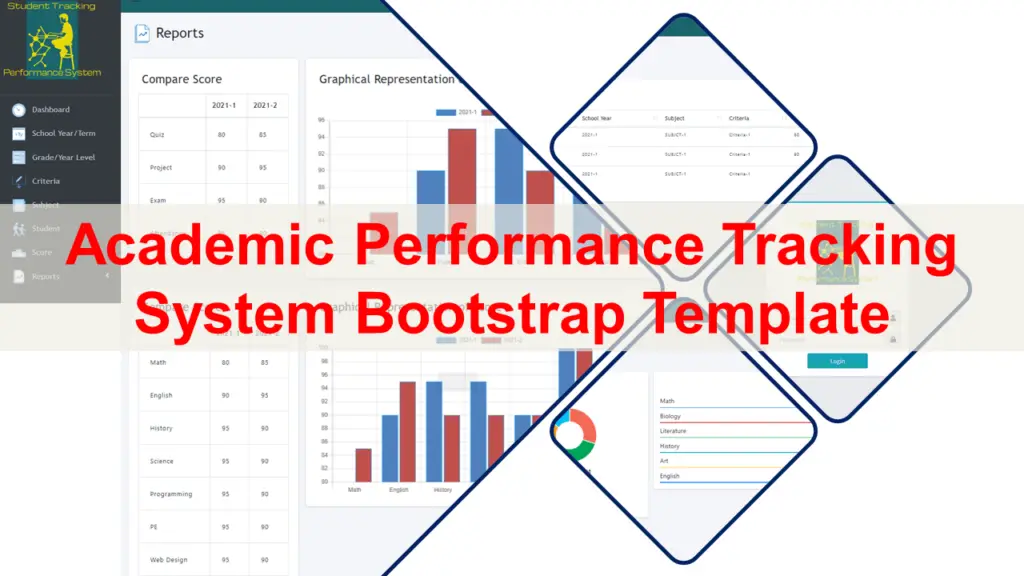 The Academic Performance Tracking System (APTS) is a web-based program that allows teachers to track and monitor their students' academic progress. It gives teachers real-time data to assist them identify and support students who are having difficulty in school. The APTS also assists educators in identifying and celebrating student achievement.
The APTS has numerous advantages for students. It first assists educators in determining which students are failing and which students are succeeding. This data can assist educators in providing more tailored instruction to difficult students. It also enables educators to examine all students' progress at once rather than separately for each subject area.
Second, the APTS gives teachers a clear picture of their students' intellectual progress over time. This data can assist educators in recognizing changes in student performance and determining when a student is ready to go on to the next level of education.
Finally, the APTS provides a venue for instructors to recognize and celebrate student achievement. Educators can use the APTS system to publicly recognize students who get good grades on examinations or complete other academic goals.
In general, the advantages of using an academic performance tracking system are that it is easy to use and it is very efficient. The system can be programmed to track a variety of different elements of student academic performance.
Screenshots
As technology advances, more and more tasks that were once done manually are now being done electronically. One such task is tracking academic performance. Screenshots of the Academic Performance Tracking System are shown below.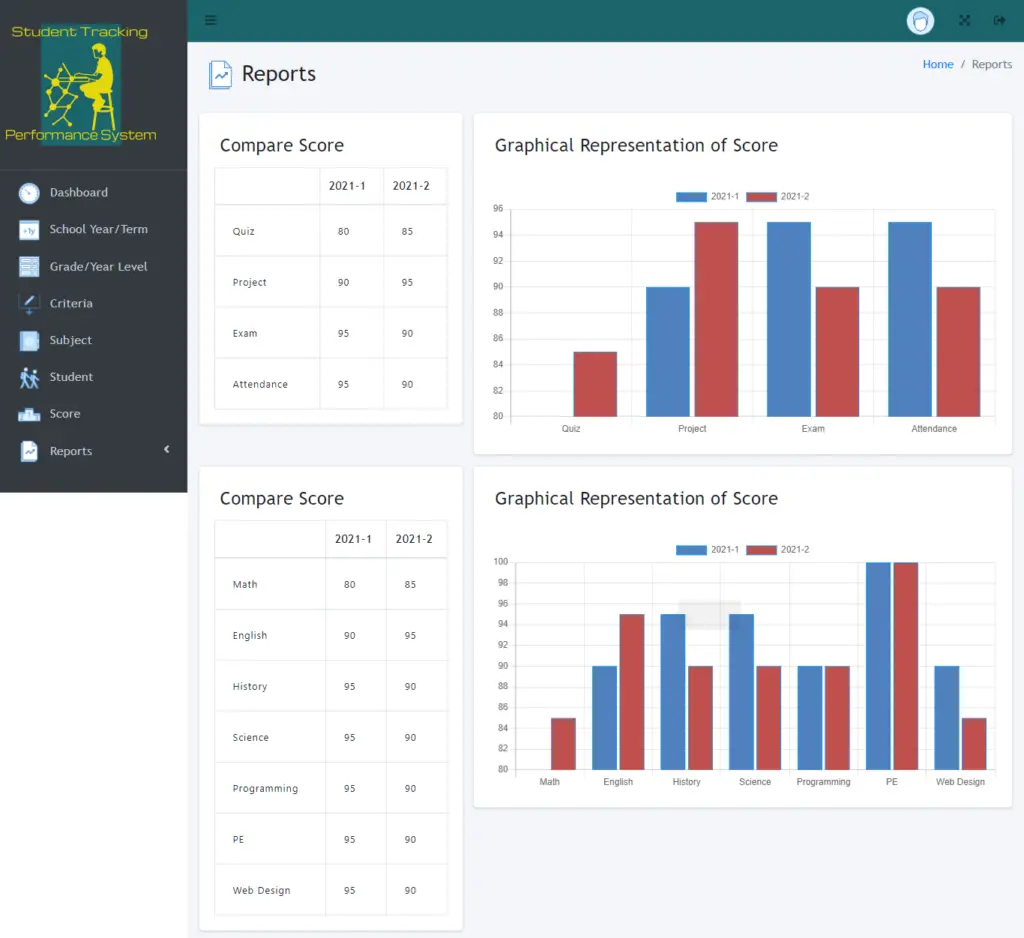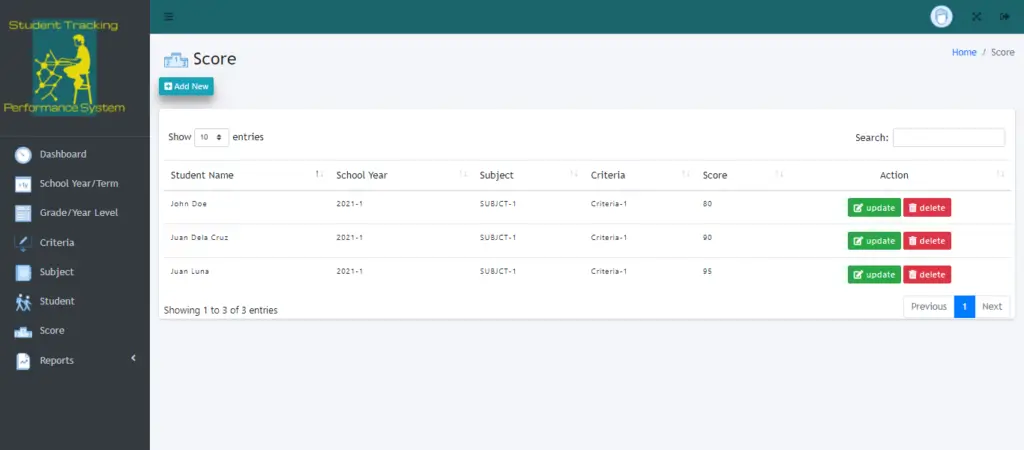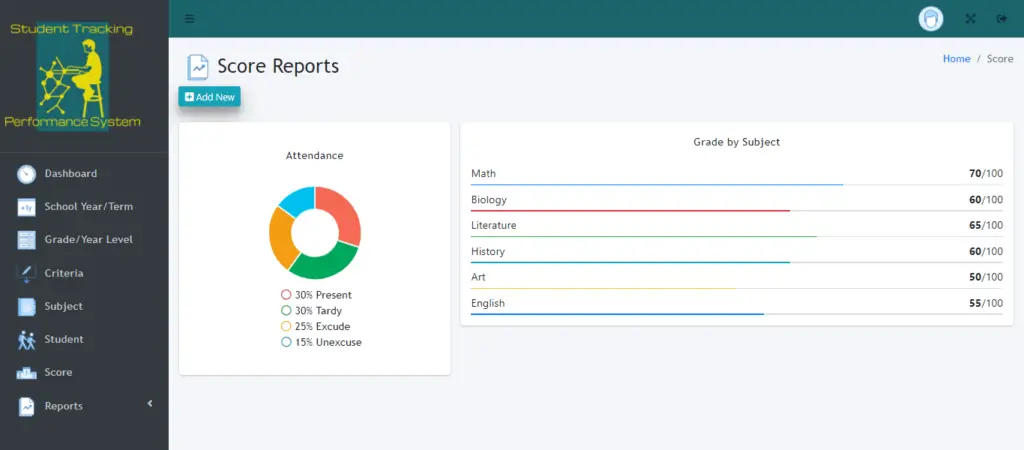 Video Demo
Summary
The Academic Performance Tracking System (APTS) is an online tool that helps students and teachers keep track of their academic achievement. The system is intended to assist instructors in identifying and supporting students who are having difficulty in school.
The system has had a mixed response. While some educators believe the approach is beneficial in identifying difficult students, others believe it is intrusive and violates students' privacy. Overall, the system appears to be operating as intended, assisting educators in identifying and supporting problematic students.
One disadvantage of the APTS is that students may find it difficult to understand their progress. Although the approach is intended to show students how they compare to their classmates, some students find it difficult to comprehend.
Overall, the APTS appears to be functioning properly. It aids in the identification of problematic students and the provision of assistance. However, students may find it difficult to understand their progress, and there are possible negatives to consider.
You may visit our Facebook page for more information, inquiries, and comments. Please subscribe also to our YouTube Channel to receive  free capstone projects resources and computer programming tutorials.
Hire our team to do the project.
Related Links and Articles:
Academic Website Review of Related Literature
Socio-Academic Online Portal Review of Related Literature
Student Academic Performance Tracking Related Literature
Socio-Academic Web Portal for Administrator, Teachers, Students and Stake Holders
Student and Faculty Clearance System Free Bootstrap Source code