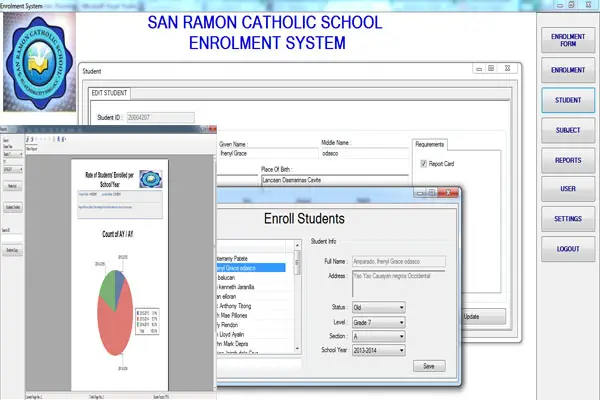 High School Enrolment System is used in recording the student's information. This system will lessen the time that the student when enrolling in school. With this, it will trace the records of the students and it could easily retrieve their information. Having this system is very useful to avoid any troubles of records during enrolment.
Below are the list of high school Enrolment System features:
Students (Enrolling, Updating Information)

Subject (Add, List, Update)

Reports (Statistic of Enrolled Students per Academic Year, Master List, Student's Copy)

User (Add, Update, List)

Settings (Adding School year, Adding Year Level)

Login and Logout
Username – admin
Password -administrator
For all students who need a programmer for your thesis system or anyone who needs a sourcecode in any programming languages.  You can contact me @:
Complete Sourcecode of San Ramon Catholic High School Enrolment System available here
Looking for more source code? Type your keyword here here!