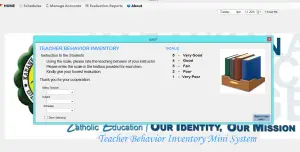 The KCC Teacher Inventory System is created by Visual Basic 2008 and Microsoft Access 2007 for its data base support. This system is a user friendly and is manageable enough for students to be used regularly.
The System has the following features:
· Teacher and Student basic information's.

· Teacher Behavior Evaluation Test.

· Evaluation test results with corresponding average grade for each subject and teacher.

· Subject Information's. (Subject Code, Subject Description, Unit, Schedules, etc.)

· Printing evaluation reports.
Manage system.
Username: admin
Password: admin
Looking for more source code? Type your keyword here here!