This tutorial is all about How to Used a Module in AutoSuggest and AutoAppend in VB.Net and MySQL Database.
On my first tutorial, I teach you how to How to Create an AutoComplete in a TextBox in VB.Net. Now, in this Tutorial I will teach you how to use Module in AutoAppend and Suggest in a TextBox in VB.Net and MySQL Database. With this, the record will suggest and append instantly in the Textbox.
Let's Begin:
Open the Visual Basic and Create a New Windows Form Application. After that, create a Module and name it "autoappend".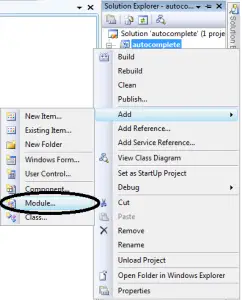 Set up the connection from MySQL Database to Visual Basic and declare all the classes are needed.
[vbnet]
Public con As MySqlConnection = New MySqlConnection("server=localhost;user id=root;database=dbemployees")
Public cmd As New MySqlCommand
Public da As New MySqlDataAdapter
Public dt As New DataTable
[/vbnet]
2. After setting up the connection, create a method of AutoAppend and Autosuggest.
[vbnet]
'CREATE A SUB ROUTINE OF THE AUTO SUGGEST AND APPEND
Public Sub autocompletetxt(ByVal sql As String, ByVal txt As TextBox)
Try
dt = New DataTable
'OPENING THE CONNECTION
con.Open()
'HOLDS THE DATA TO BE EXECUTED
With cmd
.Connection = con
.CommandText = sql
End With
'FILLING THE DATA IN THE DATATABLE
da.SelectCommand = cmd
da.Fill(dt)
'SET A VARIABLE AS A ROW OF DATA IN THE DATATABLE
Dim r As DataRow
'CLEARING THE AUTOCOMPLETE SOURCE OF THE TEXTBOX
txt.AutoCompleteCustomSource.Clear()
'LOOPING THE ROW OF DATA IN THE DATATABLE
For Each r In dt.Rows
'ADDING THE DATA IN THE AUTO COMPLETE SOURCE OF THE TEXTBOX
txt.AutoCompleteCustomSource.Add(r.Item(0).ToString)
Next
""""""""""""
Catch ex As Exception
MsgBox(ex.Message)
End Try
'CLOSING THE CONNECTION
con.Close()
da.Dispose()
End Sub
[/vbnet]
Go back to the Form Design and set up the Form just like this.



4. Click the TextBox and go to the Properties. In the "Properties" hit the "AutoComplete Mode" and select "SuggestAppend". After that, hit the "AutoComplete Source" and select "Costume Source".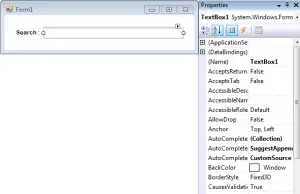 5. after setting up the properties of the TextBox, double click the Form and call the name of the method that you have created in the first load of the Form.
[vbnet]
Private Sub Form1_Load(ByVal sender As System.Object, ByVal e As System.EventArgs) Handles MyBase.Load
Dim sql As String
sql = "SELECT F_NAME FROM employees"
autocompletetxt(sql, TextBox1)
End Sub
[/vbnet]
The database of this project is in here
Finally, Press F5 on the keyboard of you computer to run your project.
Download the complete source code and run it on your computer.
Readers might read also:
Looking for more source code? Type your keyword here here!