This tutorial is all about How to Fill Data in the ComboBox in VB.net.
In this tutorial, I will teach you how to fill the data in the Combobox in VB.Net. With this, the record in the database will be displayed in the list control of the ComboBox. This is very helpful, because you can control whatever the records that you want to display in the ComboBox.
Let's begin:
Now, create a database named<strong> "dbstudent"</strong> in MySql Database.
Then create a table in it.
[<mysql]
CREATE TABLE IF NOT EXISTS tblstudent (
ID int( 11 ) NOT NULL AUTO_INCREMENT ,
stud_id varchar( 99 ) NOT NULL ,
fname varchar( 99 ) NOT NULL ,
PRIMARY KEY ( ID ) ,
UNIQUE KEY stud_id ( stud_id )
[/mysql]
Open the Visual Studio 2008 and create a new Window Form Application. Drag a ComboBox on the Form and It will look like this.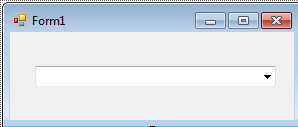 After setting up the Form, double click the Form and set the connection and declare all the classes that are needed above the Form1_Load.
[vbnet]
'CREATE A PUBLIC FUNCTION FOR A CONNECTION
Public Function MySQLconnection() As MySqlConnection
'RETURNING THE NEW CONNECTION
Return New MySqlConnection("server=localhost;user id=root;database=dbstudent")
End Function
'INITIALIZE A PUBLIC VARIABLE TO THE FUNCTION THAT YOU HAVE CREATED.
Public con As MySqlConnection = MySQLconnection()
'SET AS THE BRIGDE BETWEEN THE DATABASE AND DATATABLE IN UPDATING AND SAVING THE DATA.
Public da As New MySqlDataAdapter
'IT REPRESENT AN IN-MEMORY CACHE OF DATA IN THE DATABASE
Public ds As New DataSet
[/vbnet]
After that, you have to set up data to be filled in the ComboBox and put it in the Form1_Load.
[vbnet]
Private Sub Form1_Load(ByVal sender As System.Object, ByVal e As System.EventArgs) Handles MyBase.Load
'INTIALIZE THE NEW DATASET
ds = New DataSet
'FOR RETRIEVING AND FILLING DATA IN THE TABLE
da = New MySqlDataAdapter("SELECT * FROM tblstudent", con)
da.Fill(ds)
With ComboBox1
'INTIALIZE THE DATASOURCE OF THE COMBOBOX
.DataSource = ds.Tables(0)
'SET THE FIELD OF THE TABLE THAT WILL DISPLAY IN THE LIST CONTROL OF THE COMBOBOX.
.DisplayMember = "fname"
End With
End Sub
[/vbnet]
Remider : Set your reference above the Public Class for the imports.
[vbnet]
'SET YOUR REFFERENCES
Imports MySql.Data.MySqlClient
[/vbnet]
Press F5 on the keyboard to run your project.
Readers might read also:
Looking for more source code? Type your keyword here here!