Contact Persons (CRUD VB.Net + Access)
This tutorial is all about Contact Persons (CRUD VB.Net + Access).
First of all, I must say that I just switched from VB6 to VB.Net only 8 months. I would like to share to you my sample application in VB.Net and MS Access. This project is intended to collect employees list information and the internal phone number to call.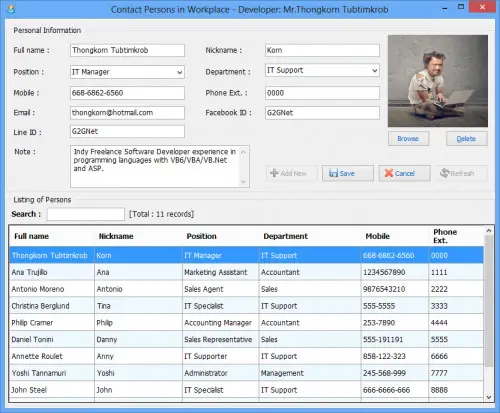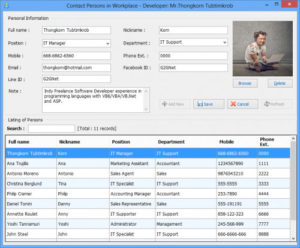 The design uses the One To One (1 : 1) relationship by loading data from the Detail Data Table (Position & Department) into the ComboBox Control. Then link the relationship to the Master Data Table information. Only save file names and extension (not BLOB) into the DataBase for used to save space and having speed of data access. Loading image data will use Stream instead of load IO image, to prevent process locking.
Note: You can find the database within data folder and pictures at images folder in the project. This sets the paths in the module name is modDataBase.vb.
Download Source Code Contact Persons CRUD
You can have a CRUD in VB.NET and MySQL database
Thank You.
I hope this simple application will help you.
Thongkorn Tubtimkrob
For outside from Thailand can be contact me at My Facebook
Looking for more source code? Type your keyword here here!