Automated Basketball Scheduling and Monitoring System – Chapter 2
This article provides a brief review of related literature, studies and interrelated system from both local and foreign as proponents' basis for the developing the of the proposed study, the Automated Basketball Scheduling and Monitoring System. This related literature also explains to you the articles about basketball tournament scheduling management.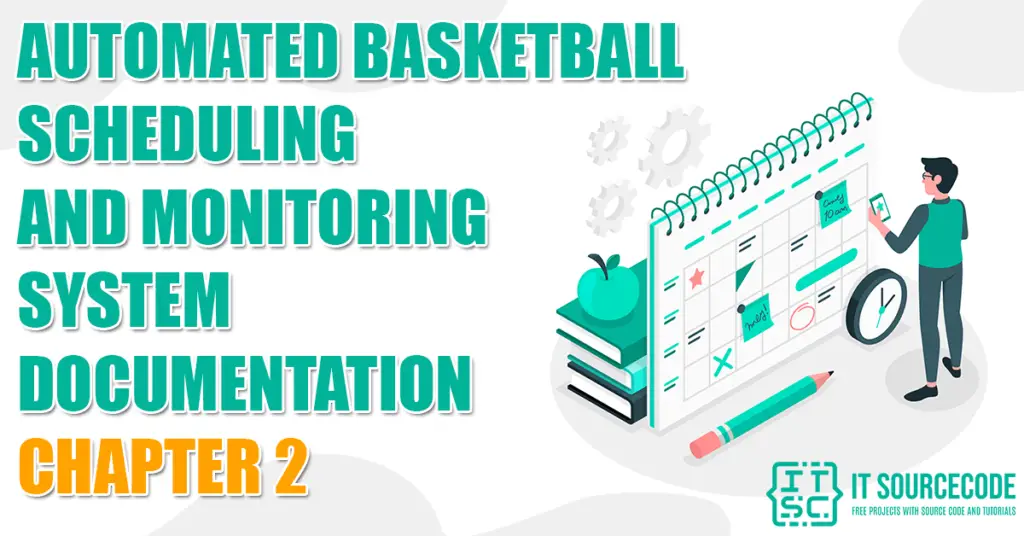 Presented below is the Outline of Automated Basketball Scheduling and Monitoring System Chapter 2-Related Literature
Review of Related Literature and Prior Arts
Local Related Literature
Foreign Related Literature
Local Related System
Foreign Related System
Table of Comparison
LOCAL RELATED Literature
The Need of Sports Management in the Philippines
The Sports Industry is a huge source of revenue and employment. Basketball Tournament Scheduling have a major social impact to the people who participate in it and support it.
Apart from being a profitable industry, it is also a way of life and a culture to every individual. But in terms of Sports Management, the Philippines has still a long way to go in its act together. To acquire such things, a person who understands the way of sport management and business acumen. With those abilities, efficiency and productivity of sport management could be attainable.
Attendance Monitoring
This is a study that tries to formulate an easy way of monitoring the attendance of students and faculty. This article includes the use of a radio frequency identification card reader and tags. With the help of this study, the reader will be able to see the flow of attendance of every Faculty and students in their respective classes.
College basketball governance in the Philippines
Collegiate basketball is one of the most popular and most watched forms of amateur basketball in the Philippines. Like any basketball, collegiate basketball is governed by actors and stakeholders and characterized by issues and challenges.
Employing a policy-capacity and synthesis integrative review approach, this article identifies the Philippines two leading college basketball leagues, namely, the Universities Athletic Association of the Philippines and the National Collegiate Athletic Association. This article also analyses the critical issues that confront these leagues in the context of college basketball governance.
Issues include an overly powerful board of directors in relation to league commissioners, a lack of accountability mechanisms, alleged piracy of coaches and players, recruitment of players and coaches, the two-year residency rule, and parity in media coverage.
FOREIGN RELATED LITERATURE
Basketball Tournament Scheduling to Determine the Required Number of Venues Subject to the Minimum Timeslots under given Format
The Basketball tournaments are played in two phases: the preliminary phase and final phase. The Preliminary phase consist of the single and double elimination while in the final phase is the round robin. To determine the required number of venues and accurate dissemination of equipment subject to the least timeslots at a given format, they used the diagonal symmetric matrix to pair teams and to schedule game timeslots for the tournament.
They've produce a procedure to find diverse competitive context with potential to reveal some of the unique properties of the basketball management. That is why competitiveness is essential in doing the basketball management to improve its productivity.
Scheduling Basketball Competition on Multiple Venues
The Basketball Scheduling has been receiving a great attention when it comes to multiple venues.
This article considers the scheduling of competitions that takes place on several venues not associated with the participants. It was motivated by the conditions that creates conflicts during tournaments that causes waste of time and productivity. An integer goal program was developed to construct a schedule that satisfies the variety of conditions.
LOCAL RELATED SYSTEM
Automated Class Scheduling System
The system Automated Class scheduling System has features that solves the primary problems in creating schedules which is the same with the proponents' system named as Automated Basketball Scheduling and Monitoring System. The system was able to respond automatically in terms of speed, data handling, accuracy and stability in scheduling issues.
Its features were tested and proven to be functional and helpful in producing secured data needed by the users.
The only difference is that this system is applicable for class scheduling while the proponents is for basketball scheduling system.
Web-Based Class scheduling
On the other hand, in Web-Based Scheduling Management creation of class schedule is much easier.
This Web-based scheduling was designed to develop integrated an algorithm for automated plotting of schedules and checking of every entities to avoid conflicts. This system is applicable for plotting of class schedules but the concept was the same with the basketball scheduling system (proponent system).
Athlete's Registration and Monitoring System
This Development of Athlete's Registration and Monitoring System is a programmed software that provides computerized registration for automation and accurate producing of Athlete's records.
This system requires eligible information of the athlete for monitoring purposes. But then this system mainly focused on the developing of athlete's registration and monitoring system of student-athlete in the P.E. department of the University of the East for UAAP.
This system could provide a schedule of activities of the athletes that is the same with the Automated Basketball Scheduling and Monitoring System. However, this system do not support other features like cloud storage, auto-print feature.
Foreign Related System
Sports Tournament Automated System
The Basketball Tournament Scheduling System is a programmed software which provide automation in generating the tournaments schedule. Especially in saving of records of the basketball bracketing and accuracy of the summation of the scores of the basketball is the same with this proponent system. This system also provides accuracy and easiness for the tournament organizer in increasing the level of reliability. But then, this STAS does not support database that is in Automated Basketball Scheduling and Monitoring System.
Team Sports Scheduling System
On the other hand, this team basketball scheduling system was created to help administrators to create league schedules for basketball organization. Its features include multi-division scheduling, time and venues management and game rescheduling for uncertain events was the same to this proponent system. This system could provide such needed schedules in the small period of time. But then this system doesn't have SMS Notification.
Diamond Scheduler
The Diamond Scheduler was a system that can store data on cloud based storage. Its features' the same with the proponent system in terms of proving a schedule and tournament brackets. This system could also give accurate dissemination of venues and time management. And one of their features that's the same with this proponent system is that they could export data in any format.
Table of Comparison
This table presents the comparison between the related systems and the Automated Basketball Scheduling and Monitoring System.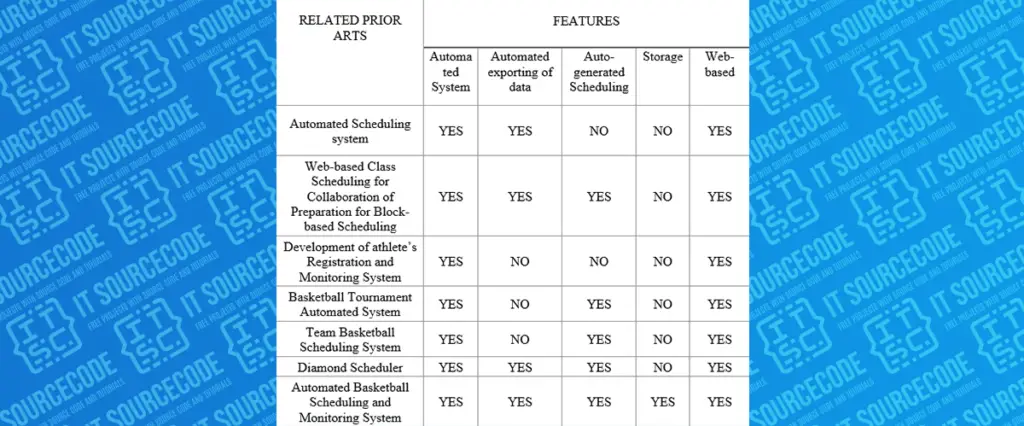 Related Article
Inquiries
If you have any questions or suggestions about Automated Basketball Scheduling and Monitoring System – Chapter 2, please let's inform me by your comment below.
Looking for more source code? Type your keyword here here!