WHAT IS A RESPONSIVE WEBSITE – Welcome to the world of responsive web design, where websites dynamically adjust to different device resolutions, providing an enhanced viewing experience.
This adaptability allows seamless integration with any device equipped with a web browser.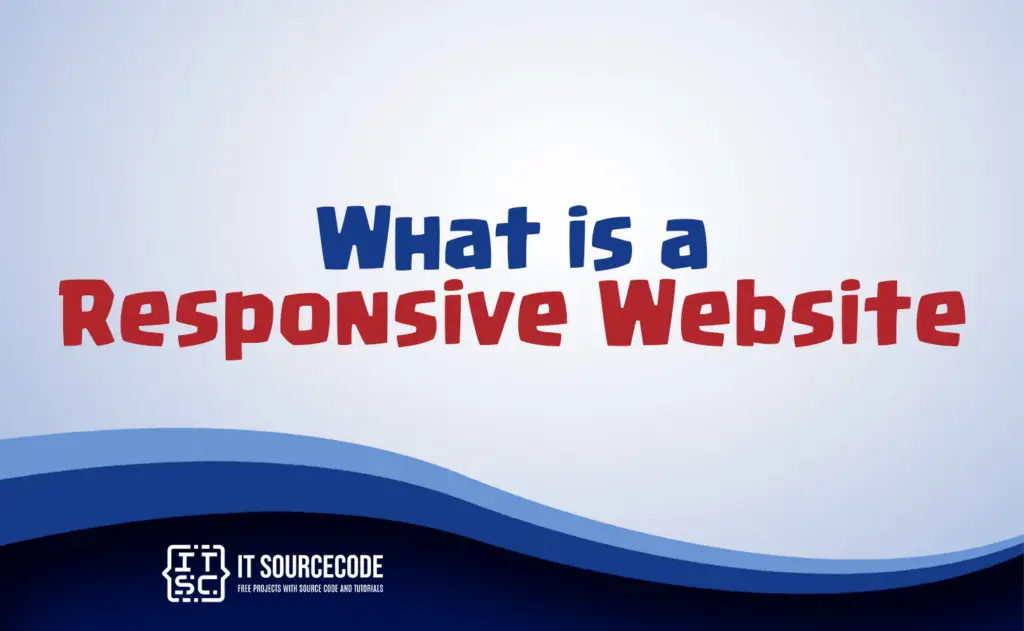 What does it mean for a website to be responsive?
A responsive website enhances the way it is viewed by dynamically adjusting to different device resolutions. This adaptability allows the website to seamlessly fit into any device with a web browser, including smartphones, tablets, and desktops, ensuring a smooth user experience across various screen sizes.
Why should you think about having a responsive website?
Having a fast and responsive website prevents abandoned checkouts and improves the viewing experience.
Even though smartphones are suitable for viewing websites, they may still require mobile-friendly versions for smooth data search and form filling.
A responsive website ensures easy and effortless browsing on all devices, including smartphones, providing a user-friendly experience.
a. Have a Unique Type of Specific Content
A responsive website streamlines browsing by presenting tailored content that adjusts to various devices.
This ensures a consistent and optimized display of information, including ads, using thumbnails and uniform points of contact, regardless of the device's aspect ratio.
b. Single Format of App
By building a website that is compatible with various devices, there is no need to invest in separate applications.
This cost-effective approach allows the website to function like a unique app on different devices, eliminating the requirement of creating distinct apps for various platforms.
c. Different other benefits of having a responsive website
A responsive website brings SEO advantages as you only need to manage SEO for your main source, avoiding the need for separate campaigns on various hosting sites.
It offers a contemporary and well-designed website where content is published only once, saving you from rewriting it for different platforms.
These benefits make a responsive website a valuable option for enhancing your brand experience for the audience. The success of a responsive website lies in its effective utilization.
Concept Of Responsive Web Design
Ethan Marcotte's article introduces Responsive Web Design, which draws inspiration from responsive architecture.
The approach involves creating websites that automatically adapt to different user groups, like physical spaces adjust to people.
It emphasizes the need for flexibility and avoiding excessive custom solutions. Responsive Web Design employs fluid layouts, media queries, and scripts for seamless page reformatting based on devices.
It represents a novel design approach, going beyond simple adjustments to screen resolutions and images. The article explores these features and other innovative ideas in this field.
Adjusting Screen Resolution
As the number of devices with different screen sizes, resolutions, and orientations continues to increase, designing for these variations has become a challenging task.
With new devices being developed daily, each with its unique characteristics, adapting websites to fit all these specifications can be overwhelming.
Additionally, user behavior, such as not maximizing their browsers, adds to the complexity. Morten Hjerde and his colleagues analyzed data from around 400 devices sold between 2005 and 2008, further emphasizing the need for flexible and adaptable designs.
Additional Resources
Conclusion
To sum up, a responsive website offers various advantages, such as seamless adaptability to different devices and resolutions, providing an optimal user experience.
It eliminates the need for separate mobile-friendly versions and reduces cluttered displays, making browsing effortless.
With tailored content and consistent presentation, it ensures an optimized viewing experience across various screen sizes and orientations.
Furthermore, a responsive website simplifies management by eliminating the need for separate applications, while its SEO benefits streamline campaign efforts.
Embracing responsive web design is essential in meeting the evolving needs of users and maintaining a strong online presence in a world of constantly changing devices and technologies.