This tutorial is all about on How Create a Tic Tack Toe Game using VB.Net
Tic Tack Toe Game using VB.Net is a game in which players draw Xs and Os inside a set of nine squares. This tutorial about Tic Tack Toe Game is a simple game that you can create using Visual Basic.Net. So let's get started.
First is open the Visual Basic, Select File on the menu, then click New and create a new project. Then a New Project Dialog will appear. You can rename your project, depending on what you like to name it. After that click OK
Then, design your form like this just like what I've shown you below.
Add 12 Buttons, 2 Labels, and a Timer from the toolbox.
Set the Property Enable of Timer to True and change its interval to 1.
Set the Property Visible of the Labels to False.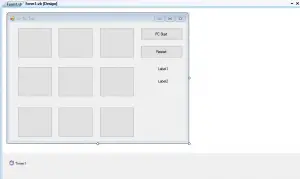 After designing your form. Go to Code view and add this following declaration below the Public class Form1
Then add this code for the Timer.

Private

Sub

Timer1_Tick

(

ByVal

sender

As

System

.

Object

,

ByVal

e

As

System

.

EventArgs

)

Handles

Timer1

.

Tick

Add this Following Sub so that the computer can make its own move.

Public

Sub

PC

(

)

If

random

=

1

And

Button1

.

Enabled

=

True

Then

If

random

=

2

And

Button2

.

Enabled

=

True

Then

If

random

=

3

And

Button3

.

Enabled

=

True

Then

If

random

=

4

And

Button4

.

Enabled

=

True

Then

If

random

=

5

And

Button5

.

Enabled

=

True

Then

If

random

=

6

And

Button6

.

Enabled

=

True

Then

If

random

=

7

And

Button7

.

Enabled

=

True

Then

If

random

=

8

And

Button8

.

Enabled

=

True

Then

If

random

=

9

And

Button9

.

Enabled

=

True

Then

Then after that, this following codes.

Public

Sub

Options

(

)

If

Label1

.

Text

=

1

Then

If

Button2

.

Text

=

"X"

And

Button3

.

Enabled

=

True

Then

ElseIf

Button3

.

Text

=

"X"

And

Button2

.

Enabled

=

True

Then

ElseIf

Button5

.

Text

=

"X"

And

Button9

.

Enabled

=

True

Then

ElseIf

Button9

.

Text

=

"X"

And

Button5

.

Enabled

=

True

Then

ElseIf

Button4

.

Text

=

"X"

And

Button7

.

Enabled

=

True

Then

ElseIf

Button7

.

Text

=

"X"

And

Button4

.

Enabled

=

True

Then

ElseIf

Button8

.

Text

=

"X"

Or

Button6

.

Text

=

"X"

Then

If

Button1

.

Text

=

"X"

And

Button3

.

Enabled

=

True

Then

ElseIf

Button1

.

Text

=

"X"

And

Button1

.

Enabled

=

True

Then

ElseIf

Button5

.

Text

=

"X"

And

Button8

.

Enabled

=

True

Then

ElseIf

Button8

.

Text

=

"X"

And

Button5

.

Enabled

=

True

Then

ElseIf

Button6

.

Text

=

"X"

Or

Button4

.

Text

=

"X"

Or

Button7

.

Text

=

"X"

Or

Button9

.

Text

=

"X"

Then

If

Button1

.

Text

=

"X"

And

Button2

.

Enabled

=

True

Then

ElseIf

Button2

.

Text

=

"X"

And

Button1

.

Enabled

=

True

Then

ElseIf

Button6

.

Text

=

"X"

And

Button9

.

Enabled

=

True

Then

ElseIf

Button9

.

Text

=

"X"

And

Button6

.

Enabled

=

True

Then

ElseIf

Button5

.

Text

=

"X"

And

Button7

.

Enabled

=

True

Then

ElseIf

Button7

.

Text

=

"X"

And

Button5

.

Enabled

=

True

Then

ElseIf

Button8

.

Text

=

"X"

Or

Button4

.

Text

=

"X"

Then

If

Button1

.

Text

=

"X"

And

Button7

.

Enabled

=

True

Then

ElseIf

Button7

.

Text

=

"X"

And

Button1

.

Enabled

=

True

Then

ElseIf

Button5

.

Text

=

"X"

And

Button6

.

Enabled

=

True

Then

ElseIf

Button6

.

Text

=

"X"

And

Button5

.

Enabled

=

True

Then

ElseIf

Button2

.

Text

=

"X"

Or

Button3

.

Text

=

"X"

Or

Button8

.

Text

=

"X"

Or

Button9

.

Text

=

"X"

Then

If

Button1

.

Text

=

"X"

And

Button9

.

Enabled

=

True

Then

ElseIf

Button9

.

Text

=

"X"

And

Button1

.

Enabled

=

True

Then

ElseIf

Button2

.

Text

=

"X"

And

Button8

.

Enabled

=

True

Then

ElseIf

Button8

.

Text

=

"X"

And

Button2

.

Enabled

=

True

Then

ElseIf

Button3

.

Text

=

"X"

And

Button7

.

Enabled

=

True

Then

ElseIf

Button7

.

Text

=

"X"

And

Button3

.

Enabled

=

True

Then

ElseIf

Button6

.

Text

=

"X"

And

Button4

.

Enabled

=

True

Then

ElseIf

Button4

.

Text

=

"X"

And

Button6

.

Enabled

=

True

Then

If

Button3

.

Text

=

"X"

And

Button9

.

Enabled

=

True

Then

ElseIf

Button9

.

Text

=

"X"

And

Button3

.

Enabled

=

True

Then

ElseIf

Button5

.

Text

=

"X"

And

Button4

.

Enabled

=

True

Then

ElseIf

Button4

.

Text

=

"X"

And

Button5

.

Enabled

=

True

Then

ElseIf

Button1

.

Text

=

"X"

Or

Button2

.

Text

=

"X"

Or

Button7

.

Text

=

"X"

Or

Button8

.

Text

=

"X"

Then

If

Button1

.

Text

=

"X"

And

Button4

.

Enabled

=

True

Then

ElseIf

Button4

.

Text

=

"X"

And

Button1

.

Enabled

=

True

Then

ElseIf

Button5

.

Text

=

"X"

And

Button3

.

Enabled

=

True

Then

ElseIf

Button3

.

Text

=

"X"

And

Button5

.

Enabled

=

True

Then

ElseIf

Button8

.

Text

=

"X"

And

Button9

.

Enabled

=

True

Then

ElseIf

Button9

.

Text

=

"X"

And

Button8

.

Enabled

=

True

Then

ElseIf

Button6

.

Text

=

"X"

Or

Button2

.

Text

=

"X"

Then

If

Button2

.

Text

=

"X"

And

Button5

.

Enabled

=

True

Then

ElseIf

Button5

.

Text

=

"X"

And

Button2

.

Enabled

=

True

Then

ElseIf

Button9

.

Text

=

"X"

And

Button7

.

Enabled

=

True

Then

ElseIf

Button7

.

Text

=

"X"

And

Button9

.

Enabled

=

True

Then

ElseIf

Button6

.

Text

=

"X"

Or

Button3

.

Text

=

"X"

Or

Button1

.

Text

=

"X"

Or

Button4

.

Text

=

"X"

Then

If

Button6

.

Text

=

"X"

And

Button3

.

Enabled

=

True

Then

ElseIf

Button3

.

Text

=

"X"

And

Button6

.

Enabled

=

True

Then

ElseIf

Button5

.

Text

=

"X"

And

Button1

.

Enabled

=

True

Then

ElseIf

Button1

.

Text

=

"X"

And

Button5

.

Enabled

=

True

Then

ElseIf

Button8

.

Text

=

"X"

And

Button7

.

Enabled

=

True

Then

ElseIf

Button7

.

Text

=

"X"

And

Button8

.

Enabled

=

True

Then

ElseIf

Button2

.

Text

=

"X"

Or

Button4

.

Text

=

"X"

Then

This following code will check if there is a winner and will show the result on a message box.

Public

Sub

CheckIfComputerWins

(

)

If

Button1

.

Text

=

"O"

And

Button2

.

Text

=

"O"

And

Button3

.

Text

=

"O"

_

Or

Button4

.

Text

=

"O"

And

Button5

.

Text

=

"O"

And

Button6

.

Text

=

"O"

_

Or

Button7

.

Text

=

"O"

And

Button8

.

Text

=

"O"

And

Button9

.

Text

=

"O"

_

Or

Button1

.

Text

=

"O"

And

Button4

.

Text

=

"O"

And

Button7

.

Text

=

"O"

_

Or

Button2

.

Text

=

"O"

And

Button5

.

Text

=

"O"

And

Button8

.

Text

=

"O"

_

Or

Button3

.

Text

=

"O"

And

Button6

.

Text

=

"O"

And

Button9

.

Text

=

"O"

_

Or

Button1

.

Text

=

"O"

And

Button5

.

Text

=

"O"

And

Button9

.

Text

=

"O"

_

Or

Button7

.

Text

=

"O"

And

Button5

.

Text

=

"O"

And

Button3

.

Text

=

"O"

Then

MsgBox

(

"Computer Wins! You lose"

)

Button9

.

Enabled

=

TrueElseIf Button1

.

Text

=

"X"

And

Button2

.

Text

=

"X"

And

Button3

.

Text

=

"X"

_

Or

Button4

.

Text

=

"X"

And

Button5

.

Text

=

"X"

And

Button6

.

Text

=

"X"

_

Or

Button7

.

Text

=

"X"

And

Button8

.

Text

=

"X"

And

Button9

.

Text

=

"X"

_

Or

Button1

.

Text

=

"X"

And

Button4

.

Text

=

"X"

And

Button7

.

Text

=

"X"

_

Or

Button2

.

Text

=

"X"

And

Button5

.

Text

=

"X"

And

Button8

.

Text

=

"X"

_

Or

Button3

.

Text

=

"X"

And

Button6

.

Text

=

"X"

And

Button9

.

Text

=

"X"

_

Or

Button1

.

Text

=

"X"

And

Button5

.

Text

=

"X"

And

Button9

.

Text

=

"X"

_

Or

Button7

.

Text

=

"X"

And

Button5

.

Text

=

"X"

And

Button3

.

Text

=

"X"

Then

MsgBox

(

"Congratulations! You Win :)"

)

Afterwards, we can now program the buttons of the game. Just add this following codes. it will handle the 9 buttons click event:

Private

Sub

Button4_Click

(

ByVal

sender

As

System

.

Object

,

ByVal

e

As

System

.

EventArgs

)

_

Handles

Button9

.

Click

, Button8

.

Click

, Button7

.

Click

, Button6

.

Click

, _

Button5

.

Click

, Button4

.

Click

, Button3

.

Click

, Button2

.

Click

, Button1

.

Click

Label1

.

Text

=

sender

.

name

Label1

.

Text

=

Label1

.

Text

.

Replace

(

"Button"

,

""

)

If

random

=

Label1

.

Text

Then

We also need to add a code when the user doesn't make a proper move.
Just add this codes.

For

Each

ctl

As

Control

In

Me

.

Controls

If

Label1

.

Text

&

lt;

9

Then

If

(

ctl

.

Name

.

StartsWith

(

"Button"

&

amp; Label1

.

Text

+

1

)

)

Then

Dim

btn

As

Button

=

DirectCast

(

ctl, Button

)

If

btn

.

Enabled

=

True

Then

ElseLabel1

.

Text

=

Label1

.

Text

+

1

If

(

ctl

.

Name

.

StartsWith

(

"Button1"

)

)

Then

Dim

btn

As

Button

=

DirectCast

(

ctl, Button

)

If

btn

.

Enabled

=

True

Then

Label1

.

Text

=

Label1

.

Text

+

1

Now, we program the PC START Button. Add this codes.

Private

Sub

Button10_Click

(

ByVal

sender

As

System

.

Object

,

ByVal

e

As

System

.

EventArgs

)

Handles

Button10

.

Click

Label1

.

Text

=

1Button1

.

Enabled

=

False

Button10

.

Enabled

=

FalseEnd

Sub

Finally, add this following codes to the Restart Button.


Private

Sub

Button11_Click

(

ByVal

sender

As

System

.

Object

,

ByVal

e

As

System

.

EventArgs

)

Handles

Button11

.

Click

Click F5 to run the program and to play the game.

If you have any questions or suggestions about How to Create a Tic Tack Toe Game using VB.Net please contact me through our contact page.

Download How to Create a Tic Tack Toe Game using VB.Net Source code Here