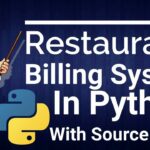 Restaurant Billing System in Python Source Code
This Restaurant Billing System Project in Python undertaking is written in Python. The project record contains a python script (restaurant_billing.Py). This is a easy GUI based totally application that's very easy to understand and use. It makes use of Tkinter module for the GUI.
The consumer can view the full receipt of their objects which shows receipt quantity and variety of their foods/drinks gadgets with the entire amount. Here, the whole bill of the customer consists of tax and service prices too.
Published:
August 22, 2020