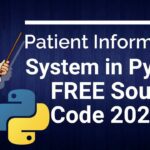 Patient Information System in Python with Database
Patient Information System in Python with Source Code and Database. Patient Information consists of a Python Script (Information_of_Patient.Py) and a database file. This Patient Information System is primarily based on Tkinter. The undertaking has a graphical user interface supplied by using the Python programming language and SQLite3.
He/she can add a new report, update, look for a facts. Moreover, the admin can delete the existing report and also can display all the records within the database. The device design is simple that the consumer won't discover it tough to use.
Published:
August 22, 2020