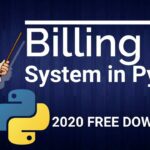 Billing System Project in Python With Source Code
Billing System Project in Python is a easy python undertaking for novices from which they can discover ways to develop python language project .This pharmacy billing system can be extremely useful for every one of those understudies, programmer, software program engineers and python learner students to discover how the code execute and work inside the program.
Published:
August 22, 2020
Looking for more source code? Type your keyword here here!