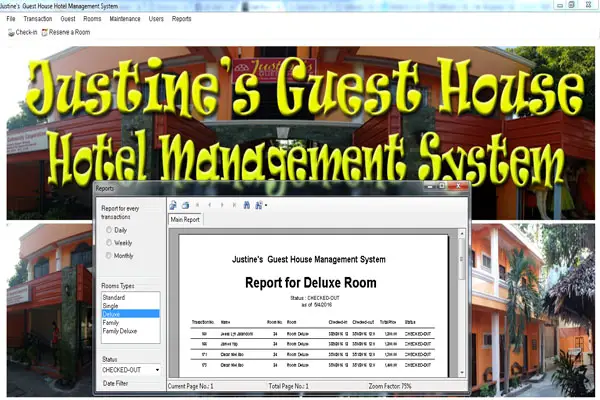 This Justine's Guest House Hotel Management System is an easy to use hotel management software that simplifies and can optimize hotel operations. This system would definitely help the hotel owner and hotel managing director control and manage all things according to the way it should be. It contain functions such as guest booking, guest details, reservations and many more.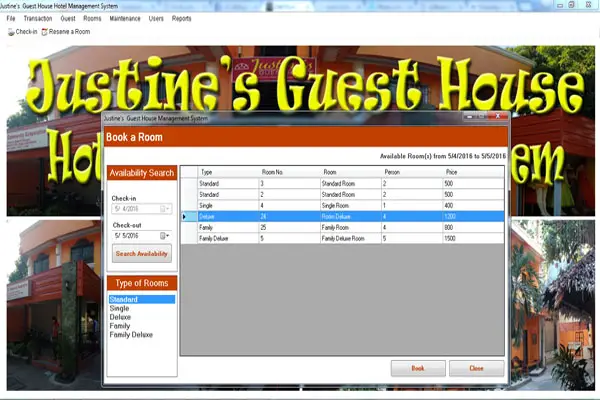 These functions are difficult when done manually. But, with this system, everything can be done smoothly. And with the growing competition in the Industry, this system is your ideal solution.
Watch here and get an idea of what are really the features and functions of a Hotel Management system used in the hotel industry.
These are the following features:
Adding New Room
Updating Room Details
List of Rooms
Reservation
Check-in
Payments
Check-out
Guest List
Guest Rooms
Room Type
Add-Ons
Adding New User
Updating User Details
List of User
Daily Report
Weekly Report
Monthly Report
Date Filter
Username : admin
Password: admin
For all students who need programmer for your thesis system or anyone who needs a sourcecode in any programming languages. You can contact me @ :
Email – [email protected]
Mobile No. – 09305235027 – tnt