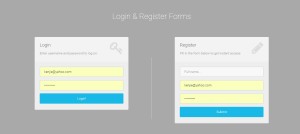 This time, I will show you how to create a Login User and User Registration in PHP and MySQL Database. With this, you can log in the user that you have registered in the Registration Form. We are going to use a bootstrap template for the design of the Login and User Registration Form.
Here's the step by step procedure that you need to follow.
Step 1:
Create a database in the MySQL Database and name it "dbuser". After that, set this query for creating a table into it.
Step 2:
Do the following codes for the design of your page.
<

meta

content

=

"IE=edge"

http-equiv

=

"X-UA-Compatible"

>

<

meta

content

=

"width=device-width, initial-scale=1"

name

=

"viewport"

>

<

link

href

=

"http://fonts.googleapis.com/css?family=Roboto:400,100,300,500"

<

link

href

=

"assets/bootstrap/css/bootstrap.min.css"

rel

=

"stylesheet"

>

<

link

href

=

"assets/font-awesome/css/font-awesome.min.css"

rel

=

"stylesheet"

>

<

link

href

=

"assets/css/form-elements.css"

rel

=

"stylesheet"

>

<

link

href

=

"assets/css/style.css"

rel

=

"stylesheet"

>

<!-- ################################################################# -->

<

div

class

=

"top-content"

>

<

div

class

=

"col-sm-8 col-sm-offset-2 text"

>

<

div

class

=

"form-top-left"

>

<

p

>

Enter username and password to log

<

div

class

=

"form-top-right"

>

<

div

class

=

"form-bottom"

>

<

form

action

=

"process.php"

class

=

"login-form"

method

=

"post"

role

=

"form"

>

"form-username"

>

Username

<

/

label

>

"form-username form-control"

id

=

"form-username"

name

=

"form-username"

placeholder

=

"Username..."

type

=

"text"

>

"form-password"

>

Password

<

/

label

>

"form-password form-control"

id

=

"form-password"

name

=

"form-password"

placeholder

=

"Password..."

type

=

<

/

div

>

<!-- End Login Form-->

<

div

class

=

"form-top-left"

>

<

p

>

Fill in the form below to get instant

<

div

class

=

"form-top-right"

>

<

div

class

=

"form-bottom"

>

<

form

action

=

"process.php"

class

=

"registration-form"

method

=

"post"

role

=

"form"

>

"full-name form-control"

id

=

"fname"

name

=

"fname"

placeholder

=

"Full name..."

"user-name"

>

Username

<

/

label

>

<

input

class

=

"user-name form-control"

id

=

"user-name"

name

=

"user-name"

placeholder

=

"Username..."

type

=

"text"

>

"user-pass"

>

Password

<

/

label

>

<

input

class

=

"user-pass form-control"

id

=

"user-pass"

name

=

"user-pass"

placeholder

=

"Password..."

type

=

<

/

div

>

<!-- End Registration Form -->

<

div

class

=

"col-sm-8 col-sm-offset-2"

>

<

/

footer>

<!-- End Footer -->

<!-- Javascript extension -->

<

script

src

=

"assets/js/jquery-1.11.1.min.js"

>

<

script

src

=

"assets/bootstrap/js/bootstrap.min.js"

>

<

script

src

=

"assets/js/scripts.js"

>

<

/

script

>

<!-- ############################################$ -->
Step 3:
Create a page for the connection between PHP script and MySQL database. Name the page "config.php".
echo

"Problem in selecting database! Please contact administraator"

;

echo

"Problem in database connection! Please contact administraator"

;
Step 4:
Create a page for login and adding user. Name the page "process.php"
// include your conection in the first load of the page.

if

(

isset

(

$_POST

&

#91;'register'])) {

// set the query for saving the data

$sqlQuery

=

"INSERT INTO tblusers ( <code>user_name</code>, <code>user_username</code>, <code>user_pass</code>)

VALUES ('"

.

$_POST

[

'fname'

]

.

"','"

.

$_POST

[

'user-name'

]

.

"','"

.

$_POST

[

'user-pass'

]

.

"')"

;

// checking if the syntax of the query that you performed is correct or not.

<

script type

=

"text/javascript"

>

// <!-- Pop-up Message -->

alert

(

'User has been registered. You can login now.'

)

// <!-- End pop-up message -->

// redirect to main page.

window

.

location

=

'index.php'

if

(

isset

(

$_POST

&

#91;'login'])) {

// set the query for retrieving the data

$sqlQuery

=

"SELECT * FROM tblusers WHERE user_username ='"

.

$_POST

&

#91;'form-username'] . "' AND user_pass = '" . $_POST['form-password'] . "'";

// checking if the syntax of the query that you performed is correct or not.

// getting the maxrow of the table;

// checking if the table a row or nothing.

// set the session variable and place the retrieved data in the table.

$_SESSION

[

'fname'

]

=

$row

[

'user_name'

]

;

$_SESSION

[

'username'

]

=

$row

[

'user_username'

]

;

$_SESSION

[

'password'

]

=

$row

[

'user_pass'

]

;

<

script type

=

"text/javascript"

>

// <!-- Pop-up Message -->

// <!-- End pop-up message -->

// redirect to main page.

window

.

location

=

'index.php'

<

script type

=

"text/javascript"

>

// <!-- Pop-up Message -->

alert

(

'Account does not exist. Please contact administrator'

)

// <!-- End pop-up message -->

// redirect to main page.

window

.

location

=

'index.php'

echo

'Error to retrive data.'

;
The complete Source Code is included. ClickLogin User and User Registration page