This tutorial is all about How to Create an Age Calculator With Zodiac Sign in VB.Net.
Today, I will teach you how to create an age identifier with a zodiac sign included in VB.Net. With this, you will be able to identify what is your age with its corresponding zodiac sign. You can calculate your age in the future and you don't have to search anymore on the internet of what is your zodiac sign if you don't have any idea what is it.
So, let's get started:
First, open the Visual Basic, create a new Windows Form Application. Name the two DateTimePicker into "DTPdateBIRTH" and "DTPendDATE" and set the Form just like this.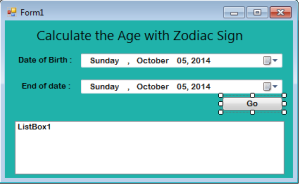 After setting up the Form, double click the "Go" Button and set this functionality to calculate the age and knowing the zodiac sign of the corresponding months.
[

crayon

-

5b7829e0a46b5858571999

/

]
You can download the complete source code. And run it on your computer.
Enjoy!
Readers might read also: